As a nonprofit continuing care retirement community (CCRC), Springmoor guarantees residents a place to live for the rest of their lives. The Springmoor Endowment Fund helps make this possible.
Springmoor opened its doors in 1984, and the Endowment Fund was created several years later to keep the promise of lifetime care. Although applicants to Springmoor undergo a thorough evaluation of their assets and income in relation to life expectancy and inflation, the community's founders recognized that some residents may outlive their resources.
Despite a lifetime of careful saving and planning, almost anyone can deplete their assets to a point where assistance is needed. Many residents say the existence of the Fund was an important factor in their decision to choose Springmoor for retirement living.
How funds are raised for the Endowment Fund
Resident Peg Bedini is the current Chair of the Springmoor Endowment Fund Committee. She explains that the 20 residents who serve on the committee are responsible for the ongoing fundraising efforts. "This is a working committee and one of the most active committees of the Residents Association."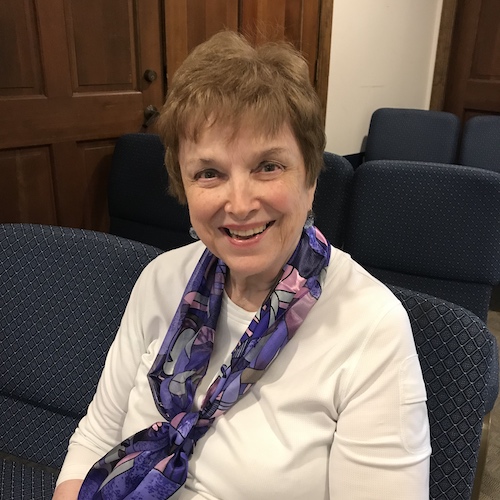 "Residents plan and carry out activities and fundraisers, and we make most decisions as a group," Peg adds. "Of course, there is also a Board who oversees and manages the investments of the Fund gifts."
Peg has been a member of this committee of the Residents Association since shortly after she moved to Springmoor in 2014. The bylaws of the Springmoor Residents Association generally prescribe a three-year limit on the term that committee members serve, but the Endowment Committee has a special dispensation to allow longer terms because the members complete so many projects each year.
"I feel very strongly that the Endowment Fund is one of the things that makes Springmoor so special," Peg says. She's currently serving as the Chair for the second time and is also a two-time President of the Residents Association.
She continues, "What I love about the Endowment is that we're truly donating to a cause that we really know. It is all about neighbors helping neighbors. It's a wonderful group of people who serve on the committee. I always have in the back of my mind that it could be any one of us who finds ourselves in the situation of needing assistance."
Peg explains that the intent of the Endowment is to subsidize any residents who run out of money through no fault of their own. "Most of the people who receive a subsidy have outlived their funds," she says. "They usually live in the Stewart Health Center. The subsidy covers a portion of their expenses, while they continue to use their Social Security and any retirement funds. Each resident retains a little bit of spending money as well."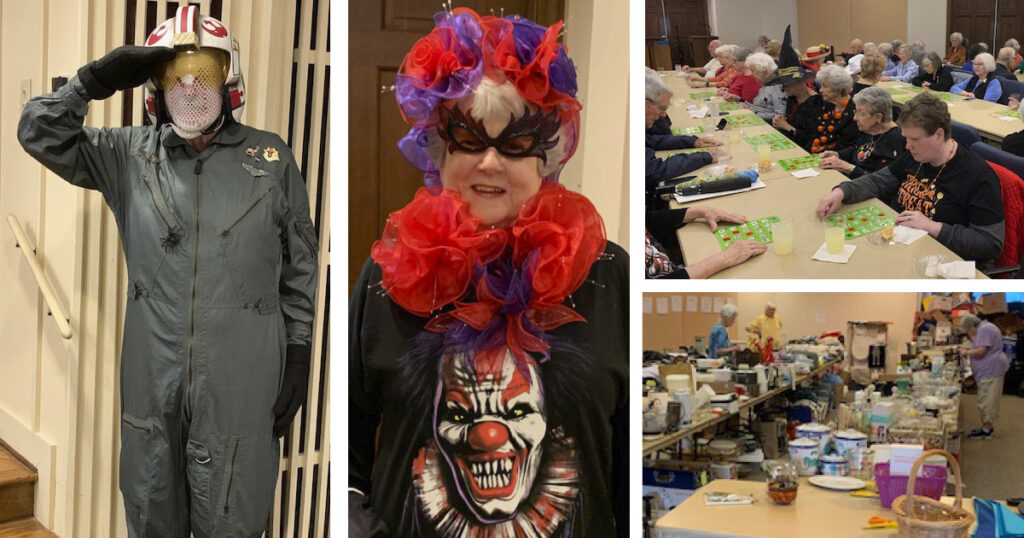 A variety of ongoing fundraising efforts
The fund grows through numerous activities. Throughout the year, the Endowment Committee encourages residents to donate to In Honor of and In Memory of campaigns, and a monthly report of all contributions is published. Most donors are current Springmoor residents.
"People can give in ways other than cash," Peg says. "You can donate stock, bonds, property, insurance, and more. Between January 1, 2023 and early October 2023, we've received approximately 345 individual donations."
The committee also conducts an Annual Fund Drive, usually in June, to encourage giving. As part of this big push, every resident receives a letter that includes instructions about how to participate.
Another annual fundraising effort is a large indoor yard sale held in the auditorium each fall to benefit the Endowment. "This event is a lot of fun for both residents and employees," Peg says. "We donate any items that don't sell to North Raleigh Ministries."
All donations of items come from within the community, and residents can bring friends and family members to the sale. "The yard sale gives residents an opportunity to declutter, and there are always plenty of items to sell," she says.
On an ongoing basis, the committee accepts residents' donations of furniture and other large items that aren't appropriate for the yard sale. "Typically, we have some money coming in every month from this effort throughout the year," says Peg.
In October, the committee coordinates bingo to benefit the Endowment. This lively event draws a huge crowd, and people pay $5 for one card and $8 for two cards. Bingo was held on Halloween in 2023, and ham biscuits were provided for participants. The members of the committee donate prizes such as sweets and gift certificates.
The committee's holiday card project starts toward the end of November and runs into December. Several designs are offered, and the language on the inside of each card explains that the sender has donated to the Springmoor Endowment Fund in honor of the recipient.
The committee also coordinates a program for accepting donations of scooters and power chairs and making them available for purchase or rental. Residents who need this type of assistance can buy the equipment at a reduced price. Each individual pledges to return it to the endowment when it's no longer being used.
How the Endowment Fund is managed
A Board of Directors consisting of seven members of the full Springmoor Board and two additional directors manages the Endowment Fund. The Fund's Board is responsible for the approval of all gifts, investment and management of these gifts, and approval of all disbursements. The Board serves without compensation, and an anonymous donor pays the administrative expenses for operating the fund.
The Fund is a 501(c)(3) nonprofit, and the funds are carefully invested. Up to 100% of the income the fund earns can be used to support residents in need.
The goal is for the Fund to be robust enough to cover all resident subsidies. Names of residents receiving subsidies are held in strict confidence, and they continue to receive all the benefits of being a Springmoor resident. The Springmoor operating budget also has a line item that can supplement subsidies if necessary.
Executive Director Brandon Hair attends all monthly meetings of the committee to answer questions regarding how funding decisions are made and provides details about other aspects of the Fund as needed. He completes the initial review of each request for assistance and then sends the request to the Board, which decides the appropriate amount of funds to be distributed
"Brandon is a great source of information, as well as making reports of our activities to the full Springmoor Board," Peg says. "It's also been wonderful that Bill Baxley, one of the members of the Springmoor Board of Directors, has been participating in our committee meetings. He is a terrific resource."
Many ways to give
If you would like to donate to the Endowment, please make your check out to "Springmoor Endowment Fund" and mail it to: Springmoor Business Office, 1500 Sawmill Road, Raleigh, North Carolina, 27615.
Or, donate safely and securely by visiting us online and clicking on the red button. Please note that donating using Click and Pledge adds a 5% service fee to your donation. The fee becomes apparent after you enter the amount you'd like to donate.
Brandon explains that residents are welcome to continue to give by check to avoid extra fees. He says, "This new online option provides another way to give and is geared more toward family and friends living outside of the Triangle area. We believe this convenient way to donate will increase the number of donations and the amount of the overall fund."
As mentioned, there are numerous ways to give, including:
One-time gifts of cash
In-kind donations
Planned giving
Estate gifts
Gifts of insurance
For more information, you can contact the Springmoor Business Office at 919-848-7000.
Gifts to the Endowment Fund are tax deductible on federal and state income taxes. Gifts of all sizes are appreciated, and we thank you for your generosity! Our sincere appreciation as well to the resident-led Springmoor Endowment Committee for their hard work and dedication.
Plan your visit to our campus today!
Like many CCRCs (Continuing Care Retirement Communities), Springmoor is an entrance-fee community. Paying this one-time fee gives you access to all of our facilities, amenities, and services, including dining.
Each resident's monthly service package provides maintenance-free living and predictability in their ongoing expenses. Residents choose from a variety of residence options from apartments to larger villas and homes. As explained above, Springmoor offers a full continuum of healthcare and has a policy of guaranteed residency for life.
Contact us today at 919-848-7080 to find out more about the wide range of exceptional activities we offer every day so that residents can live their best lives. Our friendly team is happy to answer your questions, and you can also request a free information packet. We offer personalized tours and look forward to meeting you soon!