Raleigh's premier community for senior living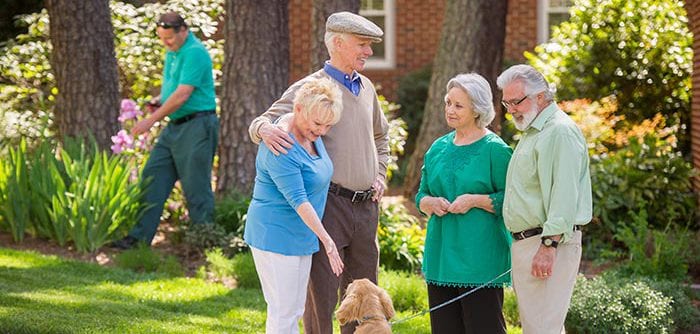 Inspired by one man's vision, Springmoor was the first full service retirement community to open in Raleigh, North Carolina, and began earning a reputation for quality right from the start. Blending independent living with a full continuum of on-campus healthcare services, Springmoor celebrates an active, vibrant lifestyle with an emphasis on dignity, security and peace of mind. Springmoor is nationally accredited, not-for-profit, financially stable and located in Greystone Village, a beautifully developed area in Northwest Raleigh.
Our History
Springmoor's founder, Justus M. (Jud) Ammons, grew up in the North Carolina mountains as a sharecropper's son. From these humble beginnings, he became a visionary developer, land planner and civic leader.
While building his career, Ammons developed an interest in seniors. In the early 1980s, he learned about an innovative approach to senior living that combined an active retirement lifestyle with access to lifelong health services in one community. Enlisting the guidance of consultants, obtaining the input of community leaders and personally studying the needs of seniors, Ammons began to envision the Springmoor community. Investing his own personal and financial commitment, he worked with a board of directors to make his vision a reality, and in 1984 Springmoor opened its doors.
Ammons' passion to create communities of quality that respect and honor the beauty of nature is reflected in Springmoor's creatively designed campus and exceptional service. Nestled on 42 wooded acres, Springmoor's buildings, streets and walking trails blend seamlessly with the natural surroundings.
Today's seniors see retirement as a fresh and exciting phase of life. At Springmoor, we continue to enhance and expand amenities and services to deliver on those expectations. Listening and responding to those we serve have always been the secret to our success.
Our Mission
To promote the social, emotional, psychological, spiritual and physical well-being of each resident;
To provide quality housing, amenities, medical and healthcare, physical security, activity and enrichment programs, food service and support services;
To provide facilities, staff, policies and procedures that are sensitive and responsive to the day-to-day and changing health and personal needs of each resident;
To provide an honest, forthright environment of positive thinking that promotes for each resident dignity, peace of mind, confidence and the pursuit of an active lifestyle;
To operate and manage the facility so it is cost-effective and efficient, yet sensitive and personal in relating to resident needs; and
To strive to meet its mission with such commitment to excellence that Springmoor Life Care Retirement Community continues to be one of the premier retirement communities in this region of the nation.
Resident Association
Residents play an essential role in helping Springmoor grow and respond to their needs and interests. Springmoor residents elect officers and committees to represent them in matters relating to management and to provide leadership in matters of common interest. There is a working committee in each major area of Springmoor life, including healthcare, food service, activities and recreation, housekeeping and transportation.
"We knew life at Springmoor would be good, but it's even better than expected."
—Albert Calloway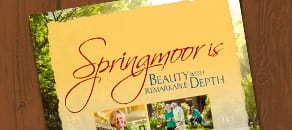 Request a FREE Information Packet
Request more information, schedule a tour or just ask us a question!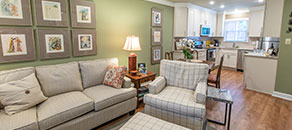 Schedule a Tour
Come see firsthand the beauty and depth of life at Springmoor.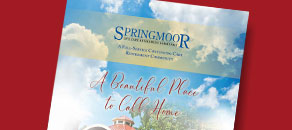 Read our Annual Report
Learn about our accomplishments and financial information.
Quick Message
Or call us! (919) 848-7080