a community of hospitality and vision
Springmoor Endowment Fund
As a nonprofit continuing care retirement community, Springmoor guarantees residents a place to live for the rest of their lives. The Springmoor Endowment Fund helps make this possible.
Springmoor residents who have exhausted their own financial means continue to benefit from the comfort and security of home and healthcare, thanks to the selfless generosity of others. Contributions from individuals, families, Springmoor residents and employees, community organizations and businesses have made the Springmoor Endowment Fund an invaluable resource in fulfilling our mission. When you choose to make a tax-deductible donation to the Fund, you are making a difference in the lives of those we serve.
There are many ways to give, including:
One-time gifts of cash
In-kind donations
Planned giving
Estate gifts
Gifts of insurance
From the smallest donation to the largest bequest, every dollar has an impact. To make a tax-deductible contribution or to learn more, please contact Tracy Roche in our business office at 919-848-7388 or Springmoor's Executive Director, Brandon Hair, at 919-848-7132.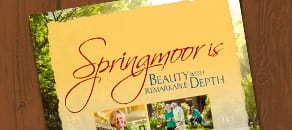 Request a FREE Information Packet
Request more information, schedule a tour or just ask us a question!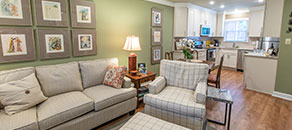 Schedule a Tour
Come see firsthand the beauty and depth of life at Springmoor.
Quick Message
Or call us! (919) 848-7080