a community of hospitality and vision
Raleigh is a great place to retire

Raleigh, North Carolina, is one of the top locations to retire, and it's no wonder why.
Our mild climate offers the beauty of four seasons without the frigid temps and heavy snows of the north or the sweltering, hurricane-ridden seasons to the south. Our southern hospitality and charm slow life to a relaxed, more easygoing pace. Our colleges and universities provide opportunities for continued education. And our location boasts the diverse advantages of an established city, including world-class culture, entertainment, dining, shops, sports and medical centers.
Here is a sampling of what you'll find:
North Carolina Museum of Art
CAM Raleigh
Carolina Ballet
North Carolina Opera
North Carolina Symphony
North Carolina Theatre
Walnut Creek Amphitheatre
PNC Arena
Triangle Town Center & Commons
Crabtree Valley Mall
North Carolina Museum of Natural Sciences
North Carolina Museum of History
Morehead Planetarium and Science Center
University of North Carolina at Chapel Hill
North Carolina State University
Duke University
Five County Stadium
Springmoor Life Care Retirement Community
"I love the weather here! It's mild enough to enjoy doing things outside year round, but I still get to experience all four seasons."
—Springmoor Resident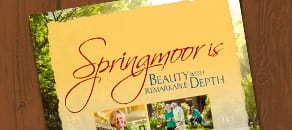 Request a FREE Information Packet
Request more information, schedule a tour or just ask us a question!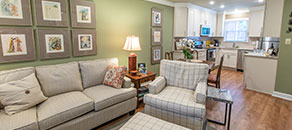 Schedule a Tour
Come see firsthand the beauty and depth of life at Springmoor.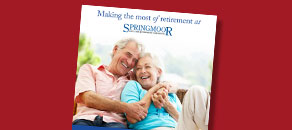 Read our Annual Report
Learn about our accomplishments and financial information.
Quick Message
Or call us! (919) 848-7080