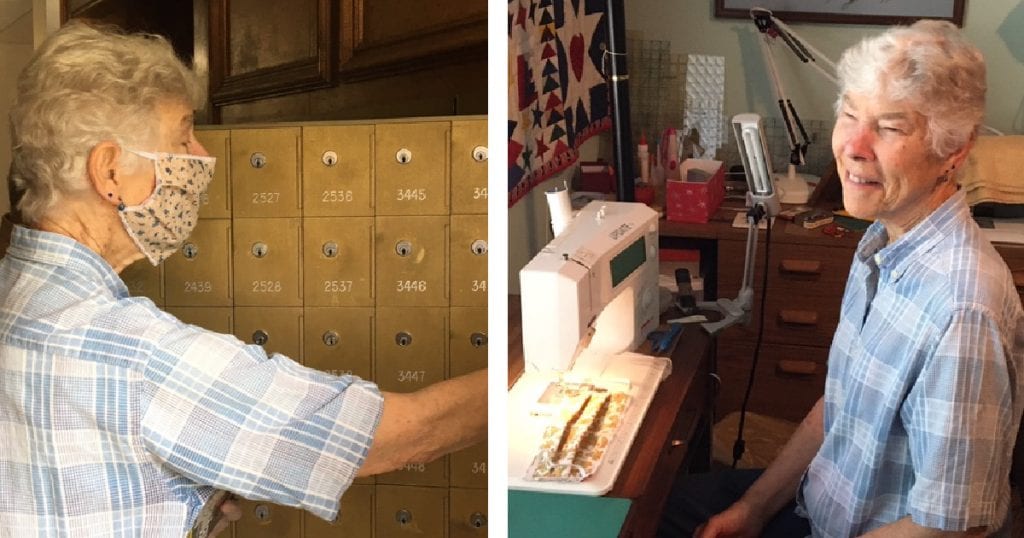 When you're considering your options for retirement living, you're weighing many factors such as cost, location, amenities, and services. The choices can seem overwhelming. It can be helpful to think of retirement communities as falling into four primary categories: Independent Living (IL), Assisted Living (AL), Skilled Nursing Facilities (SNFs), and Continuing Care Retirement Communities (CCRCs).
A central feature of a CCRC that sets it apart from other types of senior living communities is the contract available for your continuum of health care. There are five types of contracts, and you'll want to consult with your accountant and financial planner regarding which one is best for your situation.
CCRCs like Springmoor offer independent living with the assurance of on-site assisted living and skilled nursing services if you need them. CCRCs can also provide significant financial benefits, including tax savings.
A nationally accredited Life Care Retirement Community, Springmoor offers amenities and services that are among the best provided by any CCRC. Springmoor residents advise others to make the move to Springmoor while they can take full advantage of all the community has to offer.
One Resident's Decision-Making Process
Before she moved to Springmoor, Harriet Ross's situation was like that of many senior couples. Her husband had dementia and needed additional care. Their split-level home had no bathroom on the middle floor, and going up and down stairs had become difficult for him.
Harriet's neighbors recommended Springmoor to her as a top-notch community, but she had her eye on a new retirement development in Cary. After gathering more information though, she realized the Cary community required you to move out if you became seriously ill.
"Unlike Springmoor, it wasn't geared toward long-term health needs," Harriet says. "It was more like a country club community, where all the residents are basically in good condition. But what if you're not doing well and are up in age?"
She also learned more about Springmoor's Endowment Fund. "With this provision, you don't have to leave the community if you run out of money through no fault of your own," Harriet explains. "I found it very reassuring that the fund will start paying for someone who can't."
Springmoor's founders recognized early on that almost any of us can outlive our resources, despite a lifetime of careful saving and planning. They created the Endowment Fund to ensure lifetime care for all residents. An all-volunteer Board of Directors manages the Fund, which residents tend to think of as "neighbors helping neighbors."
A Secure Life, Full of Purpose
Harriet has now lived at Springmoor for eight years and feels great peace of mind knowing she'll be taken care of in the long-term, regardless of her health or finances. She's extremely involved in the community and lives a purpose-driven life.
It's immediately evident when you talk with Harriet that she's a "doer." Not one to sit around and bemoan the difficulties of a situation, at the start of the pandemic she coordinated an effort to make masks for employees at Springmoor's Stewart Health Center. "Masks were hard to come by, so I talked to the Director of Nursing, and about 10 other residents and I made about 100 of them."
While observing recommended guidelines for health and safety, at Springmoor Harriet is still able to have some social interaction and reach out to others in need, even during the pandemic.
On an ongoing basis, Harriet enjoys helping with mail distribution. She heads up this 15-person committee of the Residents Association, as well as delivering mail herself on some days. This group of volunteers is active six days a week, and Harriet maintains the master schedule. If a resident is unable to do his or her shift, she finds a replacement.
"Coordinating the mail is not a big deal," Harriet says humbly. "This type of community effort goes on all the time. The people at Springmoor are just willing to help do whatever is needed."
Harriet feels fortunate to live in a stable environment, especially during the disruptions caused by the pandemic. Living at Springmoor helps residents keep their expenses predictable and to let go of worrying about their finances. She says, "I like that you know upfront what you're going to be paying."
Harriet also enjoys letting someone else take care of yard work and home maintenance. Springmoor's amenities are included in the monthly service fee, and she says one of the things she appreciates the most is that the housekeepers come once a week.
It's easy to take that first step to plan for your future. Call us today at 919-848-7080 or contact us online for more information regarding the various features of Continuing Care Retirement Community contracts. We know there's a lot to consider, and we look forward to talking with you about the potential financial benefits of moving to a CCRC like Springmoor.