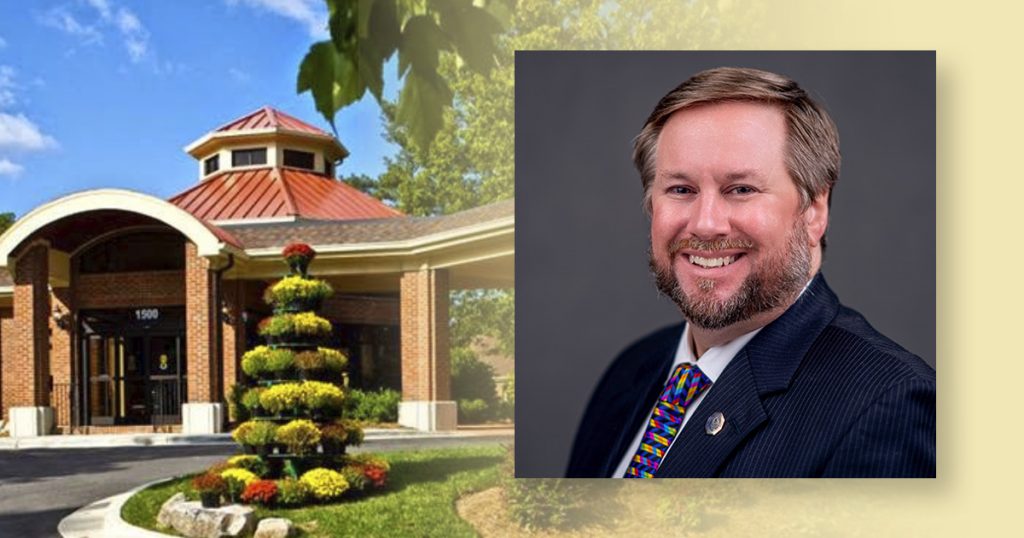 Originally from Graniteville, South Carolina, Brandon's first job at age 15 was washing dishes at Cumberland Village, a nearby retirement community. He had planned to pursue a career in hospitality and hotel management. After discovering how rewarding it was to build long-term relationships with the residents, he decided he wanted to run retirement communities as his career.
Working at Cumberland Village for three years in high school and into college taught Brandon the ins and outs of how retirement communities combine many aspects of hospitality (such as dining, landscaping, staff management, and housekeeping) with a healthcare component.
He attended the College of Charleston and graduated with a degree in business with a concentration in hospitality and tourism. "I knew this degree would prepare me well for the career path I'd chosen," he says.
During his senior year at the College of Charleston, Brandon completed an internship at Lutheran Homes of South Carolina's Franke at Seaside. "My time at Franke further confirmed what I wanted to do professionally," he says. He continued to work at Franke through his last year of college and over the summer.
While he was an undergraduate, he learned from one of his professors about the master's degree in healthcare leadership offered at the Medical University of South Carolina. He completed another internship at Bishop Gadsden Episcopal Retirement Community while working on his master's and then undertook a one-year administrative residency.
The residency provided Brandon with hands-on experience in managing a healthcare system. He completed project-based work in a variety of departments and benefitted considerably from shadowing seasoned administrative professionals as part of his training.
Upon completing his advanced degree, Brandon's first management job was as the assistant director at Emeritus Senior Living in Easley, South Carolina. After 4 years he was promoted to executive director, and he held this position for 7 years. He then transitioned back to a nonprofit community, Presbyterian Communities of South Carolina, located in Clinton.
Making the Move to Springmoor
While at Presbyterian Communities, he met David Ammons, President of Retirement Living Associates, Inc. (RLA), and Kyle Dilday, Vice President of Operations. The family of RLA communities includes Springmoor.
Brandon explains that Springmoor's mission is fully focused on serving the residents: "This is a huge benefit of a nonprofit Continuing Care Retirement Community (CCRC). The residents come first before profits; we're not giving money back to shareholders."
Though Brandon was completely happy at Presbyterian Communities, he was thrilled to accept the position of Executive Director at Springmoor in June of 2015. "David and Kyle are so involved and invested in the quality of life here at Springmoor," Brandon says.
He continues, "Raleigh is one of the best places to live in the country. I felt good about moving my family here, and I plan for the rest of my career to be at Springmoor. I love it here." Brandon has been married to his wife Julie for 15 years. They have two children named Thomas (9) and Evie (5).
"I'm very lucky and blessed to work with people like David and Kyle who are so committed to making this community exceptional," he adds. "I came here largely because I wanted to work with them." He was also attracted by Springmoor's financial stability, outstanding reputation, and the fact that it is an independently owned community, rather than a chain.
"If you spend just a little time on the Springmoor campus, you get the feeling of it being a loving place," Brandon says. "We strive to provide a family atmosphere for both residents and employees. Our staff members feel like they're contributing to other peoples' lives. I just wish every community could have the Springmoor feel."
When asked about his favorite part of his job, Brandon answers without hesitation: interacting with the residents and their families and developing relationships with them.
"I've learned so much from the residents," he says. "They are a wealth of knowledge. It makes me happy to know that I'm doing something with my career to help people."
Pulling Together as a Team
When asked to describe a typical day at work, Brandon smiles. "No two days are the same," he says. "I enjoy the variety that comes with the job."
His morning usually starts with an 8 am meeting with all of Springmoor's department managers. "We come together to share what we're focusing on for that day. We set priorities as a group that concentrate on providing quality services to the residents," Brandon says.
The morning meeting gives the community's leaders a chance to communicate directly each day. Brandon wants all department heads to be visible to each other, the residents, and the employees they supervise.
Departments include: Accounting, Administration, Building/Maintenance, Dining Services, Grounds, Health Center, Health and Fitness, Housekeeping, Human Resources, Information Technology, Insurance, Residents Life, Sales and Marketing, Security, Spiritual (Springmoor is very lucky to have two chaplains), and Transportation.
Brandon provides this example of how the various departments coordinate their efforts. If Sales and Marketing is facilitating the move-in of a new resident on a given day, Dining Services will be sure to bring a welcome basket at the appropriate time. Housekeeping will complete their finishing touches to the residence. Maintenance will perform a final check to make sure all appliances are functioning as they should. Accounting explains to the new resident how bill paying works.
Utilizing a Servant/Leadership Approach
Brandon's management style is based on a servant/leadership approach. He embraces the team concept and works hard to support his department heads.
"I try to provide advice and coaching to each member of my staff," he says. "Each one of us has different strengths, and I want to play to those strengths. I want to plug people in where they're best fitted."
Brandon says, "No one person on the team is more important than another. We each have an important job that pertains to providing the best possible services. I respect that each of my department heads is an expert in their area, and I rely on them for that expertise."
Brandon takes the time and effort to personalize his management approach with each of the 15 department heads. This requires more time and energy than dictating to others, but the superior results are well worth the effort. His philosophy boils down to treating people the way you want to be treated.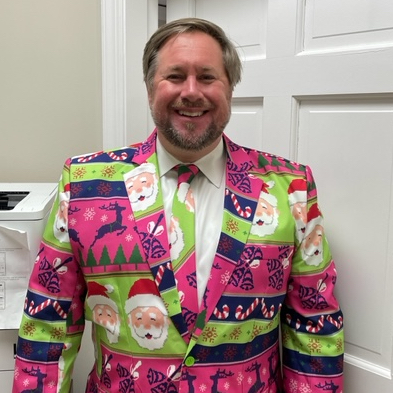 After the morning meeting, Brandon addresses his emails. He usually has scheduled meetings with one or more employee committees and resident committees, of which there are 20. Of course, he also communicates one-on-one with both employees and residents as needed.
Brandon is typically at his desk about half the time and out in the community for the other half. By spending 50 percent of his time around the campus, he stays in touch with what is going on day-to-day in the community and remains accessible to both staff and residents. He eats in the dining room or at least picks up his lunch there every day.
In addition to maintaining a comprehensive list of tasks to be completed, Brandon has to be flexible and pivot quickly as needs arise. "Basically I try to fix and improve things all day long," he laughs.
Exciting Plans for the Future
Looking ahead to 2022, numerous big initiatives are planned. Renovations to Springmoor's Stewart Health Center (SHC) will start early in the new year and continue for the next two years or so.
"The new construction has many advantages for residents," Brandon explains. "Phase one will greatly enhance the health clinic that the majority of our independent residents use. To make the clinic more accessible, we're moving it to a dedicated space outside the Health Center and increasing its size."
He continues, "We're expanding the physical and occupational therapy areas of the Health Center that many independent residents benefit from. We're also adding an in-house pharmacy. Independent residents will be able to walk over and pick up their prescriptions or have them delivered to their door."
The second phase of renovations, which will occur in 2023, will facilitate a full transition to person-centered care at SHC. In consultation with Action Pact (a national leader in developing the Household Model of care), each hallway of the Health Center will become a "neighborhood" with its own den, kitchen, and dining room.
A neighborhood will accommodate 12 to 15 residents and have a dedicated team of nurses, CNAs, and staff members from housekeeping and dining services. "This model helps us create an environment that's more like home," Brandon says. When they're responsible for a smaller group, staff can better accommodate the needs and preferences of every individual for meals, showers, taking medications, and participating in activities.
Stewart Health Center already has one neighborhood named Clayton Wing. Staff members are perfecting procedures and will apply this knowledge to the development of subsequent neighborhoods.
Springmoor's exciting plans for the future don't end with the renovations. "We're also expanding our Home Care services to be available to the larger Raleigh community," says Brandon. "There are many people who aren't residents of Springmoor who need home care, and we'll be providing them with the same quality care that our residents receive."
Whether folks need a month of care or years of services, they can take advantage of the Springmoor team's knowledge and experience—but in their own home. Look for more information on this new offering soon on the Springmoor website and Facebook page.
Brandon prioritizes constant, transparent communication with residents, their families, and all members of the Springmoor staff. To this end, the community will soon launch a new Resident Portal with significantly increased features.
In addition to providing access to menus, staff and resident directories, the resident-produced community newsletter, and much more, residents will be able to use the new portal to make reservations for events and activities. Daniel Sekeras, Springmoor's Director of Information Technology, will help residents become comfortable with the improved, easy-to-use portal.
If you're interested in learning more about all that our nonprofit Continuing Care Retirement Community has to offer, you can click here. Or, simply call 919-848-7080 today to schedule your COVID-careful personalized tour. Members of the Springmoor team look forward to meeting you soon!