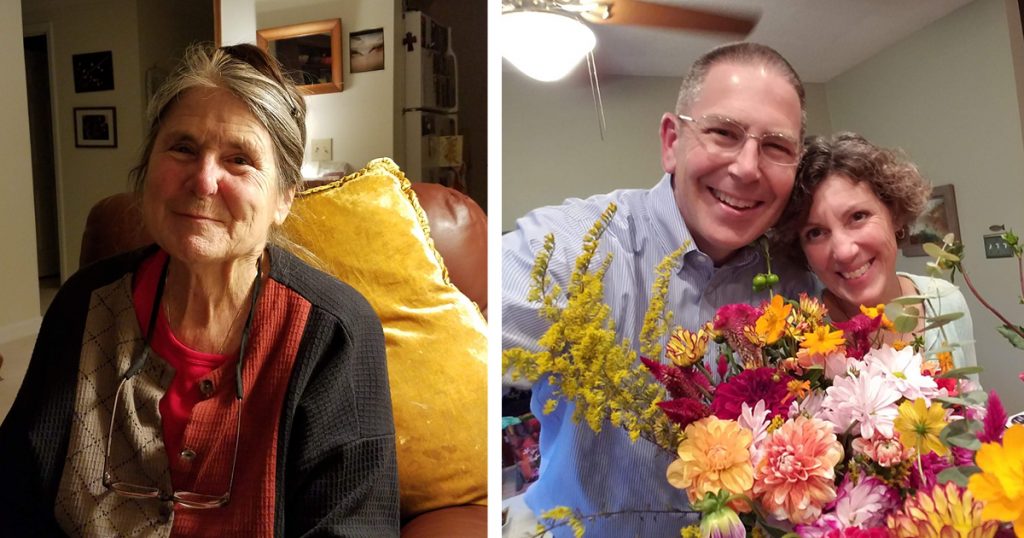 Your options for retirement living abound, and there are many factors such as services, location, and expenses to consider. Resident Judy Grant shares that she looked online at some other communities, but that choosing Springmoor for retirement living was a "no-brainer." "It was just a question of getting on the waitlist and waiting for an opening," she says.
Prior to her move to Springmoor in September of 2019, Judy was living in Florida. Her husband Jerry, who passed away in 2017, was a professor at Syracuse University, and the couple had divided their time between their primary home in New York, a summer home in New Hampshire, and a condo in the Sunshine State.
"Mom liked all three places," says Judy's adult son Bob. "But it was challenging dividing time and energy between them during the course of a year, even while Dad was living."
Bob has lived in Raleigh since 1992, and he and his wife Emily wanted to build a room onto their house for Judy. "My children are wonderfully involved in my life," says Judy, "but I'm very independent and wanted my own digs."
She was adamant about moving to a CCRC (Continuing Care Retirement Community) rather than living with Bob, saying: "It's wonderful to live with family if you're very healthy. But what if you fall and break a hip, then what does the family do? Springmoor has all of the levels of care. I didn't want my kids having to make crisis decisions regarding my care."
Judy's Adult Children Assisted Her with the Process of Choosing a Retirement Living Community
Bob explains that Judy was very open to having family members support her with examining the financial components of a move to retirement living and reviewing all the details about the various communities. He says, "My sisters, Kate and Sarah, and I did the research with the approval and support of the adult who would be moving to a CCRC, and this made the process workable."
"We quickly noticed a recurring theme as we gathered information and built out spreadsheets," Bob says. "Several friends from church highly recommended Springmoor, and I consistently heard from people my age that their parents loved living here."
Because Judy has brittle diabetes, she could need more extensive care in the future. She and her family appreciated that Springmoor seeks to support each resident as needed and also to provide as much independence as possible.
Bob explains, "A resident might have an illness that requires them to go the Health Center. After they recuperate, they can go back to living in their apartment or home at Springmoor. Here they support you where you can be happiest and most independent."
So pleased with her experience, Judy encouraged her in-laws (Emily's parents) to consider Springmoor. After 50 years in the same house in Rock Hill, South Carolina, Bill and Frances (Weenie) Daniel moved in three doors down in the fall of 2020. Bob comments that a big draw of Springmoor for his wife's parents is being able to visit your spouse multiple times per day in the Health Center, should they require more care than you do at some point.
Enjoying the Variety of Activities Springmoor Offers
Judy has always been an avid gardener and continues to enjoy turning over the soil and lugging 5-gallon pails of mulch herself. At Springmoor she has an individual garden plot and is relishing learning about Southern agriculture.
"My grandson already put up a fence around my plot to keep out the deer and rabbits," she says. "I'll be planting peas and early greens, among other items. At 82, it's fun to be learning new things, and I enjoy talking to the other Springmoor residents who garden."
Bob adds, "Mom lives simply and is a very introspective, religious person who likes her time in solitude. But she also enjoys the ability to engage with other people regularly. At Springmoor, you have your own living space and you can explore a wide range of activities."
Judy was born and raised in Manhattan and has been very involved in social justice issues throughout her life. Most of Judy's career was spent teaching third and fourth graders, and she always taught in the inner city by choice. "I've found a number of like-minded people at Springmoor," she says.
In addition to gardening, Judy is involved in the Life Writing Workshop at Springmoor taught by Dr. Jim Clark. She has always loved to write but didn't have time while teaching and raising a family.
The writing group meets once a month, and most of the participants are working on memoirs for their family or for their own pleasure. "It's very stimulating," says Judy. "The other members of the group are interesting people who are fun to know."
"The group is a wonderful nudge to choose to spend more time writing," she continues. Judy has dug into her writing more and finds it very satisfying. "It's meaningful to look back to my great grandparents and consider how my family history has come together to create my life. I'm finding this fascinating."
Judy has also been a meditator for more than 40 years and was interested in participating in a meditation group at Springmoor. There was no existing group, and one of our chaplains suggested she start one. Judy joined forces with two other residents, Juliana and Mid Wooten, to do just that. About 10 residents now meet each Monday afternoon in the Springmoor Chapel to meditate for 20 minutes and then talk about what's on their minds and hearts that day.
"A lot of the other residents enjoy the films, live music, evening programs, and tours to places like the Farmers Market," says Judy. "There are lots of stimulating things to do here, and you're free to choose the ones that suit you best."
The Character of the Springmoor Community
Judy describes the other residents as "extremely neighborly" people who look out for each other. "I'm a very brittle diabetic, and people check on me. Everyone I know feels very well cared for here."
Bob comments that Director of Sales and Marketing Beth Holden, as well as many other staff members from housekeeping to maintenance, have worked at the community for more than 20 years. "This speaks to how Springmoor cares for and invests in their employees," he says. "You get a sense of stability and feel confident the team here is providing strong, thoughtful care."
"The ongoing communication and support don't stop after you move in," Bob adds. "The staff at Springmoor is attentive throughout the initial process of learning about the community, the transition to upfitting your space and moving in, and then after you're a member of the community. They care about building relationships."
The principal of Washington Magnet Elementary School in downtown Raleigh, Bob knows the importance of strong leadership. "Brandon Hair, the Executive Director of Springmoor, has a great style," he says. "He's been very transparent throughout the pandemic and thoroughly explained all the safety precautions the staff takes."
He continues, "We were kept well-informed about any COVID cases, as well as changes to programming. They've managed the situation well by implementing numerous safety protocols, while still allowing family outside the community to engage and interact with the independent residents as appropriate."
If you're interested in exploring if Springmoor is the best match for you and your needs, give us a call at 919.848.7080. Or, you can click here to request a personalized tour or free information packet. It's key to plan ahead so we have an opening when you're ready to move to an active senior living community. We look forward to meeting you soon!