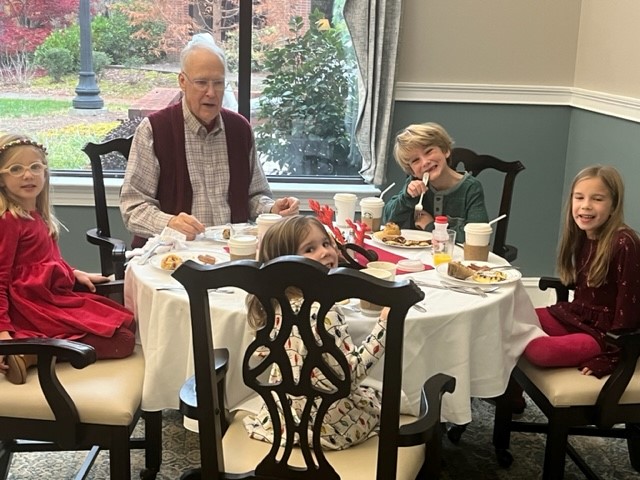 In 2012, Springmoor resident Tom Howell and his wife Jean chose Springmoor because it offers a full continuum of health care and is located close to his extended family. "My three daughters were all for the move," he says. One of my daughters asked, 'Why are you and mom still in Greenville when all the rest of us are here in the Raleigh area?'"
Jean, now deceased, wanted a two-bedroom deluxe apartment, and the couple was able to move into her first choice. The ground-floor apartment features a porch and courtyard. "I've always felt comfortable here; it does not feel institutional at all," he says.
The second bedroom comes in quite handy because Tom's grandchildren visit him at Springmoor frequently and often spend the night. Tom says he has been blessed to have the opportunity to help care for not one, but two, sets of growing grandkids at his Springmoor home.
There are so many things at Springmoor the grandkids enjoy doing with Grandad. Many of them love to swim in the pool, play shuffleboard, do arts and crafts, and help him build things in the woodworking shop, as well as watch movies in the theater.
Other activities the grandkids enjoy on campus include visiting the putting green and the exercise room near the pool breezeway. "I have kid-sized clubs, and they all like to do putting," Tom says. "They can also ride the stationary bicycles in the workout room."
Tom's grandkids visit him regularly, and other residents tell him they love to hear the pitter-patter of their feet in the hall. "They frequently comment how lucky I am to have grandkids nearby, and they appreciate when I share them," he says.
They also enjoy eating meals with Grandad. "There's always something the kids will enjoy on the menu," says Tom. He explains the staff makes an extra effort to provide the grandchildren with food options they're excited about. "Everyone here loves children. Staff and residents alike are so welcoming to little kids."
Tom speaks fondly of a specific employee in the Grille who makes fantastic "kid pancakes." "All you need to do is ask him for a kid pancake, and he gets a big grin on his face." This member of the dining staff places blueberries and strawberries in the batter while it's cooking to make eyes and a nose. "Every time the little kids come, they have to have a kid pancake," says Tom with a smile.
It's not just the grandkids who enjoy the food here. Tom comments that he's eaten a tremendous variety of new foods since moving to the community. "I really love that Dining Services provides a massive salad bar, and I load up on fresh vegetables," he says. Tom adds that residents can always request grilled chicken or salmon cooked to order if they prefer this option over the three entrées offered daily.
Tom says his three adult daughters deeply appreciate that they don't need to worry about him. "I'm surrounded by experts they can rely on," he says. A heart patient, Tom goes to physical therapy on campus and says he benefits greatly from the staff's support and expertise. "I love that I can walk to the clinic and to PT in 5 minutes and not have to worry about parking," he says. "You just can't believe how convenient it is."
"It relieves my daughters of a lot of anxiety that the support here is so good," Tom comments. "The nurses and PT people are wonderful, and there's a nurse in the campus clinic 7 days a week, just in case you need them."
Overall, Tom is very involved in life at the community, and his favorite activities include golf and woodworking. "If I'm not in my apartment or in the dining room, you can look for me in the shop," he says. "My wife said my whole face changed when I saw the shop on our tour of the community." In addition to repairing furniture for other residents, Tom enjoys making model cars and trucks from cherry, walnut, and mahogany. "I like to work in the shop and build something, and sometimes the kids help me."
Tom adds that the community is extremely family-oriented, as well as family-owned. "I was really excited that I got to meet Jud Ammons [Springmoor's founder and a resident until his death in 2020]. I'd stop and thank Jud for the wood shop. No one knows of another retirement community with a woodworking shop."
When asked what advice he has for folks considering a CCRC, Tom says to mull over your options for retirement living while you're still relatively young. "Both the husband and the wife often develop medical conditions as they age, and making the decision together to move to a CCRC, which offers comprehensive health care, is by far the best way to do it."
Tom adds that long-term care insurance isn't a practical option after a certain age. "Springmoor provides long-term, guaranteed care if you need it." He also likes that the Springmoor Endowment ensures that care continues if someone runs out of money through no fault of their own.
He gives his mother all the credit for teaching him one last lesson as an adult: How to retire well. She and Tom's stepdad moved to a retirement home that offered supportive and assisted living and was located near their grandkids.
"If I have any advice for other seniors, it's to be where your grandkids are," Tom says. "It means everything to me that I have some grandkids close by."
See Part I of this blog for Lillian Mallia's story.
Springmoor is a Continuing Care Retirement Community (CCRC) that offers seniors a full continuum of health care. Independent residents can choose from a variety of floor plans and residence options, ranging from apartments to larger villas and homes. It takes a visit to understand what s special place our community is!
Click here to fill out a short online form to receive a free packet of information or schedule an appointment for a personalized tour. We look forward to showing you around our 43-acre campus in North Raleigh!
Or, give us a call today at 919-848-7080. Our friendly team would welcome the opportunity to answer your questions about CCRCs and all that our community offers.