By Brandon Hair, Executive Director of Springmoor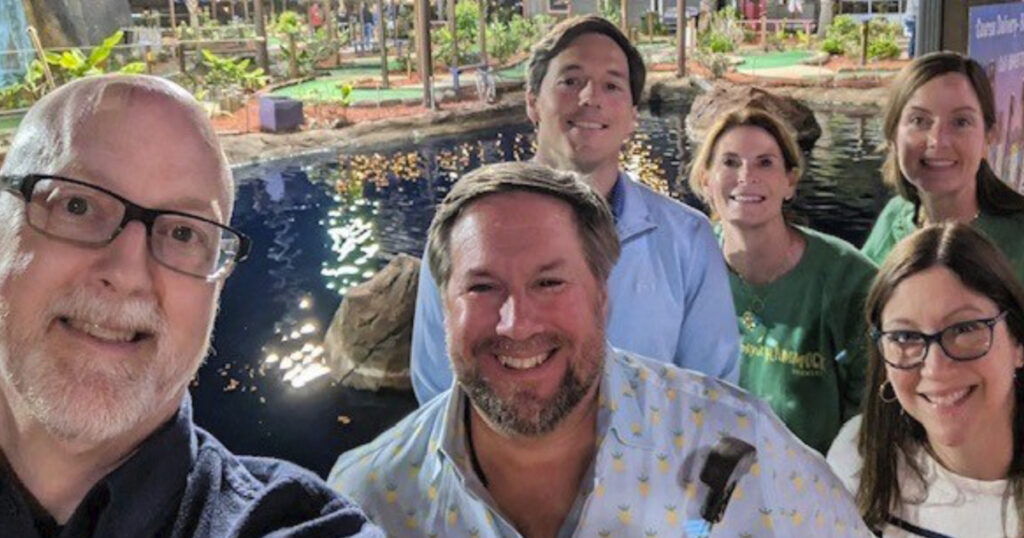 This summer (2023) I attended the annual North Carolina LeadingAge conference in Myrtle Beach, South Carolina. The theme for this year's conference, "The Greater Good," helped bring all of us together to focus on creating positive change and continuing to improve the lives of the older adults we serve.
The education committee of North Carolina LeadingAge, of which I am a member, coordinates this conference. If you are wondering why a North Carolina conference was held in another state, our goal is to have the event at a popular destination each year to increase in-person attendance. When I worked in the retirement sector in South Carolina, people would ask why we were traveling to Asheville, North Carolina to attend a conference.
The use of Zoom and other virtual meeting platforms has, of course, grown exponentially because of the pandemic. I am a firm believer, however, that you typically reap much greater benefits from meetings and conferences if you attend in person. One of the main advantages of being there is the networking, camaraderie, and informal information sharing with other community leaders. This year was no different.
The aging services sector is changing rapidly, and there are many evolving issues that require analysis and planning. I decided to ask several additional staff members to attend the conference with me this year to learn more about these common goals and positive changes.
One of the individuals attending for the first time was Beth Holden, who has been our Director of Sales and Marketing for more than 25 years. She was able to meet many colleagues and vendors she has worked with in the past but had not had the opportunity to interact with in person.
Beth attended several beneficial sessions regarding strategies for improving the lives of all the residents we currently serve and will serve in the future. Among other topics, these sessions addressed renovating existing buildings instead of building new ones.
At Springmoor, we are committed to continually evolving to stay competitive and financially stable. Our success throughout our 39-year history relies on staying true to our core principles while progressing at a measured pace. We're currently in the process of renovating our Stewart Health Center, and I am excited that we are actively participating in the process of transforming the communities of yesteryear into the communities of tomorrow.
The sessions of the conference I personally found most beneficial dealt with employee recruitment and retention. I took away several ideas that I hope will improve our employee work environment and employee benefits.
The recommendation that stood out most to me was ensuring that staff have top-of-the-line break rooms with adequate space and amenities. In this era of people working virtually, the vast majority of Springmoor employees cannot work from home. It is more important than ever to provide them with a comfortable space as lovely as any at Springmoor in which to rest and rejuvenate.
All break rooms need to be consistently appointed and maintained. For example, the housekeeping and laundry break room in the basement should be just as pleasant as the newer break rooms that the employees in the renovated Stewart Health Center will enjoy.
We need to implement fresher and healthier vending machine options, charging stations for phones and iPads, free coffee and water, and comfortable furniture so that staff can relax and enjoy time with their coworkers while on break. These small amenities can make a huge difference in the daily lives of our employees.
The idea is to provide a home away from home so that staff members want to come to work early and stay later to bond with their work family. Research indicates employees are seven times more likely to stay at their jobs if they work with a friend or enjoy close relationships with coworkers. My goal is to create that opportunity for all employees.
Another area conference speakers focused on was employee wellness. Everyone is much more conscious about the importance of health and wellness and providing a "free gym membership" as a benefit is increasingly attractive to prospective employees.
We are very thankful that we have a first-class wellness facility that employees can use. By highlighting and marketing this free, exceptional extra to all employees, we hope to continue to attract top talent and enhance their overall satisfaction with their jobs at Springmoor.
Other ideas discussed at the conference were utilizing robots in the dining room, providing daycare for the children of employees, and offering enhanced training programs. Speakers even addressed "dream schedules," which I struggle to wrap my head around.
If you have not heard of a "dream schedule," you may be unaware that economists in the 1960s predicted we would now be working only 27 hours a week, instead of 40, due to computer technology. Unfortunately, this has not come to fruition; we seem to be working more hours now than ever before. Maybe a robot in the dining room will eventually provide support to our hardworking wait staff.
While at the conference, members of the administrative team had the opportunity to play miniature golf together as part of a group outing. Of all the years we have attended the LeadingAge conference, this was the first time we had a night to ourselves with just our work family.
The evening turned out great, and we plan to dedicate one night each year with just us to continue bonding and growing closer as leaders. The teams were men versus women, and the scores of the two groups were tied. Congratulations to Richard Settle's wife Christine, who scored lowest!
Want to learn more about Springmoor?
Springmoor is a nonprofit Continuing Care Retirement Community offering seniors a variety of residence options that range from apartments to larger villas and homes. If you're looking for an active senior living community in Raleigh, call us at 919-848-7080 with your questions.
You can also click here to fill out a short online form to receive a free packet of information or schedule an appointment for a personalized tour. Our friendly team looks forward to meeting you soon!
Are you interested in becoming part of Springmoor's exceptional team? Visit the careers page of our website to view our current job openings and apply online.