By Brandon Hair, Executive Director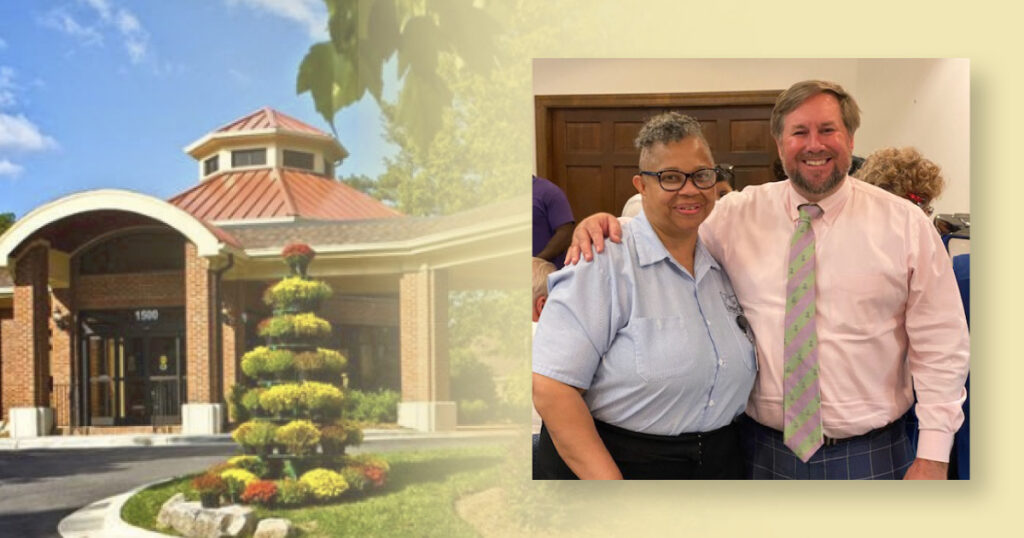 Over the past three years, the retirement industry has been hit as hard as any other regarding the hiring and retention of top-quality employees. The additional stresses of the COVID-19 crisis caused many professionals in the healthcare field to seek other types of employment. Many previous caretakers have found jobs in other professions that provide higher wages with less work, lower stress levels, and more flexible hours.
My hope is that the retirement living and long-term care industry can implement more of the strategies that other industries use to recruit and retain staff. If so, I believe we will see improvements, particularly regarding recruiting nurses and nursing assistants.
High wages and excellent benefits will always be the main factors that attract new employees, but there are many improvements we can make to retain our employees after we hire them. For people to be motivated to excel at their jobs—and any other important aspect of their lives—their needs must be met.
Maslow's Hierarchy of Needs provides a model for understanding what motivates people. Psychologist Abraham Maslow theorized in a paper published in 1943 that there are five levels of human needs: Physiological, Safety, Love/Belonging, Esteem, and Self-Actualization.
In this model, physiological needs such as food and water form the foundation of the pyramid of needs. Maslow believed an individual must meet their needs to a large degree at each level before progressing to the next. He postulated that being fulfilled in life results from being able to meet your needs at all five levels, including self-actualization, which is located at the top of the pyramid.
Self-actualization occurs when a person uses their talents to reach their full potential. Maslow did not coin the term "self-actualization," but his work brought the concept into the mainstream. He believed that a person can only reach this highest level of psychological development after the basic needs of the body and ego have been fulfilled.
At Springmoor, we support each employee to help them reach their full potential. We believe our approach benefits both the employee and the residents they are committed to serving.
Our managers address the human need for Love/Belonging by nurturing a community culture that emphasizes teamwork. We support the development of strong relationships among employees, as well as among employees and residents.
Our employees work well with their co-workers, practice effective teamwork, and feel a strong sense of belonging to a larger group. Many close relationships between employees exist across departments that work together daily, such as dining, healthcare, and maintenance.
Perhaps the greatest contributing factor to employees' Love/Belonging needs is the love residents show to our employees. This was evident recently when many residents gave to our first annual employee appreciation fund.
Long before this fund was created, many residents expressed their caring through kind words and gestures, by asking about employees' families, and by demonstrating an overall interest in their wellbeing. This has built many strong relationships between staff and residents and a pervasive sense of love and belonging throughout the Springmoor community.
I receive many lovely notes from residents about staff, and I always share these thanks and positive comments with them. This goes a long way to meeting employees' needs to feel they are loved and that they are valued members of a group, and this goes for me as much as anyone else on staff. 
Our exceptional residents play a huge part in retaining our employees. Every time we survey employees regarding what they like most about their job, their answer is always the residents.
Springmoor management addresses the need we all have to feel valued (Esteem) by providing appropriate appreciation and recognition to staff on an ongoing basis. Springmoor has always coordinated an employee recognition program that we have continually improved over the years. Our current program is called 7 Service Promises.
Each month as part of this program, we recognize two employees from the Stewart Health Center and one each from North Village and South Village. A total of four employees every month are recognized, highlighted, and rewarded for demonstrating one of the seven promises related to making Springmoor a better place to live and to work.
Everyone wants approval and reassurance that they are doing a good job, and this recognition is a great way to honor individuals who are excelling at their jobs. I encourage all residents to continue to submit nominations each month, as well as provide positive feedback about any staff member at any time.
Once Love/Belonging and Esteem needs are met, the way is paved for each individual staff member to achieve self-actualization. One of the primary components of Springmoor's mission is to provide all employees with a positive work environment and opportunities for career advancement.
Our administration works hard to do this in multiple ways, and these factors are primary reasons why we frequently retain quality and caring employees for many years. Our commitment to investing in our employees includes extensive continuing education efforts.
We employ two nurses in our Stewart Health Center whose jobs are to provide our nurses and CNAs with in-services that develop and enhance their care and leadership skills. We also send our staff to many trainings, conferences, and seminars outside of the community to help them continue their education.
We provide a tuition reimbursement program for any employees returning to school to further their careers at Springmoor. Currently, we have several staff members working toward degrees in nursing and business and one LPN studying to become an RN.
Our management team always strives to promote from within if possible, and we can point to many success stories regarding employees who have advanced in their careers during their tenure on our staff. Donna McGee, our Resident Insurance Director, worked in dining and medical records for more than 20 years and was then promoted to her current senior manager position.
Jacob Hollingsworth, our Director of Security and Transportation, worked for 16 years as a third-shift guard and receptionist before becoming a director. Debbie Sivnksty served for 25 years as a floor nurse, as a clinic nurse, and in several other nursing roles at Springmoor before being promoted to Director of Nursing.
Our Information Technology Director, Daniel Sekeras, began his career at our community in 2008 as a cook. Having completed coursework in computer science and information technology, in 2015 Daniel left professional cooking for a full-time position as head of Springmoor IT.
Brad Dilday, our Associate Director, started his first "real" job as a busser/dishwasher at Springmoor at age 14 and continued to work in our Dining Services department throughout high school. Twenty years later, he returned to become the Capital Projects Manager for our Stewart Health Center renovation and has now been promoted to Associate Director, while continuing to serve in his capacity as a project manager.
Springmoor is a nonprofit Continuing Care Retirement Community offering seniors a variety of residence options that range from apartments to larger villas and homes. If you're looking for an active senior living community in Raleigh, call us at 919-848-7080 with your questions.
You can also click here to fill out a short online form to receive a free packet of information or schedule an appointment for a personalized tour. Our friendly team looks forward to meeting you soon!
Are you interested in becoming part of Springmoor's exceptional team? Visit the careers page of our website to view our current job openings and apply online.