Recently, as part of its 35th anniversary celebration, Springmoor honored Barbara Vinson and Sandra Harris – two sisters who have worked there since the beginning.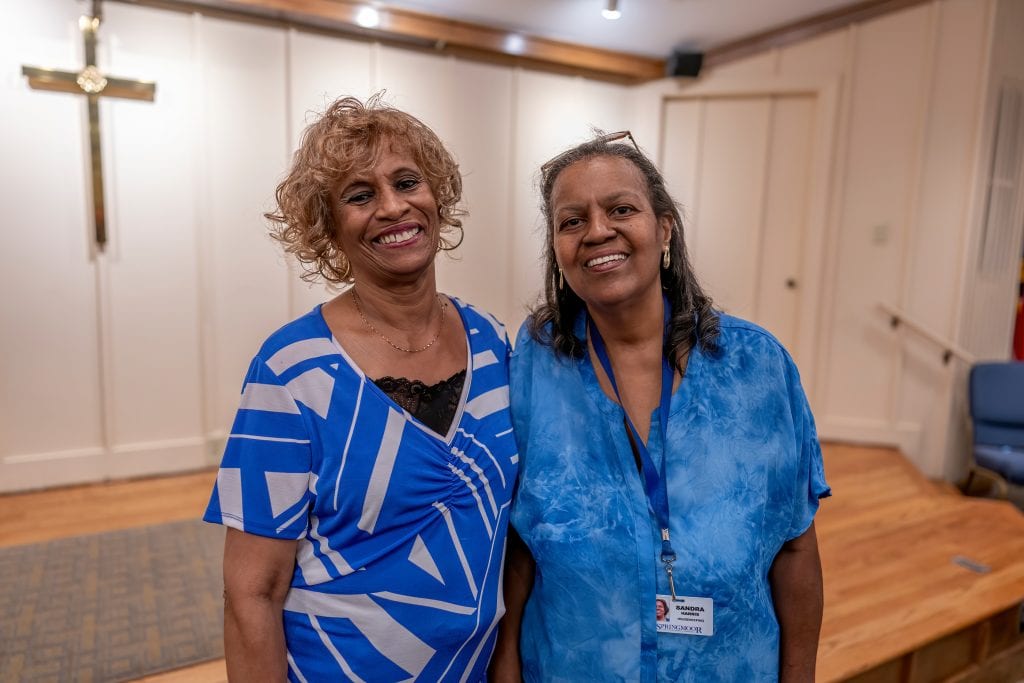 At the ceremony to honor long-time staff, the current and former directors of the community including David Ammons, Marshall Evans and Brandon Hair as well as the sisters' current and previous supervisors shared their appreciation for Sandra and Barbara.
"It was a really nice ceremony, the program was really nice," Barbara said. "Everyone was there and made nice speeches, which made us feel very special and appreciated."
Barbara started her career at Springmoor in August of 1984, when the first group of residents started to move into the brand-new community in Raleigh. About a month later, Sandra joined Barbara there in September of 1984. The rest is history.
Over the past 35 years, Barbara and Sandra have managed a variety of important roles throughout the community related to housekeeping and residential services. They've made special relationships with the individuals and couples who live there, they continue to do important work, and they've seen the community grow and evolve into what it is today.
Family connections on multiple levels
"The family connection is what brought me here," Sandra said. "I got to work with my sister, and we also got to be closer to home and closer to our families because we've lived in Raleigh our whole lives."
It's more than just the sibling connection though, Barbara explained: "We've been able to have nephews and nieces and great nephews and other family members work here over the years, so that's been cool."
Barbara and Sandra also shared how their role at Springmoor has allowed them to connect with so many of the residents.
"The residents are all really, really nice, and we enjoy working with them and getting to know everybody," Sandra said. "It's like they're family. Over the years, we've had a 'buddy system,' where we'd spend time with residents outside. When you get to know someone and see them every day you really develop a connection."
All in a day's work
A community like this requires a large, skilled and dedicated staff to ensure that it lives up to its reputation as the premier Continuing Care Retirement Community in Raleigh. Sandra and Barbara are part of that team, and their work makes a difference there every day.
Barbara, Sandra and their associates are part of the team that enables the maintenance-free lifestyle that Springmoor offers. They handle regular housekeeping duties such as providing linen service, dusting, and cleaning kitchens and bathrooms. These important services help Springmoor residents enjoy more free time for the community's amenities and activities, and ensure that their homes stay safe and clean.
Over the years, the sisters have worked in just about every residence option that Springmoor offers, from the Apartment Homes (where Barbara is an assistant housekeeping supervisor) to the neighborhoods of standalone homes and villas.
Today, Barbara and Sandra both work in the East and West Apartment Homes in North Village, which are in the center of campus and near the main Dining Room. The sisters occasionally do work together, which can make the day fun as they move through the halls.
A special community – then and now
"When we came here, the campus wasn't even finished yet," Barbara said. "The Health Center was just cement and dirt and dust, and the West Apartments were just woods. It's built up a lot over the years!"
Barbara is right. Since then, Springmoor has added more residences and more amenities to its beautifully landscaped 43-acre campus, including the state-of-the-art Pathways Wellness Center, which has become a hub for maintaining multifaceted wellness. Plus, it offers resident favorites like the Village Bistro and bar.
"Campus is bigger and much more modern now," Barbara said. "With the newer buildings, we like having the opportunity to go use exercise equipment, play games and so forth."
Beyond the brick and mortar, both sisters commented on the special feeling at the community. They're happy to make an impact on the daily lives of everyone there, and their hard work has not gone unnoticed. Springmoor is lucky to have them!
To learn more about Springmoor, simply click here or call 919-651-4844 for a free info packet.