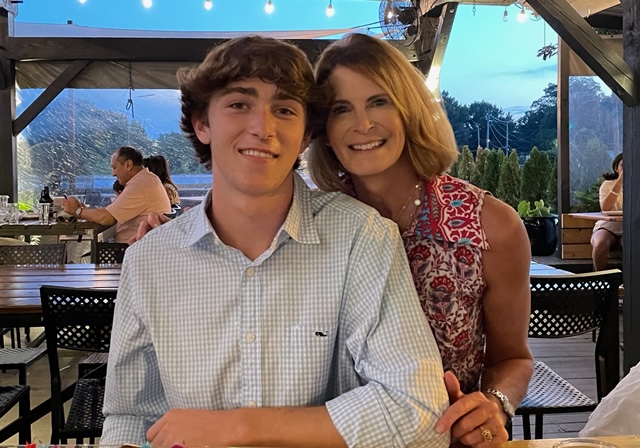 Beth became a member of the Springmoor team in January 1996. Typically, we enjoy mild weather in Raleigh, but Hurricane Fran hit that fall. Flooding—combined with downed trees and power lines—prevented some staff from reaching our campus.
Beth made it to work somehow. She proceeded to hang drapes and assemble a medicine cabinet for a new resident scheduled to move in that day. "I've done everything here, including washing dishes and making sandwiches," she laughs. "It comes down to all of us pulling together as a team to care for the residents and for our fellow staff members."
In addition to her willingness to pitch in however she's needed, our director of sales and marketing is remarkably committed to her work. When asked what she likes most about her job, Beth says, "It gives me a sense of purpose to help people with the major life change of moving to a retirement community."
On any given day, you're likely to find Beth working directly with new and prospective residents. If someone is moving in, she manages the process of completing paperwork and helps ensure the move-in process is flowing well. She often conducts tours of the campus, including showing those considering an imminent move to the community which residences would be available.
Of course her day also involves meeting with existing residents and other staff members. As a department manager, she participates in Executive Director Brandon Hair's daily 8:15 am meeting called "stand-up." All department heads come together to discuss the priorities for the day and coordinate their efforts as needed.
Existing residents also call the marketing department regarding various concerns, such as moving to a different level of care. "I do whatever I'm called on to do," she says.
Beth's path to Springmoor
After graduating from Meredith College with a BS in Business Administrator and Management and a minor in Marketing, Beth got a job as a graphic designer for a small family business. She liked the work, but there was no room for growth at the company.
She decided to interview at The Fountains at the Albemarle, a retirement community located near her hometown of Rocky Mount, North Carolina. She was thrilled when she hit it off with the director of sales and marketing and landed the position of marketing counselor.
"I knew immediately I had found what I wanted to do for my career," Beth says. "I loved helping residents and their families, especially in a community that provided all levels of care."
One of Beth's grandmothers (her dad's mom) was a resident. "The hair salon was right outside the marketing office, so I got to see her all the time," she says with a smile.
As much as she enjoyed the job, Beth wanted to move to a larger city. She knew from her college experience that Raleigh was a great place to live and work. After three years at the Albemarle, she sought a job in the marketing department at Springmoor.
Throughout her 26-year tenure, the marketing department has had a team of three to five people. Currently, Susan Bordeaux focuses on sales. Wendy Burgess is the relocation/move-in coordinator. In addition to her sales role, Beth manages the department, overseeing all marketing and communications efforts, including advertising.
"Springmoor has a terrific leadership team," Beth says. "The department managers are all very strong. Most of us have been here a long time, and we all work well together. Whatever challenges come our way, we work through them. We love what we do, and we love the residents. We want them to feel cared for, like they are our own parents or grandparents."
The family atmosphere cultivated at Springmoor is a natural extension of the original vision of Springmoor's founders, the Ammons family. "The atmosphere here is one of the main reasons I've been at Springmoor so long," says Beth. "The community here is truly like a big, extended family."
She continues, "We are largely resident-driven and have about 20 resident-led committees. The staff is here to support the residents as they live the kind of lives they want here at Springmoor."
"Why we do what we do"
Beth shares that the sales and marketing team receives many notes from new residents expressing their appreciation for the team's support during their move. "Knowing how much people love their new home is so gratifying," she says. "This is why we do what we do." Here's one example of a thank-you note to the entire department:
Dear Beth, Susan and Wendy,
From the beginning of our journey on the road to being residents at Springmoor, we have had the best counsel, guidance and help possible. We are deeply grateful for each one of you and the role you have played in our becoming part of the Springmoor family. You, the residents and all staff have welcomed us. 

We were so excited to be able to move to Springmoor together. We feel very blessed to call Springmoor our home.

Thank you for all you and the marketing team do and your part in making it home for so many.
Fondly,
Tom and Betty Bodkin

Beth, Susan, and Wendy strive to develop a good rapport with each new resident. They pull together as a team to help them have the best possible experience as they transition to retirement living and then live their best life as a member of the Springmoor community.
"We want the residents to be happy and enjoy living here," says Beth. "No one is going to pressure you into taking a residence you're not 100% excited about."
Something for everyone
Beth attributes Springmoor's outstanding reputation in part to the wide range of events and activities available to residents. "The benefits of a CCRC (Continuing Care Retirement Community) go way beyond knowing you won't be a burden to your adult children," she says. "We offer something for everyone, with many activities to choose from each day."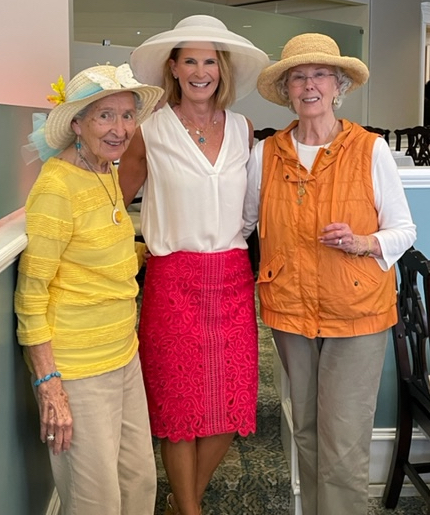 Beth explains that Springmoor's activities address all aspects of life: physical, spiritual, mental, and social. "Residents have constant opportunities for socialization—you're never sitting home alone unless you want to be." Residents stay active and engaged by taking advantage of lectures, concerts, outings, art classes, and much more.
Changing and improving in response to resident needs
One significant change Beth has observed over the past 25+ years is that residents today are much more physically active. "People are just more health-conscious overall now," she says. "They make healthier meal choices too. With the addition of our café and bistro, residents have options even beyond all that's offered in our main dining room."
Other improvements to the community include: adding the Clayton Wing to the Stewart Health Center to make more private rooms available; expanding the lobby in South Village; and renovating the lobby in North Village to have more common spaces. The resident-run convenience store has been expanded with all facilities being updated. A major renovation of the Stewart Health Center is currently underway.
One of the most exciting projects in recent years has been the addition of the Pathways Wellness Center to the South Village campus. The Wellness Center includes a saltwater lap pool, sauna, and whirlpool. Residents can take advantage of state-of-the-art equipment and an exercise studio. These renovations included the addition of the bistro and the University Theater.
Another change greatly enhancing life at the community was updating the art room, now called Meraki Arts Studio. The community purchased a glass kiln, and about 70 residents currently participate in fused glass classes. A pottery kiln is coming soon.
"When I started here, the art studio offered only stained glass classes and a dark room for developing film," Beth says. "We've evolved with the times and turned the darkroom into storage because cameras became digital."
Beth shares that today's residents are highly engaged in programs like the Life Writing Workshop, book clubs, discussion groups, and much more. "The residents have such a strong voice in what is offered here," she says.
Beth emphasizes that Springmoor management has always been mindful of not burdening the residents financially with improvements. "We're also committed to keeping any disruption to a minimum," she says.
Another big change has been an explosion in the use of technology. Springmoor provides a business center, and most residents also have their own computers, tablets, and smartphones.
The community offers an online portal to facilitate communication. Residents use the portal to access menus, announcements, staff and resident directories, and much more. They can now sign up for events and activities on the portal as well.
IT Director Daniel Sekeras provides talks on topics such as using a tablet or taking full advantage of the portal. The resident-led Technology Committee also lends a helping hand to other residents who need it.
Beth has seen many changes and improvements over the years, but she notes that much has remained consistent. "A lot of things like vesper services and residents tending individual garden plots on campus were established in the beginning—and they continue because they're so popular."
Springmoor is an inclusive community that welcomes seniors with wide-ranging backgrounds and life experiences. "Our residents tend to be community-minded, neighborly, and compassionate toward other people in general. They care about one another and enjoy helping out their fellow residents." Beth adds that residents also increasingly want to be more involved in life outside of the Springmoor community.
"We have about 45 residents who are second generation," she says. "The fact that their parents lived here as well speaks to the quality of life at Springmoor and our reputation in the community. People are often interested to know also that Springmoor's founder, Jud Ammons, lived here until he passed away in 2020."
A busy, active personal life
Beth has a son named Tyler who is 17 and attends Broughton High School. He works part-time in dining services at Springmoor.
She also has three stepchildren with whom she's very close: Chandler (28), who is employed at Fairview Investment Services in Raleigh; Blake (26), who lives in Asheville and works for IQVIA; and Caroline (22), who lives in Raleigh and has recently joined the team at Berkshire Hathaway.
"One of the many reasons I've been at Springmoor so long is that they worked with me as I had my family," she says. Beth worked four days a week when she was helping raise four kids. "Being allowed this kind of flexibility in my schedule demonstrates how Springmoor is managed and the culture of compassion we have here."
Beth and her son Tyler love spending time at to the beach, particularly Nags Head, where her parents have a summer home. Her Shih Tzu, Tanner, often joins in their adventures.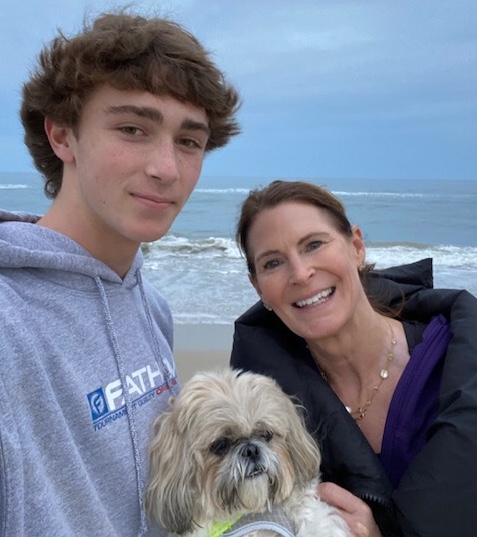 She enjoys many forms of exercise and is an avid tennis player. "Tennis is my passion," Beth laughs. She plays through USTA (United States Tennis Association) and is a member at a North Hills Club, which boasts 22 tennis courts and a full-service pro shop.
Beth picked up tennis as an adult and has been playing for about 7 years. "I just fell in love with it because it's great for both socializing and exercise," she says. In high school, Beth swam, was a cheerleader, and played basketball and soccer. While at Meredith, she participated in the synchronized swimming program.
Are you interested in learning more about all that our nonprofit Continuing Care Retirement Community offers? Click here to request that a free information packet be mailed to your home. Or, simply call 919-848-7080 today and speak with Beth, Susan, or Wendy to schedule your COVID-careful personalized tour. We look forward to meeting you soon!