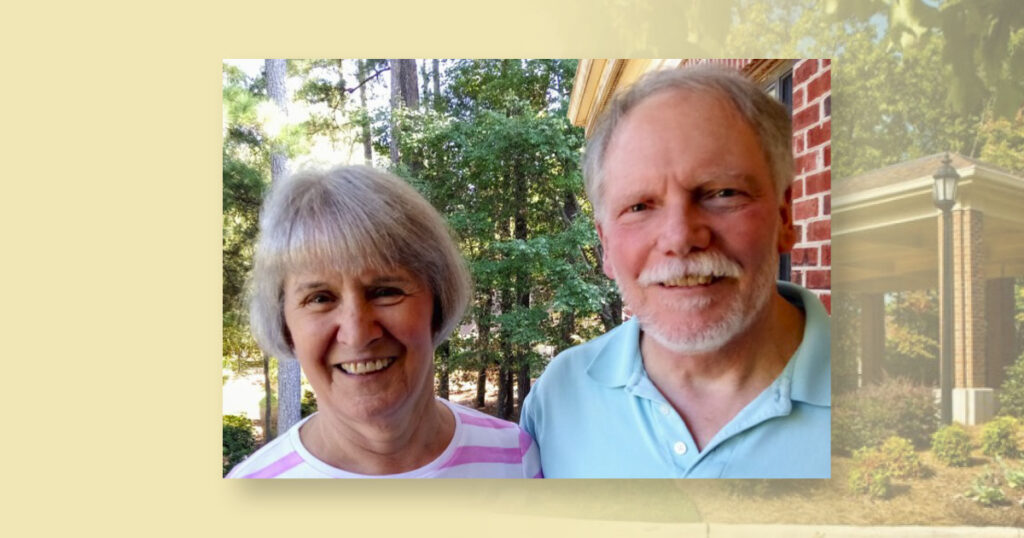 For 23 years, Frank and Angie loved living in their 3,000-square-foot home on Ridge Road in Raleigh. The house sat on half an acre of land and had a large woodworking shop and room for the musical instruments Frank plays. "I could even warehouse all of my computer relics," he laughs.
The time came, however, when maintaining the house and yard began to feel like a burden. Frank loved working outside, but Angie's arthritis prevented them from enjoying this activity together.
The couple didn't have close friends in their neighborhood, so visiting them involved a car trip. "Our grandchildren were older than our neighbors' kids," Frank says. "We felt more and more a sense of isolation. Then the pandemic hit, and this feeling was amplified."
The couple attended an Encore class about different types of senior housing. "We didn't seriously consider any other communities," Angie says. "Springmoor was the only one I had a fondness for. It had everything I wanted."
They had already put their names on the Springmoor waitlist and were ready to make a move when space became available. "We preferred to err on the side of moving to Springmoor early, rather than being too late," Angie says. "Staying in our house on Ridge Road would have been great—had we never aged."
The housing market was favorable to sellers, and the couple moved to Springmoor in July 2021, knowing they could sell their home later. This gave them additional time to winnow down their possessions. "If we left it to Frank, we would still be downsizing," Angie laughs, "but I'm ruthless once I start going through items."
They now have a two-bedroom apartment at Springmoor that suits their needs well. "We had scaled drawings to the inch of all the rooms of our new apartment, and we figured out how items would fit best," says Frank.
When asked what initially led them to Springmoor, the couple shares that a close friend of Angie's already lived here. They originally thought they would prefer a large, semi-detached residence, but their friend Ruth invited them to tour her apartment, with its closet organizers that optimized storage space.
The arthritis in Angie's knees was increasingly becoming an issue, and they saw the benefit of a smaller space—and being able to leave their apartment and access other areas of the community without dealing with inclement weather.
Springmoor being a Continuing Care Retirement Community (CCRC) was central to the couple's decision-making process. "Going with a CCRC was the top priority," says Angie. "And, the campus is just beautiful. The walking trails and the whole ambiance are wonderful."
Angie explains that Alzheimer's disease runs in her family. "In case we will need to deal with this, I felt strongly that we should get prepared. We didn't want to be forced to move again to get care if it's needed, and it was important that Frank and I could continue to live on the same campus."
Challenging careers and a vibrant family life
Frank grew up in the Northeast, and Angie grew up in Raleigh. She also lived in New Bern and Chapel Hill.
They both loved to read and decided to major in English, meeting in graduate school at the University of North Carolina at Chapel Hill. Initially, they resisted being set up by a fellow student who thought they'd be a great match. When they finally gave in, "Magic happened," says Frank.
Frank was specializing in literature from the Renaissance and the Elizabethan Era. For fun, he also took courses in calculus and computer programming. "I just needed that part of my brain activated," he says.
After working as a technical writer, he decided to earn a certificate from NC State in computer programming. "SAS was just a kernel of an idea in the '70s," he says. "I went on to build a long career doing almost exclusively SAS programming." As a technical writer, he produced user manuals for computer systems.
When Angie found teaching English didn't spark her, she decided to attend nursing school at UNC-Chapel Hill. "From the time I was quite young, I knew I wanted to do something to help other people," she says.
She worked in the Neuro ICU, in public health, and in hospice care over the course of her career. "I loved it all," she says. "It's nice there are so many Springmoor residents to connect with who are also retired nurses," she says.
The Roedigers have two adult children, Michele and Jason, both of whom live in Richmond. Their daughter has two children, a son who is a cook and restaurant manager and a daughter who is in her third year of law school at the University of Virginia.
Pursuing their passions at Springmoor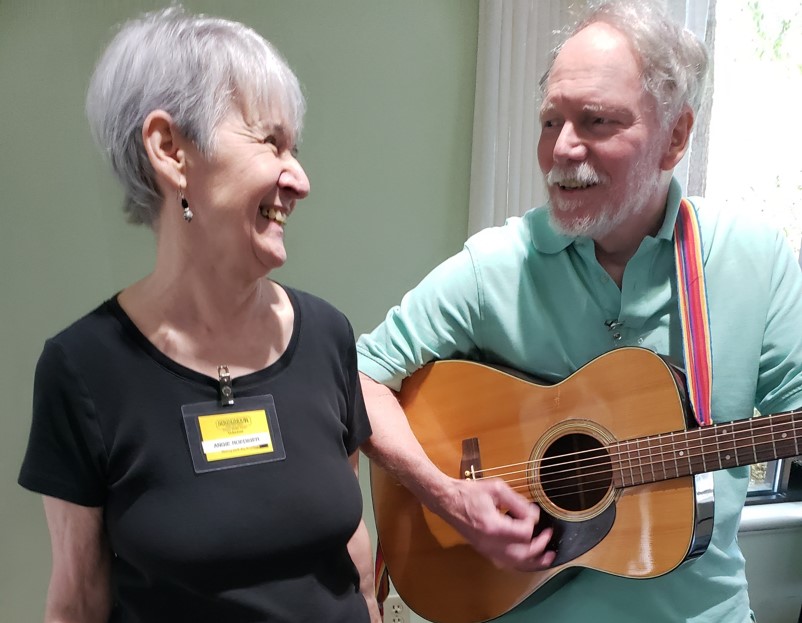 Both Frank and Angie have many interests. Frank is very active and has immersed himself in multiple events and activities at Springmoor. His hobbies include golf, shuffleboard, woodworking, pickleball, cooking, and playing folk music.
He coordinates shuffleboard for residents on the pool breezeway and was instrumental in the recent refurbishment of the shuffleboard court. "I'd never played shuffleboard before Angie and I moved here," he says. "The camaraderie is beyond belief. Everyone encourages everyone else, and it's a wonderful activity."
"The putting green is also a really fun spot on the campus," says Frank. "We give booby prizes, and folks win cookies for low scores—and then just wind up sharing them with everyone else."
Frank also started a pickleball group that plays at Greystone Swim and Racket Club. Springmoor has a partnership with this club, which is located on Sawmill Road .5 miles from campus. About eight residents participate regularly.
A multi-instrumentalist, Frank plays bass, guitar, and piano. He plays bass in the band Adult Supervision, which entertained the community with rock and roll tunes at Springmoor's Fall Festival in 2022.
Frank is also a member of the JD Goodtime Band, which provides the music for sing-alongs. "We have a lot of gigs, and we play lots of different kinds of music," he says.
Genres include folk, bluegrass, and Dixieland, and the band brings joy through their music to other retirement communities, adult day care facilities, and the Famer's Market in South Durham. Frank plays guitar and the other two band members play banjo and trombone.
Not to be left out, Angie joins Frank to lead a sing-along on campus once a month. "We also provide music at Vespers at the chaplains' request," she says.
Angie is an accomplished visual artist who focuses on acrylic painting. Her preferred size is 5" x 7", and her favorite subject matter is animals. Though she has shown her art, she doesn't sell her work.
"I paint for me," she says. "This was a late development. I had no idea I could paint until I did." She has also quilted, cross-stitched, and created wood assemblages.
About a decade ago, after major spinal surgery which prevented her from taking anti-inflamatory medications, Angie discovered that a vegan diet alleviated the pain of her arthritis. "I felt so much better when I cut out animal protein," she says. She has also been to several of the monthly meetings of Springmoor's FAN (Fitness and Nutrition) Club.
Angie also spends a lot of time reading. In addition to the Springmoor Library, she uses the services of the Wake County Public Libraries. You'll also find her in an exercise class at our Pathways Wellness Center, with yoga being a preferred activity. She finds it rewarding to serve on the Stewart Health Center committee of the Residents Association as well.
Frank volunteers on campus at our Convenience Store. He is also generous with his time when it comes to helping other residents with their computer problems. "I get first dibs on his assistance though," Angie says with a smile.
"I like living in community and always having other people around," says Angie. "It's nice to be able to walk out into the hall and interact with your neighbors, and people were very friendly and welcoming right from the beginning."
The couple shares that some people comment that they're too young to live in a retirement community, but they are happy to take advantage of the many services and amenities. "With my arthritis, it's really nice not to spend time scrubbing the kitchen floor," says Angie. "I love the housekeeping service here."
Plan your visit to our campus today!
It takes a visit to understand what a special place Springmoor is. Our monthly service package allows you to spend less time doing things like dealing with health insurance paperwork and more time doing all of the things that bring you the most joy. From 24-hour security and emergency call service to chef-prepared meals, life is better at Springmoor.
To learn more about our active senior living community, call us at 919-848-7080 or click here to request a personalized tour or an information packet. We look forward to speaking with you soon about all that Springmoor has to offer.