If you're like most of us, poring over paperwork from Medicare and your other health insurance carriers ranks near the top of the list of tasks you'd rather avoid. The language and formatting of medical claims are confusing to most non-experts, and there's a tendency to wonder if you've handled things correctly and to your advantage.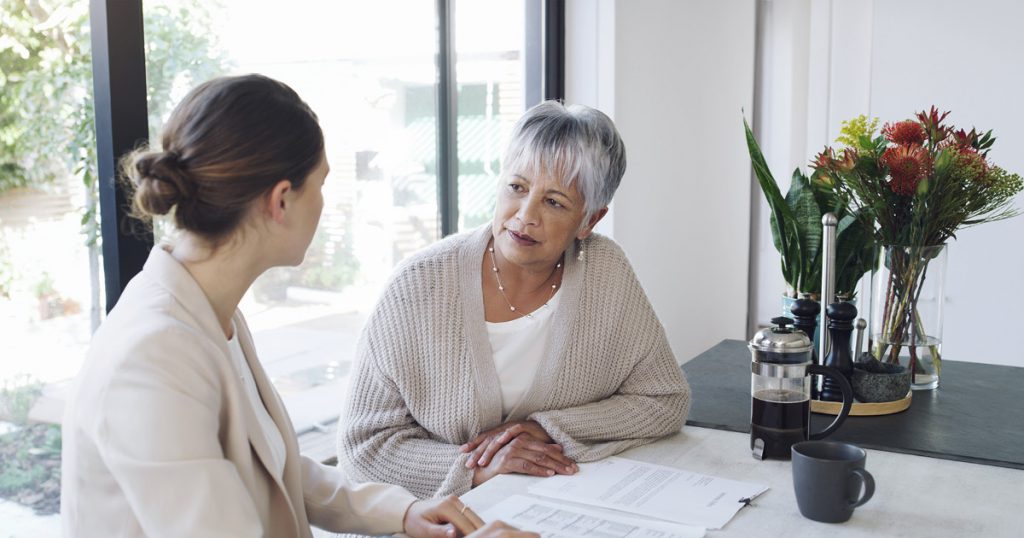 Springmoor residents don't have to worry. A unique benefit we offer is our healthcare administrative services. Let us review complicated healthcare bills and forms for you. The staff of our Comprehensive Health Care Plan (CHCP) monitor and track your health insurance claims and advocate for you when necessary.
All you need to do, in addition to sharing any bills you receive from your medical providers, is to provide us with the EOBs (Explanations of Benefits) and other information you receive from your insurer. Your assigned Springmoor representative then helps to ensure that all bills are paid properly.
As you know, there's often a delay between the time a medical service is provided and you receive your EOB. This delay can add to uncertainty regarding whether or not your insurance carrier has correctly paid a bill. Donna McGee, Springmoor Insurance Manager, can help!
Donna is responsible for ensuring that all resident medical claims are filed to both Medicare and any other appropriate insurance carriers. She and the other two members of her team confirm for residents that each of their claims is processed accurately, saving them tons of time and aggravation.
Like many members of our staff, Donna has a long tenure with our community; she has been at Springmoor for 23 years. She started her career here in our Food Service Department as an Office Assistant and quickly moved to a bookkeeping position. About four years later, Donna became the Medical Records Coordinator at our Stewart Health Center (SHC).
Donna joined the Insurance Department at Springmoor about five years ago. Her daughter, Bailey McGee, has been an Activities Assistant at SHC for eight years.
On a typical day, Donna reviews the mail and then completes the necessary data entry. "A huge part of my job is making sure that all of the information on various health insurance claims is correctly entered into the computer," she says. Considered to be essential staff, Donna and the rest of her department have continued their work without interruption throughout the pandemic. 
In the course of her work, Donna meets with colleagues at many other retirement communities in the area, and she was on the team bringing electronic medical records (EMR) to Springmoor. "The staff at other communities are amazed that we offer this level of service," she says."Family members of residents tell me how helpful the service has been, especially as their parents get older. Adult kids are so busy, and they're relieved at having us handle their parents' claims for them."
"I'm an advocate for our residents," Donna continues. "Every time they hand me a bill, I make sure the claim has been filed and that it's been paid correctly by the carrier." Springmoor then pays any remaining amount due and is reimbursed by the resident.
Donna is happy to meet with residents about any problems they're experiencing with their health insurance. She reviews the paperwork and makes follow-up calls regarding claims. On occasion, she discovers a resident has paid a bill they did not need to pay, and she is able to facilitate a refund.
She explains, "When I'm reviewing the bills a resident has received, I'll sometimes notice that a bill doesn't look right, based on my understanding of their plan and their co-pay." With the EOB in front of her, she can often clear up confusion regarding why insurance did or did not pay a claim.
When the Springmoor Insurance Department has paid a bill to a provider or insurance company on behalf of a resident, Donna can easily check her accounting to confirm that the amount is correct, should any questions arise.
This means that, in addition to tracking all medical bills to ensure they're submitted to all insurance carriers prior to submitting payment, our Insurance Department audits each claim to confirm the insurance company is paying the appropriate amount.
"We also register each resident online with Medicare for quicker access to their claims," says Donna. "If you need us to, we will fax or email a copy of your updated insurance card to your providers, so they can file a claim in the right way. We also provide out-of-pocket medical expense information to residents for tax purposes upon request."
Springmoor has approximately 600 residents, and the majority take advantage of assistance from our Insurance Department. In most cases, Donna and her team handle all of a resident's health insurance accounts, but any resident can come in with their health insurance questions at any point."We're here for them whether they want to give us complete access to their health insurance accounts or not," says Donna.
Springmoor is a nationally accredited, financially stable nonprofit corporation that is guided by an all-volunteer, unpaid board of directors. The healthcare administration we offer our residents is just one of the many life-enhancing services provided at our community. Others include nutrition, security, transportation, housekeeping, and maintenance.
It takes a visit to understand what a special place Springmoor is! If you're exploring senior living in Raleigh, give us a call at 919-848-7080 so that we can answer your questions. We offer a variety of residence options from alcove apartments to two-bedroom single-family homes with a den and a one-car garage.
Click here to fill out a short form online to request a free information packet or schedule an appointment for a COVID-safe, personalized tour. Our friendly staff looks forward to meeting you soon!
If you're already on our waitlist, we're once again able to welcome you to our campus to participate in a fitness class in our Pathways Wellness Center or join one of our card groups for a game of bridge. Most COVID-19 restrictions have been lifted. For everyone's safety, we ask that all visitors and all members of our community wear a mask.