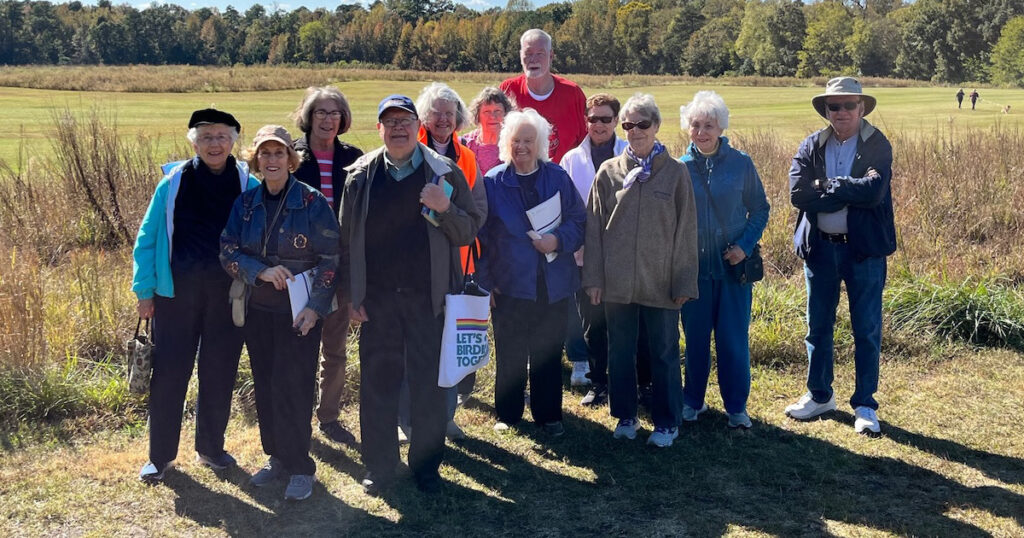 Who hasn't wished they had more time to do the things they enjoy most? At Springmoor, we take care of chores like yard work and home maintenance so you're free to explore your passions—and discover new ones!
Our dedicated staff supports residents so they have an active, independent lifestyle as they age. Each week, we offer multiple events and activities, both on and off campus, for you to take advantage of. Regardless of your interests, we've got you covered.
Spring into Life at Springmoor
Throughout every season of the year, we provide a wide variety of enriching activities. There's no way to take advantage of all the offerings, and residents pick and choose their favorites.
Spring is a particularly lovely time to live on our 43-acre campus in North Raleigh. Many residents—some with friends, family, or their pets—enjoy daily walks on our paved trails. Our beautiful landscaping includes mature trees and gorgeous greenery year-round.
Popular ways to stay active on campus include playing shuffleboard, a lively game on our croquet court, and practicing your putting on our green. On a regular basis, Dining Services caters social events in our green spaces, and musicians frequently provide live music on our outdoor stage.
If exercising indoors is your preference, our Pathways Wellness Center boasts a heated saltwater lap pool, as well as a spa and sauna. Some residents work out independently in our expansive exercise room, while others partner with a personal trainer or participate in group exercise classes.
Classes taught by our talented instructors range from tai chi to line dancing to cardio. Of course, you can schedule an independent swim or enjoy aquatics classes with varying degrees of difficulty.
After exercising, have lunch at our Village Bistro or catch a movie with a friend at our University Theatre. If you feel like pampering yourself (and who doesn't sometimes?), you can schedule a massage or visit our hair and nail salon.
Recognizing Wellness as Multi-Dimensional
Our two chaplains offer ongoing opportunities for spiritual enrichment for the members of our community. Throughout March 2023, residents enjoyed a Lenten Study: Finding Jesus in the Psalms. The chaplains also offer weekly Vespers, provide weekly Communion and Mass, coordinate our Connections Discussion Group, and more.
Cris and Judy Hoffman are two of many residents who say they've benefitted from their participation in Connections. They value both the chance to exchange ideas on a wide range of topics and the opportunity to get to know other residents.
Other favorite activities of the Hoffmans include visiting our library, walking around the grounds, and participating in ping pong. "I've been playing ping pong since I was old enough to see over the table," Judy laughs.
If your revel in a card game, you can join residents like Carol Jones for bridge and canasta. Springmoor hosts an annual, resident-coordinated bridge tournament, and groups play throughout the year as well.
Carol, like numerous other members of our community, prioritizes regular exercise. "The fitness program at Springmoor is outstanding," she says. "I do water aerobics two times per week and Pilates once a week."
Resident Linda Edwards particularly values a regular social hour with a small group of other residents on a big communal porch in South Village. One of the structured activities she enjoys most at Springmoor is the fused glass classes at our Meraki Arts Studio. She has created bowls, wall art, and a nightlight, as well as many pendants for necklaces.
Linda says that Springmoor is more than a retirement community. "It really is like a family. I feel very blessed." She had grown tired of taking care of multiple cars and homes and adds, "I never liked to cook or do housekeeping, and this is all done for you here."
Providing Something for Everyone
Barbara Parker and her husband George have been residents for a little over three years. She has attended Springmoor's monthly Life Writing Workshop, which is conducted by retired NCSU English professor Jim Clark.
Barbara also participates in many of the activities that are "just for fun." One example is Springmoor Jeopardy, in which questions are displayed on a large digital board. Residents are grouped into teams for some friendly competition, and everyone wins a prize.
Barbara also took great interest in a discussion group led by the chaplains that focused on race, class, and how we relate to one another from a biblical perspective. Titled Vital Conversations on Racism, the curriculum included a series of video clips in which diverse speakers discussed inequities in our society and how we can become the beloved community God calls us to be.
Not to be outdone, George uses the putting green and walks a couple of miles regularly on campus with his wife. They've both enjoyed making new friends at the many social events (with delicious food from Dining Services!) that our Residents Life Department coordinates.
If gardening is your thing, you'll find many kindred spirits at Springmoor. Judy Grant is one of our many residents who is an avid gardener. She continues to enjoy turning over the soil and lugging 5-gallon pails of mulch and has an individual garden plot on our grounds.
"My grandson already put up a fence around my plot to keep out the deer and rabbits," she says. "I'll be planting peas and early greens, among other items. It's fun to be learning new things, and I enjoy talking to the other Springmoor residents who garden."
Like Barbara, Judy Grant has also participated in the Life Writing Workshop. "It's very stimulating," says Judy. "The other members of the group are interesting people who are fun to know."
"The group is a wonderful nudge to choose to spend more time writing," Judy continues. She has dug into her writing more and finds it very satisfying. "It's meaningful to look back to my great-grandparents and consider how my family history has come together to create my life. I'm finding this fascinating."
"A lot of the other residents enjoy the films, live music, evening programs, and tours to places like the Farmers Market," says Judy. "There are lots of stimulating things to do here, and you're free to choose the ones that suit you best."
A Small Sampling of March & April 2023 Happenings
In March and April of 2023 alone, here's a sampling of the on-campus events and excursions from which residents were able to choose:
Concerts by Oak City Sound, Bloomsbury Boys, the Jim Laing Trio, the Jacobowitz/Larkin Duo, Pepper Choplin, Caroline Gregory, Bloomsbury Sisters Gospel Trio, and the Blue Notes Dixieland Jazz Band.
Lecture by Dr. Elliot Engel: Queen Victoria and the Victorian Novel.
Creating in our Meraki Arts Studio: beaded jewelry, origami, quilling, watercolor and acrylic painting, fused glass, and making ceramics using our kiln.
Webinars/seminars on Parkinson's and Hydration & UTIs.
Spring Walks at Lake Lynn and Forest Ridge Park.
FAN (Fitness & Nutrition) Club Meetings on topics like "Flexibility & Mobility" and "Nutrition & Apps."
Raleigh Travel Series with Expert Tour Guide Parker Call.
Out to lunch or dinner at Irregardless, Vivo Ristorante, Davison's Steak House, Trali Irish Pub, and Captain Stanley's Seafood.
Trips to Old Salem Museums & Gardens in Winston-Salem, NC; a Durham Bulls Baseball Game; and the NC State Farmers Market.
Outings to NC Theatre; the NC History Museum; the Nasher Museum of Art in Durham, NC; and Temple Theatre in Sanford, NC.
Our monthly service package allows you to spend less time doing things like dealing with health insurance paperwork and more time doing all of the things that bring you the most joy. From 24-hour security and emergency call service to chef-prepared meals, life is better at Springmoor!
To learn more about our active senior living community, call us at 919-848-7080 or click here to request a personalized tour or an information packet. We look forward to speaking with you soon about all that Springmoor has to offer!