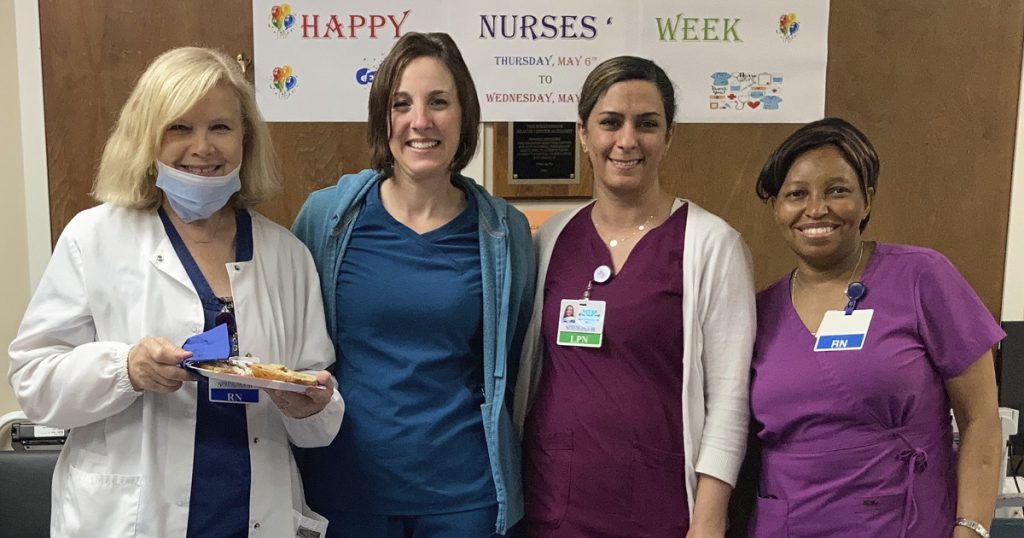 In the spring of 2021, Debbie Sivnksty became Springmoor's Director of Nursing after serving in an interim capacity. Like many of our staff, she has a long history with Springmoor—22 years in Debbie's case. She was a floor nurse for 6 years and worked in our clinic for 16 years before her recent promotion.
Debbie wanted to be a nurse since she was a child. Her grandmother passed away when Debbie was quite young. The wonderful care her grandmother received made a lasting impression on her, and she decided she wanted to help other people's grandmothers when she grew up.
The Stewart Health Center (SHC) at Springmoor has 191 beds and offers assisted living, memory care, and skilled nursing. Debbie supervises the 64 nurses and 107 certified nursing assistants (CNAs) who provide care. She makes certain all state policies are followed and is responsible for ensuring all residents receive excellent care.
Debbie typically works from 8 am to 5 pm, although several times a month she joins the night shift at SHC, so she can interact with all staff members. Her primary goal is to create an outstanding work environment that supports the best possible care being delivered to each resident.
Her job involves communicating with residents' family members, as well as addressing any staff issues or concerns. Debbie works closely with Gail Bailey, RN, the Assistant Director of Nursing and her great friend of 20 years. Gail has been on staff at Springmoor almost as long as Debbie.
"I always know Gail is there to support me," says Debbie. "She participates in second interviews when we're hiring. She helps me review cases and conduct floor meetings with staff, residents, and their family members."
Gail also assists Debbie with Quality Assurance Performance Improvement (QAPI). The state requires QAPI interdisciplinary meetings to ensure all policies are being implemented correctly.
All staff are invited to participate in these meetings, which facilitate working together as a team. Attendees include nurses, CNAs, dietary staff, and housekeeping staff, so that all who provide patient care have the opportunity to communicate with each other.
Debbie uses a variety of strategies so that her staff is well-supported. When she first accepted the position as Director of Nursing, she invited every nurse and CNA to meet with her informally.
She wanted to give all staff the opportunity to discuss what's working well, what needs improvement, and how to work together to enhance both the care that is given and the working environment. "I came in on all shifts, including the night shift, so staff could easily meet with me," she says.
In addition, Debbie conducts monthly supervisor meetings to share information and identify any concerns that need to be addressed. "I trust the expertise and decision-making abilities of my supervisors," she says. "I'm also available to them 24/7 by phone, text, or email if they need to consult with me."
Debbie encourages all administration nurses—including herself—to assist a resident with their meal at least once per week. She explains, "This helps bridge the gap between administration and staff. It makes the administration visible, improves how we function as a team, and helps administrators understand what staff experience each day."
She also feels it's important to send cards and personally call staff members when they're ill or experience a loss. Of course the administration also reaches out when congratulations are in order.
Staff appreciation efforts are coordinated each year, with a weeklong event for nurses and a separate week of recognition for CNAs. Springmoor offers a special food item each day and gives a note of thanks to every staff member.
Debbie explains that the administration prioritizes teaching and mentoring staff. "The strength of the Springmoor team and the family atmosphere we nurture at Springmoor set our community apart," says Debbie. "I feel really supported. Employees here enjoy a phenomenal work environment, and that's why I've been here so long."
Debbie says the best part of her job is interacting with residents: "They are like my grandma's and grandpa's. Their golden years are supposed to be filled with love and tenderness. They are supposed to be the best possible years, and I love feeling each day that I've helped someone and made a difference in their life."
When asked about activities SHC residents enjoy the most, Debbie says spending time with their family members is number one. Now that most COVID-19 restrictions have lifted, residents are appreciating the opportunity to once again enjoy social events like birthday parties.
"We have a terrific activities staff at Stewart Health Center," says Debbie. "It's wonderful that they can showcase their gifts again, and the calendar is jampacked." Residents are playing bingo, going to the library, and spending time outside. They're once again enjoying movies, manicures, cooking, and attending Vespers.
Volunteers from Independent Living at Springmoor, as well as some retired nurses, have also returned to help out at SHC. Specialists like the dentist and audiologist are providing services in-person rather than by telemedicine.
SHC also continues to make progress regarding transitioning from a medical model to person-centered care. "Our first neighborhood is scheduled to open early in 2022," Debbie says.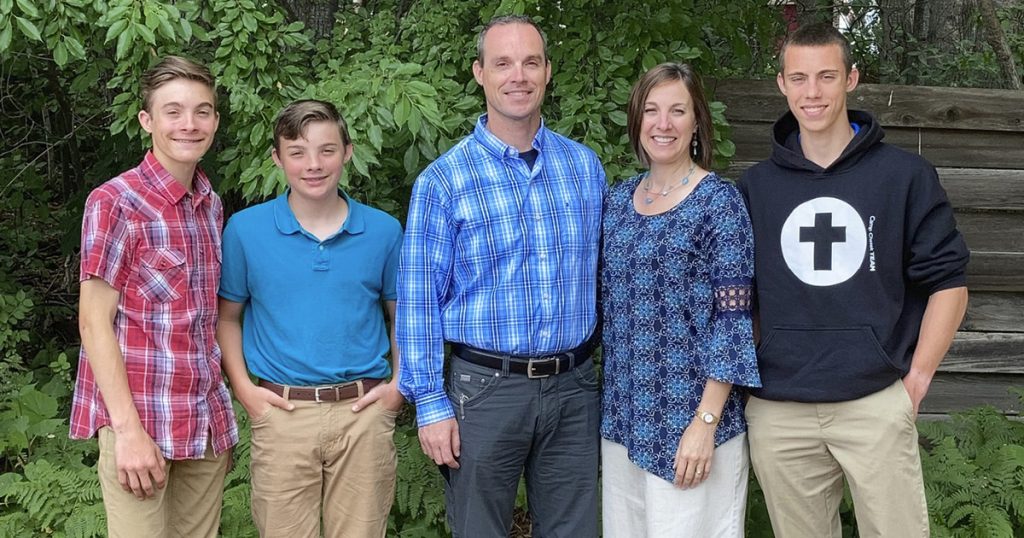 Originally from Wisconsin, Debbie has lived in Raleigh for 23 years. In addition to a challenging career with Springmoor, she is a wife and mother. She and her husband Scott have been married for 23 years and have three boys: Sean (18), Cole (15), and Reid (13).
Debbie employs a variety of tactics to recharge her batteries. "I have strong faith and that helps for sure," she says. She is also careful not to overextend herself outside of the workplace.
Her husband does the grocery shopping, and the kids each have a job list, including cleaning the bathrooms. They work together to get chores done quickly and try to make it fun.
Her entire family prioritizes being active. In addition to using an elliptical machine at home, Debbie visits the Pathways Wellness Center at Springmoor. "It's beautiful and readily available to me at no cost," she says. She also walks two to three times a week with friends in her neighborhood.
Somehow Debbie also finds time to work on home improvements, including landscaping. Her flower garden includes roses, irises, daisies, daylilies, blacked-eyed Susans, and hydrangeas.
As explained above, licensed assisted living and skilled nursing services are provided in our Stewart Health Center. Springmoor provides independent living residences for active seniors, plus the option to reside in the Supportive Living Center, where residents receive daily assistance.
If you're interested in learning more about all that our Continuing Care Retirement Community (CCRC) has to offer, simply click here or call 919-848-7080 today to schedule your COVID-careful personalized tour. We look forward to connecting with you soon!