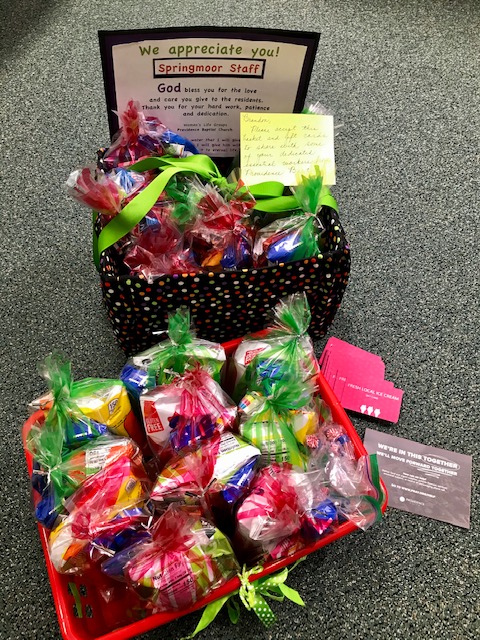 The team at Springmoor works day and night to care for our closely-knit community and ensure that each resident lives their best life. The dedication of our staff, coupled with the caliber of our residents, make Springmoor an extremely special place.
"Springmoor staff and residents tend to think of each other as family," says Beth Holden, Director of Sales and Marketing. "Our strong sense of community and willingness to reach out to each other has helped us thrive, despite COVID-19."
"During the pandemic, Springmoor residents and their families expressed a desire to let the staff know the respect, affection, and appreciation they feel for them," says Jan Christensen, President of the Residents Association. With Executive Director Brandon Hair, Jan sent a letter to residents regarding contributing to an employee appreciation fund. Over 300 people answered the call.

In recognition of the staff's hard work during the coronavirus, Springmoor residents donated more than $60,000 as a special bonus. "With this fund, the residents were able to express our thanks for the care and kindness the staff show us each and every day," says Jan. "At Springmoor, there's a really strong bond between staff and residents. We care for each other."
On an on-going basis, Springmoor's Employee Appreciation Committee recognizes the outstanding work of the staff at the Stewart Health Center. As part of one effort, residents were encouraged to write notes of gratitude that were placed in the staff break room. This summer Health Center employees enjoyed refreshments, including popcorn and cookies from Dining Services, as a special thank-you from the Administration. They were also treated to a boxed lunch in early spring.
Members of the Larger Community Support and Recognize Springmoor Staff
We're proud and appreciative of the support our staff receives from outside the Springmoor community as well. Numerous Raleigh businesses and communities of faith have recognized the exceptional commitment of Springmoor's essential workers since the coronavirus changed all of our lives in March of 2020. These acts of kindness mean so much during this challenging time.
Providence Baptist Church is just one example. Their Women's Life Group provided goodie bags to employees, as well as gift cards for a local ice cream shop. The seven employees nominated each month as Service Promise Winners receive these gift cards in recognition of their going above and beyond to serve our residents.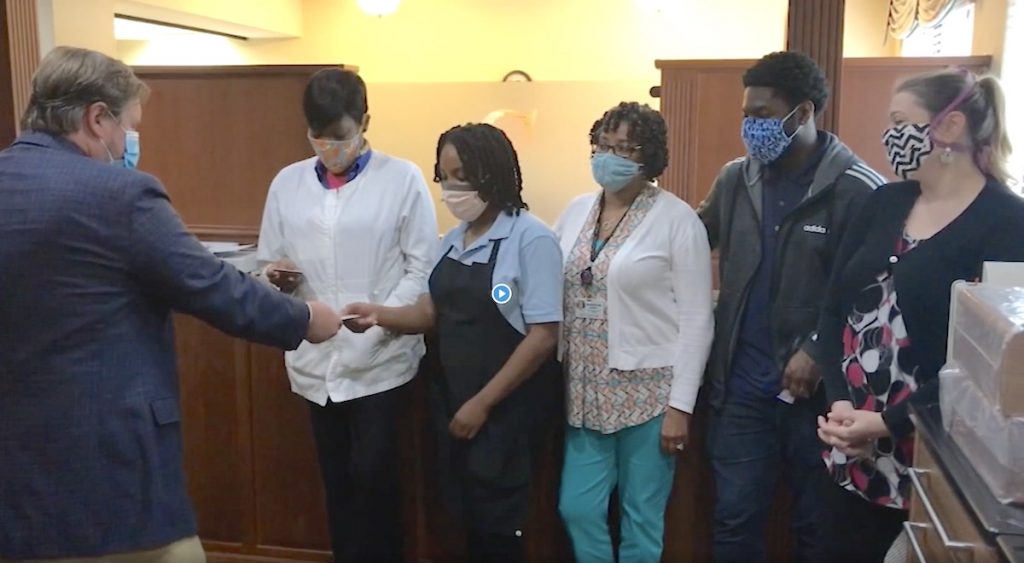 In May, Springmoor support staff received well-deserved gift cards from Sola Coffee Cafe. Residents of a neighborhood near Springmoor raised more than $500 to purchase the gift cards from this local coffee shop and provide them to staff members. Watch the ABC11 WTVD story here: https://abc11.tv/3edLjEf
Hayes Barton Baptist Church sponsored lunch for the Health Center staff at the end of August. They delivered the lunches as a special "thank-you" gift to recognize the staff members for their extraordinary contributions during the pandemic.
Many Staff Members Have Celebrated 20+ Years of Service at Springmoor
One of the most important criteria to consider when choosing a retirement community is staff stability. Numerous members of our team have celebrated more than 20 years of service at Springmoor.
Our staff enjoy interacting with residents on a daily basis, and they work hard to ensure the happiness and well-being of each individual. When staff and residents have the opportunity to develop strong relationships, life satisfaction increases for everyone.
Some of our staff members are even related to each other. Barbara Vinson and Sandra Harris are two sisters who have been making Springmoor an exceptional place to live for more than 35 years. They've managed a variety of important roles throughout the community related to housekeeping and residential services.
Additional family connections abound at Springmoor. Jill Spencer, an Activities Assistant in the Stewart Health Center, is one example of an employee whose parent is a resident. In this blog, she explains how a Continuing Care Retirement Community (CCRC) has been invaluable to her family.
Dozens of Second-Generation Residents
One of the endorsements of our community of which we're most proud is the dozens of residents whose parents lived at Springmoor before they did. Marlene Lambeth, whose mother chose Springmoor, visited her here often. Years later when Marlene and her husband Mack decided to move to a retirement community, they already knew that their address would be 1500 Sawmill Road, Raleigh, NC.
At Springmoor we value our employees as well as the residents they support. The commitment of our staff is evident in the long tenure of many. Staff members know each other, the residents, and every detail about Springmoor—all of which helps keep our community strong and vibrant. To find out more about life at Springmoor, contact us today at 919-848-7080 or click here for more information.