By Brandon Hair, Executive Director of Springmoor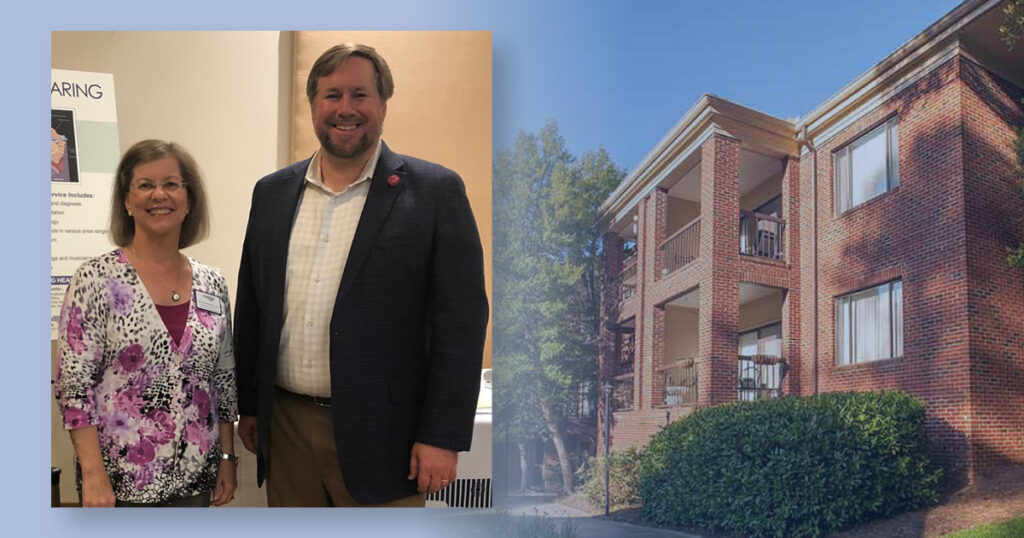 Recently I have renewed my focus on what I can do each day to serve residents more effectively. I have never struggled to know my purpose in life, as I believe I am doing what I was called to do. Sometimes, however, I feel inadequate and believe I am not making as much of a difference as I would like.
Even though no two days are the same when one is managing a community such as Springmoor, many daily tasks can feel repetitive and not very purposeful. Working to address resident and employee concerns is a constant challenge, and there's always more to do. I have learned that handling these daily tasks intentionally is often more important than it seems in the moment and gives greater meaning to each small step forward.
My goal is to challenge myself each day on a personal level while working to continually improve life at Springmoor for all members of our community. Just one example of the tools and methods I use to accomplish this goal is my review of the "Happy or Not" reports that residents provide daily to our Dining Services Department.
The chef-prepared meals we offer at Springmoor are, of course, central to the services we provide to our residents. One full-service meal a day is included in the independent living monthly service package, and we also can accommodate many physician-requested special diets.
The "Happy or Not" reports contain information (good and bad) that assists me as I make adjustments within the Dining Services Department. Improving resident satisfaction regarding meals while supporting the members of the dining team in their progress is just one of many ways I fulfill my purpose in my role as Executive Director.
These reports indicate residents' satisfaction level with the four dining areas at Springmoor: North Village Dining Room, South Village Dining Room, the Bistro, and the Garden Café. In the report, the percentage of positive and negative feedback is broken out for each of these areas.
Using the "Happy or Not" reports, residents can rate the taste and quality of the food and the quality of the service, as well as other aspects of their dining experience. I am provided with the actual comments that residents have made. When residents provide detailed information, I can take specific action.
For example, in a recent report, a resident in South Village mentioned a server by name who did a great job waiting on their table of eight people. Based on this positive feedback, I was able to recognize the server and thank him personally.
In another instance, I read many negative comments about a flank steak we served recently on a Sunday. We pulled this item off the menu as a result.
I want to express my appreciation to all residents who provide feedback on the "Happy or Not" reports on the kiosks in the dining areas or by using our resident portal. In addition to myself, the dining managers read the report each day.
I encourage all residents to provide feedback regularly to help me help them. Being responsive to resident needs and comments is a critical component of making the quality of life at Springmoor the best it can be.
Another way residents support my efforts to continually improve life at our community is through the astute questions they ask. At our recent semi-annual meeting, I received a number of great questions that have helped guide me as I follow up on the action plans resulting from this meeting.
Treating each resident concern with the compassion and consideration it deserves is one of our core values at Springmoor. Each month at our new employee orientation, I emphasize that this is one of the Seven Service Promises each staff member makes.
Whenever residents ask a question or express a concern, it is my expectation that staff members demonstrate their commitment to assisting them in every way possible. I want to ensure that all residents feel confident expressing their concerns to any staff member and know we will do our best to address them.
I take my responsibility seriously to provide residents with detailed answers to their questions at both of our semi-annual meetings. When a resident takes the time to write a question and submit it to the Management Advisory Committee of the Residents Association, they deserve a thoughtful answer.
When each new resident moves in, I pay them a personal visit. I always ask what questions they have, and I believe this is an essential part of my visit. I am always glad when residents have questions for me to try to answer.
After working at Springmoor for almost eight years, I find that I'm always learning new things. I have come to believe the only dumb questions are the ones we do not ask.
We must ask questions if we need or want to know the answer to something or develop a better understanding. What better way to interact with an employee or have a meaningful conversation with a resident than by asking and answering questions? You may be surprised at what you learn.
Springmoor is a nonprofit Continuing Care Retirement Community offering seniors a variety of residence options that range from apartments to larger villas and homes. If you're looking for an active senior living community in Raleigh, call us at 919-848-7080 with your questions.
You can also click here to fill out a short online form to receive a free packet of information or schedule an appointment for a personalized tour. Our friendly team looks forward to meeting you soon!
Are you interested in becoming part of Springmoor's exceptional team? Visit the careers page of our website to view our current job openings and apply online.