By Brandon Hair, Executive Director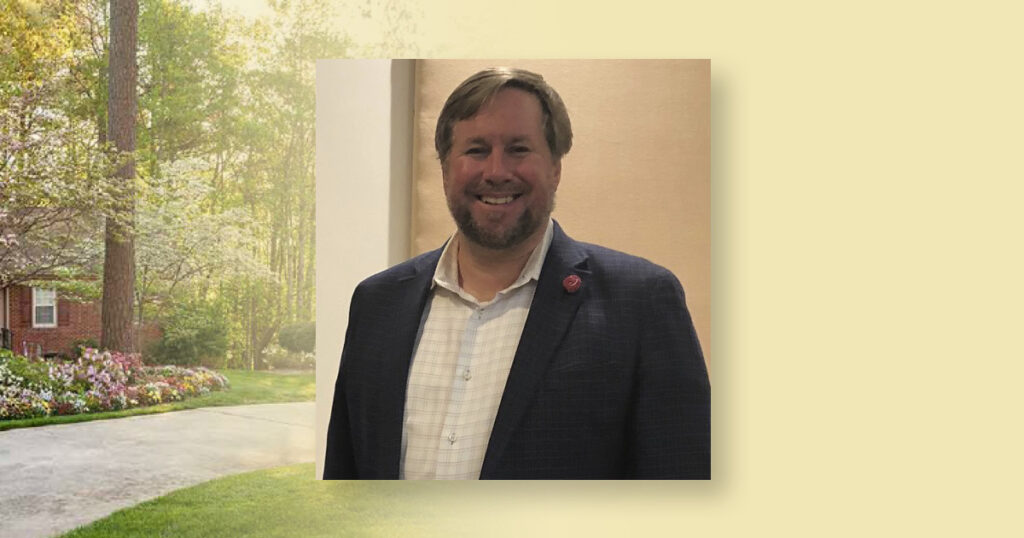 Springmoor is a diverse and welcoming community. We provide a supportive, family-like atmosphere for both residents and staff.
All employees are invited to attend a 15-minute staff chapel service every Wednesday morning at 8:45 am. One of our two chaplains leads this nondenominational service, and staff participation is optional. All faiths are welcome.
I try to participate in chapel each week as my schedule allows. During the height of COVID, staff chapel was the only time many of the staff were able to worship in person. This proved to be very beneficial to many of us, as it gave us a way to lift everyone's spirits during those difficult times.
Phyllis Mayo, a current Springmoor resident, was the chaplain at Springmoor for more than 36 years. When asked about the history of staff chapel, she recalls that a gentleman named Gene Moore initiated it shortly before she became employed here. Therefore, it seems that staff chapel has been around since the very early years of Springmoor. I consider chapel to be a cornerstone of our philosophy of supporting the well-being of our employees.
Before becoming Executive Director of Springmoor, I worked at a Presbyterian-based retirement community and was used to attending staff chapel. Conducting the weekly service was one of the required duties of the chaplain. I was happy to learn that Springmoor offered something very similar that had begun as more of a grassroots effort, which I prefer.
My first memory of staff chapel at Springmoor was hearing Phyllis play the piano each Thursday morning a few minutes before 8:30 am, which is when we held it in those days. This was a reminder for all who wished to gather.
Other than the change of time and day of the week, staff chapel has not changed much since I arrived at Springmoor almost seven years ago. The chaplains always provide a positive message about something that is meaningful in our work.
For me, this message serves as a good reminder and motivator to do my best in all aspects of my life, especially in serving each of our residents. I have always considered myself a servant leader and feel I was called to this profession.
Having the opportunity each week to worship with co-workers builds stronger bonds and creates better teamwork. Staff chapel helps us remember to put others before ourselves and to support our team members. This is the foundation of servant leadership.
We are blessed to have not one, but two, chaplains at Springmoor who work hard every day to help keep the foundation of servant leadership strong. As part of the Pathways Wellness Program, Juliana Lindenberg and Lori Higgins provide spiritual care, guidance, and support for all members of the Springmoor community, regardless of their specific beliefs.
Lori and Juliana take joy in planning and leading a wide variety of programming beyond staff chapel. Other worship services include Sunday Vespers each week and special seasonal and holy day observances for Advent, Lent, Holy Week, Easter, Thanksgiving, Memorial Day, and 9/11. Additionally, the Chaplains offer an annual St. Francis Day Blessing of the Animals to which residents may bring their pets. Juliana and Lori also coordinate visits from other spiritual leaders in the community from a variety of faith traditions.
The Chaplains' bereavement support for staff includes Semi-Annual Memorial Services to remember residents who have died, a Blessing of Hands during Nurses Week and CNA Week, and monthly times of prayer for staff in the Stewart Health Center for all three shifts.
Bereavement support for residents includes grief support groups, as well as a "Longest Night" Service ("Blue Holidays") during Advent for those who are grieving. An Annual Memorial Service remembers residents who have died, and this service is open to residents and their loved ones.
The Chaplains' educational efforts for residents include both Bible Studies and book studies of titles such as The Book of Joy by Archbishop Desmond Tutu and the Dalai Lama. They offer the monthly Dementia Caregiver Support Group and the twice monthly Connections Discussion Groups for residents and their families.
Lori and Juliana serve on multiple Springmoor committees, including the Resident Care Committee. They have been integral to the creation of our Diversity, Equity, and Inclusion Committee.
Plan Your Visit to Springmoor Today!
Those on our waitlist and others interested in joining our community are invited to visit Springmoor for the Chaplains' Monday Movie Matinee, Sunday Vespers, Bible study, or a book discussion group. Other opportunities for visitors to participate in life on campus include evening concerts, book club meetings coordinated by our resident-led Library Committee, and our Life Writing Workshop with Dr. James Clark. These activities give you the opportunity to get to know current residents before you move in.
You can also take advantage of a card game, exercise/aquatics class, and other special events to help ensure you're making the best choice for you for an active senior living retirement community. Click here to review highlights of current events and activities open to our waitlist.
Springmoor offers seniors a variety of residence options, ranging from apartments to larger villas and homes. If you're looking for retirement living in Raleigh, call us at 919-848-7080 with your questions. We are a continuing care retirement community (CCRC).
You can also click here to fill out a short online form to receive a free packet of information or schedule an appointment for a personalized tour with COVID safety precautions in place. Our friendly team looks forward to meeting you soon!
Are you interested in becoming part of Springmoor's exceptional team? Visit the careers page of our website to view our current job openings and apply online. We are currently hiring CNAs, LPNs, RNs, home care aides, and companions, and we have openings in other areas as well.