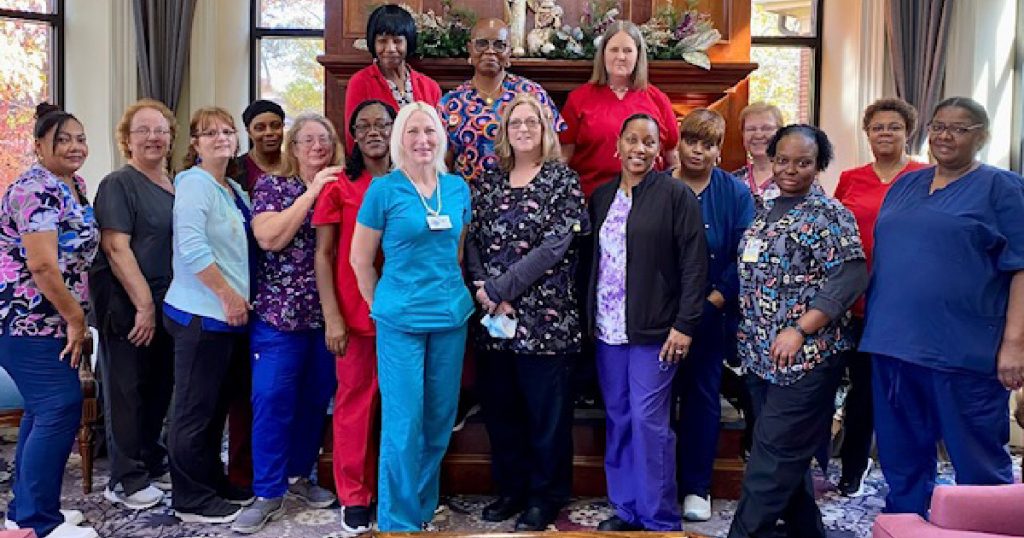 Like so many members of our staff, Joyce Eisele has been at Springmoor for many years—25 years to be exact. "The minute I walked in, I just felt like I was at home," she says. "The environment was so inviting, and everyone was very kind." (Joyce is pictured above, center with members of her team.)
As our Director of Outpatient Services, Joyce supervises not only our Outpatient Clinic but also our Supportive Living Center and Home Care Services. She says the other Springmoor staff members help make her job extremely gratifying: "I'm surrounded by caring coworkers. They find the same reward I do in helping others."
Joyce is one of the first people on the Springmoor staff that new residents meet with before they move in. She explains all the details regarding the medical component of living in our active senior living community and answers any questions they or their families have. In addition, she interviews every new resident and completes their health assessment.
"Each resident has the option of retaining their current primary care doctor or switching to ours," Joyce explains. When a resident chooses to transfer to the Springmoor Outpatient Clinic, she coordinates these appointments to establish care.
Located on our campus, the office of the Springmoor Clinic is staffed with nurses 365 days a year, and Joyce oversees the clinic staff and operations. Two doctors and a geriatric nurse practitioner provide services that include physicals, lab work, treatment of acute illness like the flu, symptoms clarification, and medication evaluations and changes.
The doctor assigned to a new resident reviews their medical history and makes sure there's a smooth transition from their previous primary care doctor. The clinic is open for physician services Monday through Friday from 8:30 am to 5 pm.
Joyce explains that having a clinic like Springmoor's is not typical at CCRCs (Continuing Care Retirement Communities). A resident who came into the clinic recently for a blood draw commented to her: "I am so blessed; no one else I know has this opportunity to access services so easily."
Before becoming the Director of Outpatient Services in 2013, Joyce was the Staff Educator for Springmoor's Stewart Health Center, which provides assisted living, memory care, and skilled nursing to residents. From 1996 to 2013, she was responsible for staff development workshops and trainings for the nurses and certified nursing assistants (CNAs) in support of their efforts to offer the best possible care.
Joyce and other staff members developed an annual conference on Alzheimer's disease that was held for 15 years. "My mom had Alzheimer's and passed in 2018," Joyce shares. "The more information we can get to people to help them cope with their loved one's issues, the better. Our conferences were a team effort; we worked together to plan the trainings and coordinate guest speakers."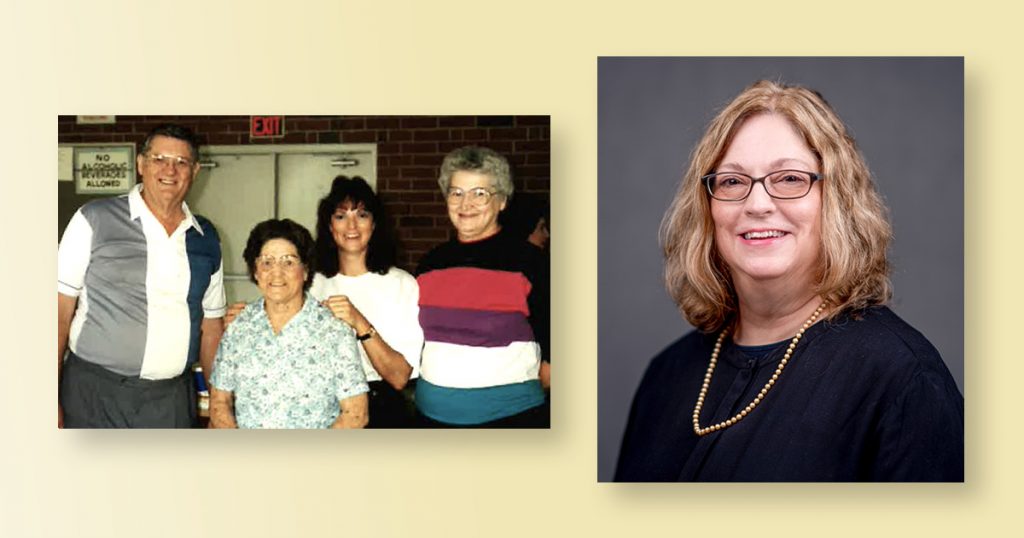 Joyce speaks warmly of her older relatives when asked what brought her to geriatrics. An only child and the only grandchild until she was 9, Joyce was extremely close to her grandparents. She grew up surrounded by aunts and uncles.
Her grandfather on her dad's side died unexpectedly of a massive heart attack when Joyce was only 5. Her grandmother was a seamstress who worked from home, and Joyce spent a lot of time with her. "I think part of what drew us together was that I helped fill a void after my grandfather's death. My grandmother and I really bonded."
Joyce continues, "I just loved going to my grandmother's house and visiting her when I was little. She was always so warm and welcoming. After I got older, I drove her to her doctors' appointments, and we were just super close."
Even when her grandmother was ill in the hospital, she thought of Joyce and her needs: "I was crying because she was sick, and my grandmother said, 'I want to see those dimples.' She was always encouraging me to follow my dreams and supporting me."
Joyce originally planned to be an interior designer. While in college taking courses in design, she became involved in a church. She was among a group of parishioners who visited a nursing home to sing carols in celebration of the holiday season.
"The residents were so appreciative that we visited," Joyce says. "I went back home over the holidays and told my parents I wasn't in the right field. I needed to be doing something to help people."
Instead of returning to school, Joyce got a job as a nursing assistant in a nursing home. She then attended nursing school and worked in a critical care setting. More than two decades ago, she joined the Springmoor team, as described above.
In addition to Independent Living and Stewart Health Center, Springmoor offers Supportive Living Services. These 34 apartments are for residents who need some additional support but are still able to care for themselves for the most part.
"These residents come and go as they like but receive oversight in terms of, for example, eating well or taking their medications appropriately," says Joyce. She supervises the nurses, nurse managers, and CNAs who provide services to the residents in Supportive Living.
Springmoor is also licensed as a home care agency. As a long-time member of the Springmoor staff, Joyce was deeply involved in developing and implementing the Home Care Services we currently offer to residents.
Our home care aides often assist a spouse in providing care for their less independent partner. With some support, couples can often function well and continue to live at home together.
Joyce is trained regarding the state's expectations and guidelines for home care, and one of her primary responsibilities is interviewing prospective aides. "We have about 40 home care aides, and we're very selective," she says. "We do all the background checks and monitor their work performance."
Many of Springmoor's home care aids are either nursing students or people with a lengthy career in home care. "We hire a lot of people in nursing school because they've already made a commitment to helping others and make wonderful aides," says Joyce.
In addition to interviewing and supervising Springmoor's home care aides, Joyce meets with every family and resident to create a personalized care plan. "We hire the kind of people who look forward to coming to work every day because they know they're making a difference in someone's life. We get a lot of great feedback about our aides," Joyce says.
She explains that the ideal candidate for home care truly enjoys working with older people. They want to make a genuine connection with each resident in their care, as well as establish a bond with the resident's family.
Originally from Hickory, North Carolina, Joyce moved to Raleigh in the early 1980s. She met her husband Mark here and has been married for 25 years. They have a 12-year-old black lab mix named Jesse that they rescued.
To recharge her batteries, Joyce visits our Pathways Wellness Center every day. She swims in the saltwater pool twice a week, as well as working out with free weights and using the weight machines.
Joyce and her husband enjoy cooking together, and she also likes to garden and complete projects around the house during her free time. The couple has many close friends in their neighborhood, and they also make frequent trips to the beach.
"What sets Springmoor apart is that everyone works so well together. The responsibility of providing excellent care is not just on my shoulders; it's a team effort," Joyce says. "It's a huge reward for me personally knowing that I've helped a family."
If you'd like to learn more about all that Springmoor offers our residents, simply click here or call 919-848-7080 today to schedule your COVID-careful personalized tour. We look forward to answering your questions about the benefits of living in a Continuing Care Retirement Community (CCRC)!