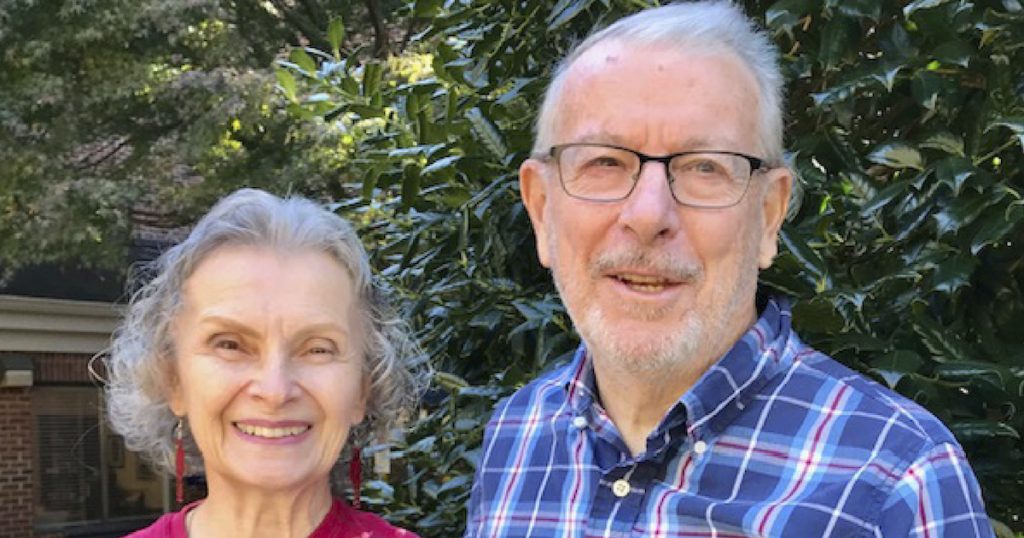 Barbara Parker and her husband George had been anticipating a move to Springmoor for quite some time. Having been on our waitlist for more than two years, the couple joined our community in January of 2020, about six weeks before the pandemic began impacting daily life significantly in North Carolina.
Barbara's parents lived at Springmoor in the mid-'80s. They wanted to move to Raleigh because their only grandchild was here. "I visited Springmoor a lot in those days," says Barbara, "so it was at the top of my list of communities to explore as my husband and I got older."
Before their move to Springmoor, Barbara and George had lived in the North Hills area of Raleigh for 52 years. "It's a huge transition moving to a retirement community," Barbara says. "It's a change in lifestyle and a move at the same time."
She adds that the most challenging aspect was the downsizing process. Barbara says, "It's tricky figuring out what not to take and what to do with an item if you don't want or need it. It makes it easier if you know that things are going where they will be used and appreciated."
Barbara and her husband hired a mover, but they completed the winnowing process on their own. One of the many techniques they used was hanging up all their clothes with the hangers facing backward. They returned each item to the closet with the hanger facing forward. At the end of a set period of time, they donated all the clothes on hangers that were still facing backward.
Making New Friends During a Global Pandemic
Barbara was confident she would meet many like-minded folks at Springmoor who shared her values. She acknowledges that making new friends takes time, and also that the process of getting to know new people was hampered after the coronavirus descended on the state.
She was just beginning to connect with people at the Coffee Hour held in her building when these gatherings were discontinued for safety reasons. Not one to be deterred, Barbara reinitiated Coffee Hour on Monday thru Saturday as soon as North Carolina's COVID-19 restrictions allowed.
About a dozen people attend regularly, wearing masks and social distancing. "We still call it 'Coffee Hour,' though we aren't currently serving coffee in accordance with safety protocols," she says wryly.
Taking Advantage of All that Springmoor Has to Offer
Despite the pandemic, Barbara has plunged into many other new activities at Springmoor. She took a chance on the Virtual Cooking Party and was glad she did. Joanna Bell, Springmoor's Registered Dietitian, recently taught her and other residents how to make delicious Veggie Quesadillas via a Zoom call.
The recipe was a good match for their needs because Barbara and her husband don't eat animal products. Dining Services delivered all the ingredients for the quesadillas to her door in advance of the party. She plans to participate in another Virtual Cooking Party soon.
Barbara also attended a session of Springmoor's Life Writing Workshop, which is held monthly. Jim Clark, a retired NCSU English professor, conducts the workshop. Each Springmoor resident has unique life experiences, and Dr. Clark offers support as they write their life stories for others to read.
Another activity Barbara participated in was Jeopardy at Springmoor. Questions are displayed on a large digital board and residents are grouped into three randomly selected teams for some friendly competition. Everyone wins a prize.
Barbara took part in a Springmoor discussion group led by the chaplains that focused on race, class, and how we relate to one another from a biblical perspective. Titled Vital Conversations on Racism, the curriculum includes a series of video clips in which diverse speakers discuss inequities in our society and how we can become the beloved community God calls us to be.
Something for Everyone
George Parker has been enjoying putting on the Springmoor Green since the couple's move to the community. When a group of residents stepped up to deliver mail throughout the community during the pandemic, George joined this effort. He volunteered to take packages directly to other residents' doors.
The couple walks together regularly, and George especially likes the one-mile course around North Village. "We particularly appreciate the fact that this beautiful walking trail is mostly shady," says Barbara. They usually walk a couple of miles at a time.
The Springmoor team has worked hard to adapt social occasions for residents so they can socially distance. Barbara and George recently enjoyed the Wine and Cheese Social the Residents Life Department held on the North Village Pool Breezeway. Other events held on breezeway when the weather is nice include pizza luncheons and outdoor art classes.
The Parkers attended Dining Service's Harvest Soiree in October. The weather cooperated for outside dining in tents with twinkling lights. The talents of our new chef and the food services team were on full display with an extensive menu that included fresh seafood, a carving station, and North Carolina fare.
To find out more about our active senior retirement community or schedule a personalized visit, click here or call 919.848.7080. We look forward to answering all of your questions about our Continuing Care Retirement Community (CCRC)!