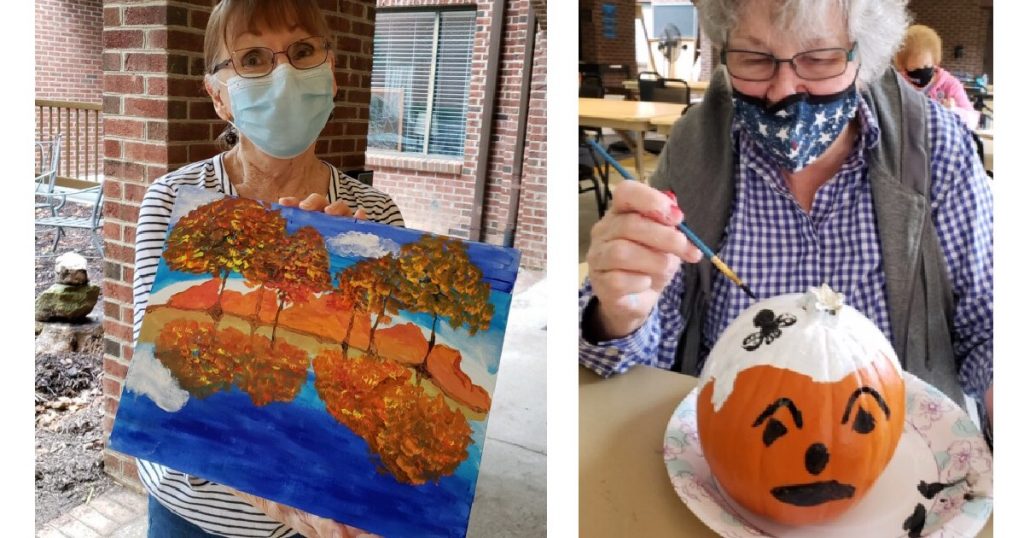 Now that North Carolina has entered Phase 3 of lifting COVID-19 restrictions, residents of our active senior living community are enjoying an expanded menu of events and activities. For those who are more comfortable interacting virtually, we continue to live stream many of our events, as well as offering opportunities for social engagement using Zoom.
"Springmoor independent living and supportive living residents have had access to engaging live and virtual events since almost the very beginning of the pandemic," explains Beth Holden, Director of Sales and Marketing. "While continuing to observe all recommended safety precautions, we're now able to open things up even more and offer a wider range of activities."
As of this writing, we're able to gather in groups of up to 25 people for indoor events. Members of the community are taking advantage of the crisp fall weather by participating in many outdoor activities as well. Whether indoors or out, participants wear masks and observe social distancing.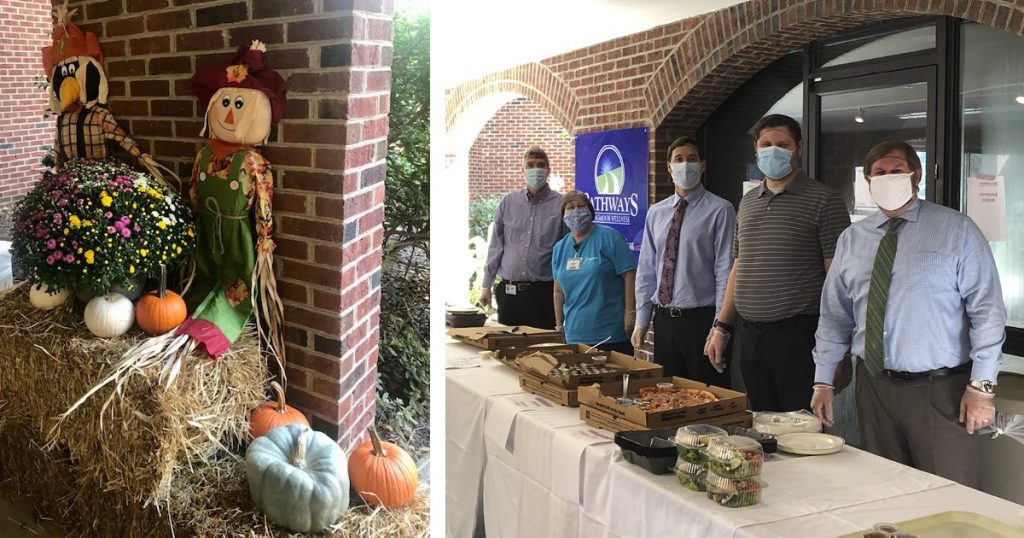 Taking Advantage of All that Fall Has To Offer
We enjoyed outdoor music early in October with a live performance from the Backfence Duo. The duo applied their own unique blend of swing, beach, blues, folk, country, and other genres to popular music from the 1930s–1980s. Another outdoor concert by CityFolk is scheduled for later this month with three opportunities to attend.
Two Wine and Cheese Socials were also part of the fun during October. Like our live music events, the socials were held at the pool breezeway in North Village and were limited to 38 people, so that social distancing could be maintained.
Other fall activities include putting on the Springmoor green and multiple opportunities for outdoor art classes. Many enjoyed painting pumpkins, as well as using acrylic paints to create seasonal artwork of trees. Residents also used felt and beads to make jewelry.
The community is looking forward to a costume parade on October 30. Springmoor staff will parade through the hallways of North and South Village, and residents are encouraged to cheer them on—and dress up themselves if they're feeling festive!
Celebrating Active Aging Week
Folks who stay active and connected to others tend to feel better and have more energy. The Springmoor community celebrated Active Aging Week from October 5–11, 2020 with exercise, games and challenges, events related to the arts, and other activities.
The Fitness Team hosted a scavenger hunt as part of the week's festivities. Fifty residents appreciated the fall beauty of our campus while taking a half-mile walk to find a list of specific locations. Residents were encouraged to commit to a six-week walking goal.
Staff also delivered a "Health Fair in a Bag" to the door of each resident. The bag included nutritious snacks and a bookmark with a magnifying glass, as well as information on making healthy choices that can help us live fully as we age.
Joanna Bell, RD, led another virtual cooking party via Zoom. Tex Mex Skillet Sweet Potatoes were on the menu, and our food services department delivered all ingredients to the door of each resident. "Most of us are reluctant to try new things," Joanna commented. "But we become more open to new, healthy foods when we have some support from others."
Residents also took part in Springmoor Jeoparty, our own version of the popular game show. Participants were divided into teams and answered questions in categories like history and literature that they chose from a large digital board.
Crank Up the Fun—a Murder Mystery and More!
Those who enjoy a good mystery participated in "Murder at Springmoor." Residents met in the auditorium to study a scenario, investigate the clues given, and reveal their conclusion.
Whereas our Meraki Arts Studio had been open to residents only for independent projects during the pandemic, we're now able to offer classes for up to six people at a time. Fused Glass Week provides residents with the opportunity to make colorful jewelry, sand art, and Christmas ornaments, among other projects.
Many Springmoor residents are patrons and supporters of the Carolina Ballet. For nine weeks this fall, the company is offering them the opportunity to watch online as the dancers develop their artistry and technique during classes and rehearsals.
Spiritual Life at Springmoor
"The nature of being faithful is focusing on faith over fear," says Lori Higgins, one of the two chaplains serving our community. "In all of our activities, we try to help people focus on hope and gratitude, despite the pandemic and other challenges."
In addition to a weekly Vespers service, Holy Communion Services are now offered on the first and third Fridays of the month. Sunday School is once again available in-person in the auditorium on Sundays, and the Rev. Dr. Tom Jackson is leading Bible study for groups of up to 25 people.
Many Springmoor residents participated in one of two Blessing of the Animals services. Both occurred outdoors on October 4 (the Feast Day of St. Francis of Assisi). Our chaplains led us in a  celebration of all of God's creatures, especially our own beloved pets, at this animal-friendly service.
Also during the first week of October, Springmoor residents gathered with their neighbors and the chaplains for a contemplative prayer walk. We reflected on the beauty of creation and paused along the way to listen to words of scripture, poetry, and encouragement.
The chaplains are also offering new discussion groups titled "Connections." The groups help participants connect, reflect, and discover meaningful ways to embrace aging, the present, and the future. We begin with a topic or question or explore what is on our minds and hearts that day.
As we approach the holiday season of a year that has been challenging for most of us, we're grateful that the Springmoor community is thriving. Contact a member of our friendly team today to learn more about what life would be like for you at Springmoor. Call 919-848-7080 to schedule a personalized visit or click to order a free information packet.