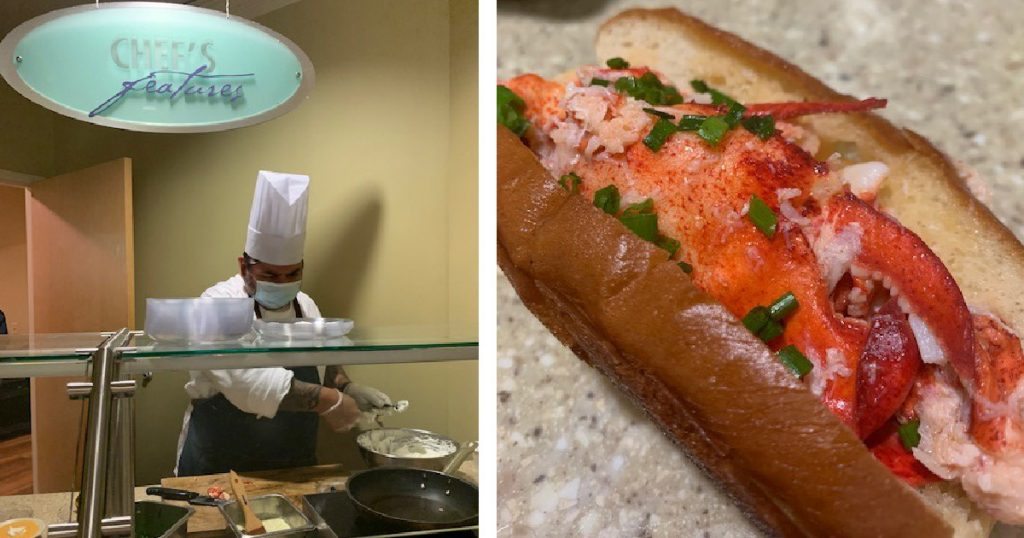 Springmoor is excited to welcome our new Executive Chef, J.P. Murcia. A graduate of New York Restaurant School, J.P. has a wide range of experience that includes food service for hotels, restaurants, and higher education.
Active in the culinary community, Chef Murcia is passionate about creating delicious, high-quality meals. He is taking Springmoor's restaurant-style dining options to an entirely new level.
Springmoor Is Accommodating Seniors' Changing Tastes
The meal choices at our active senior retirement community offer Southern comfort food and traditional favorites—but that's just the beginning. Our menus are constantly evolving to meet the needs of our residents. For example, many are looking for more plant-based meals.
"We've added numerous plant-based items to our menus," says Jennifer Mondolino, General Manager of Dining Services. "This has been an exciting change for the community because many residents are vegetarians for health or lifestyle reasons. Even residents who aren't as familiar with vegetarian food are choosing these meals and enjoying them."
"Many new residents come into our community expecting healthy, trendy foods," Jennifer adds. "The chef plans each four-week menu around fresh, locally-sourced meats and vegetables."
Meals that Support an Active Lifestyle
"Springmoor residents tend to prioritize their health, and that means eating a healthy diet," says Beth Holden, Director of Sales and Marketing. "Vegetarian, Mediterranean, and other lighter options are available at the Springmoor grills as well as in the main dining room, and more will continue to be added."
In addition, residents enjoy access to numerous healthy snack options such as fruit with cottage cheese. Also available are healthy, reheatable meals called "Simply to Go's" that members of the community can take home. "No matter what diet you follow or how you like to eat, you will have what you need here," Jennifer says.
Soaring to New Heights in Our Renovated Kitchen
At the beginning of September 2020, Chef Murcia and the rest of the Dining Services staff began working out of our newly renovated kitchen. The space is extremely spacious and allows our new executive chef to fully utilize his culinary skills. State-of-the-art ovens, steamers, and other equipment facilitate creating meals that are presented beautifully at the perfect temperature.
Due to COVID-19 safety precautions, we suspended operation of our self-serve salad bar. We made adaptations so that residents can instead place an order with staff for a custom-made salad. Chef Murcia has expanded the protein options on the salad bar, and these change daily so that there's always something new to try.
Chef Murcia joined the Springmoor team at about the same time COVID-19 became an issue in North Carolina. To get to know members of the community when the dining room was closed due to the pandemic, he helped hand-deliver meals directly to residents' doors. If residents are more comfortable continuing to have meals delivered to their residence, they can still choose this option.
Now that some COVID-19 restrictions have been lifted, Chef Murcia has conducted live, socially-distanced cooking demonstrations to encourage residents to come back to the dining room. These meet-and-greets allow the chef to showcase techniques he uses to create specialty items like lobster rolls. Engaging with residents in this way provides him with additional opportunities to learn more about their preferences so that he can plan future menus.
Special Events Mean Enjoying Special Foods
Due to the pandemic, we needed a new way of having parties so that everyone at Springmoor could socially distance and stay safe. The Autumn Soiree, held on October 21, 2020, was a lovely change of pace from our usual buffets and formal sit-down dinners.
The Soiree featured an extensive menu that included small bites, a carving station, seafood, and North Carolina fare. Multiple food stations meant little time standing in line. The weather cooperated, and residents enjoyed a beautiful evening on the Springmoor grounds, dining in tents with twinkling lights.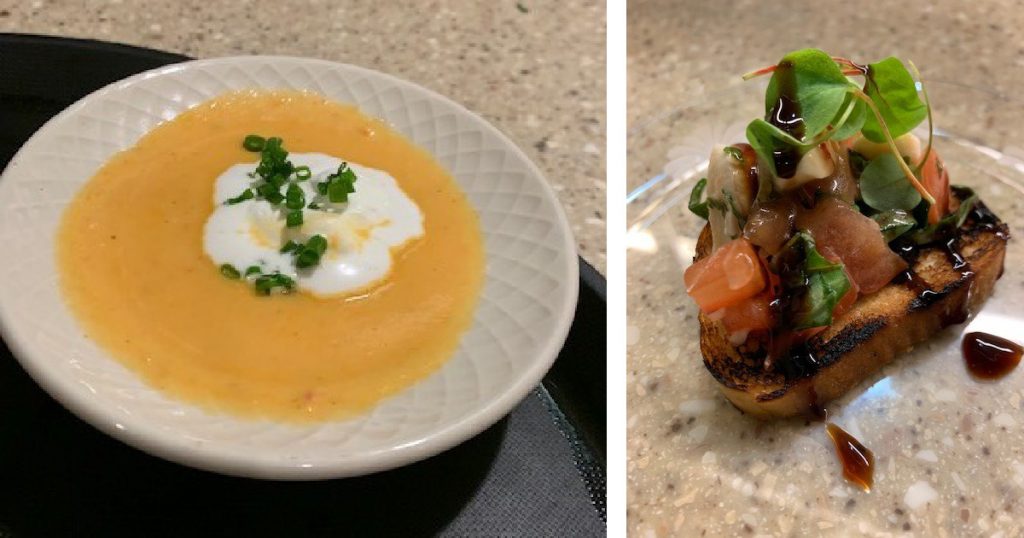 Fall-Winter Menus Contain both New Items and Old Favorites
The fall/winter menu at Springmoor changes weekly. Courses include a soup, an appetizer, an entrée, multiple accompaniments, a bread of the day, and of course, dessert. In the soup course alone this week, there's something to suit everyone's taste buds. Options range from vegetarian (Butternut Squash Soup) to locally-sourced seafood (North Carolina Clam Chowder).
Residents enjoy an array of appetizers that range from traditional (Coleslaw) to more exotic (Creamy Red Cabbage with Carrots & Mint). There are 21 entrees to choose from, including light options (Vegan Smoky Portobello Steaks), comfort food (Baked Cheese Ravioli), and hearty fare (Beef Wellington).
And don't forget the sides! Twenty-eight weekly choices include simple (Steamed Broccoli), complex (Oven Roasted Eggplant, Peppers, & Onions), sweet (Candied Yams), and creamy (Green Bean Casserole). With seven different breads and 14 desserts being offered over each seven-day period, you may have a hard time making up your mind. Did someone say pass the Triple Berry Trifle?
Hang up your spatula! A huge benefit of living at Springmoor is that you only have to cook when you want to. You can get a taste of our community by scheduling a personalized visit designed with your specific needs in mind. Simply click here or call 919-848-7080 today. Our friendly team looks forward to meeting you.