"One cannot think well, love well, sleep well, if one has not dined well." – Virginia Woolf
It's no question that quality nutrition is key to quality of life. A proper diet can ensure that you stay energized, prevent disease and sickness, and just feel better overall. Today, leading institutions recognize nutrition as one of the seven dimensions of wellness, and Springmoor follows suit with its Pathways to Wellness philosophy.
The namesake space enabling nutritional wellness
One of Springmoor's most engaging amenities is the Pathways Wellness Center, the namesake hub for the community's Pathways to Wellness approach. Members of the community gather here for all sorts of enriching endeavors, including wellness-focused opportunities ranging from physical fitness to social experiences to intellectual pursuits and, of course, quality nutrition.
The center's Village Bistro offers healthy, flavorful dining choices throughout the day. You can start your day with a lap swim at the center's heated saline pool, and then refuel at the bistro with an energizing, balanced breakfast. Later, meet friends in the afternoon or evening for a chef-inspired salad with healthy greens and proteins or a deliciously lean entrée. The Village Bistro provides nourishing eats in a relaxed setting, all with a view of Springmoor's 43-acre, park-like campus.
Beyond the bistro, members of the community can head to the Pathways Wellness Center for professionally guided nutritional counseling, health and diet assessment services, and weight management resources. It's a multi-dimensional approach to nutritional wellness that keeps you moving and enjoying every day of life at Springmoor.
A special chef, and a "chef's special" springtime event
Leading Springmoor residents on their nutritional journeys is the Head Chef, Dennis Daly. Chef Dennis works with Springmoor's Dining Services Director, Jennifer Mondolino, to ensure that all members of the community receive fresh, nourishing meals made with top restaurant-quality ingredients. At a recent event, Chef Dennis shared a few of his favorite, most-balanced dishes with a group of Springmoor residents and guests.
At the special "Savor the Flavors of Spring(moor)" luncheon, Chef Dennis and his expert team prepared a variety of dishes that highlighted not only his talents in preparing a perfect seasonal meal, but also how those dishes reflect the variety, quality and sophistication exclusive to dining at Springmoor.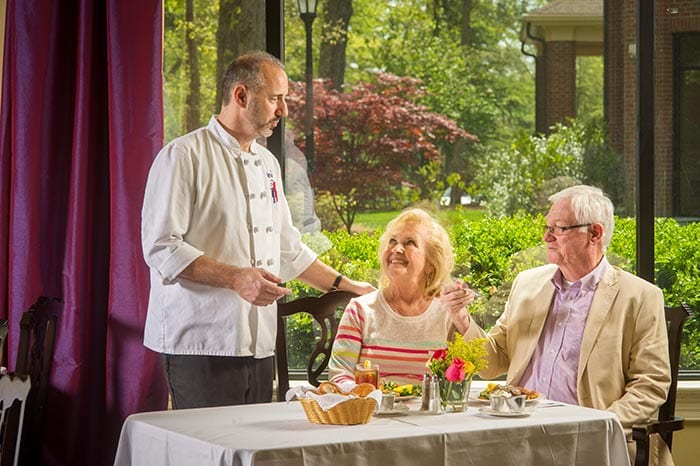 Dozens of diners enjoyed a refreshing gazpacho and a perfect-for-spring strawberry patch salad, and they chose either lemon asparagus pasta or brown sugar glazed salmon with asparagus and Parmesan rice for an entree. To end the meal with an indulgent twist, Chef Dennis and his team prepared a perfectly portioned peach bourbon upside-down cake.
Chef Dennis also explained the dining services team's role in providing quality meals for all, and how the team effort raises the bar on traditional cuisine in a way that coincides with Springmoor's Pathways to Wellness philosophy. Aside from the deliciousness and balanced nutrition of the food, perhaps the most impressive element of the event was when Chef Dennis shared that he and his team prepare 1,000 meals on any given day!
Nutrition, in the form of delicious dining, is just one of the life-enriching fundamentals that Springmoor encourages for all members of the community as they follow their chosen pathways to wellness. To get a sense of how Springmoor enriches other crucial components of an active lifestyle, we invite you to visit us! Simply click here to get in touch or call 919-651-4844 today.