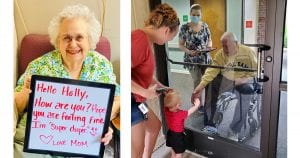 As a Continuing Care Retirement Community (CCRC), Springmoor gives residents the opportunity to live life to the fullest without worrying about their future. In addition to Independent Living, a full range of supportive care is available on our campus. Our Stewart Health Center provides rehabilitation, assisted living, skilled nursing, and memory support care.
The commitment of the Stewart Health Center team has been fully evident during the COVID-19 pandemic. The health center is home to as many as 135 residents, and keeping them safe and engaged during the evolving coronavirus situation relies on the commitment of our caring and conscientious staff.
"We've made numerous adaptations to procedures and activities in the health center," says Vera Horton, Activities Director. "Our staff has demonstrated enormous flexibility in adjusting their work schedules to help ensure residents stay healthy and connected to their family members."
Many thanks to the five Activities Assistants who serve residents in the health center: Bailey McGee, Gwen Echavez, Jill Spencer, Steve Blow, and Beth Jones. We appreciate all of them for their hard work and loving care. Throughout the pandemic, we're especially indebted to Bailey for her technical and creative skills, Gwen for her dedication to facilitating FaceTime calls and Zoom meetings, and Jill for staying late on Sundays so residents can participate in virtual Vespers.
Reducing Risk During the Pandemic
Since the beginning of the pandemic, only essential staff has been allowed in the health center. We're unable to allow any visitors, including friends and family. Though challenging for residents and their loved ones, this precaution is necessary to keep residents and staff as safe as possible.
Whereas high sanitation standards have always been upheld, we've added the wearing of masks and gloves. Face shields are worn for close, prolonged contact such as manicures. Hand sanitizer, frequent hand washing, and regular cleaning of high-touch surfaces contribute to keeping the community healthy.
Of course emotional well-being is critical as well. To combat feelings of isolation and depression, the activities staff has been going the extra mile by doing things like reading residents their mail or mending a hole in a favorite sweater. They're working hard to fill the void created since family members and volunteers haven't been allowed to visit.
Adapting Quickly to New Developments
Before coronavirus, residents enjoyed numerous group activities. They looked forward to a 2:30 pm party every Monday, and live musical performances were regular occurrences in the health center. Coffee socials on Saturday mornings and Vespers on Sunday evenings were highlights of the week. Many residents relished outings regularly scheduled on Wednesdays.
When the pandemic first began, the Activities Department at the health center continued to provide carefully monitored small group activities. These were suspended as more information about COVID-19 became available. As the risk of illness has increased, residents remain in their rooms most of the time, and we purchased many new materials to facilitate in-room activities.
During room visits, staff checks to see how each person is feeling and provides him or her with a number of in-room activities. Independent leisure supplies offered include CDs, radios, books on tape, and adult coloring books. Word search, crossword, and other puzzle books are popular, as are magazines, and some residents enjoy cards and knitting. Staff does some of the activities one-on-one with residents.
A favorite pastime is a staff member providing in-room beauty maintenance (hair, nails, and make-up). Residents choose from a cart of personal grooming supplies like clips and curling irons, since the salon is closed to them for safety reasons.
The pandemic hit North Carolina as the Stewart Health Center staff was transitioning from a medical model to providing person-centered care. With group activities not currently an option, we accelerated our shift to providing more one-on-one time with residents that is specifically tailored to their needs and preferences. All in-room activities are personalized to the individual resident.
Each resident's room has a TV, and Springmoor's closed-circuit channel provides a variety of community-specific information and entertainment. Programming includes weekly town hall meetings conducted by Brandon Hair, Executive Director of Springmoor.
Residents can also stay active in their rooms with a little help from Leah Willis, Resident Life Director, and Kari Richie, Wellness Center Director. Kari and Leah provide fitness programs on the Springmoor channel, with exercises adapted for residents with limited mobility. Activity assistants also do one-on-one exercises with the residents as needed.
Keeping Residents Connected with Family Members
For their health and safety, Stewart Health Center residents have remained inside the Center since the pandemic descended on North Carolina. Family members outside the Center are of course eager to see and interact with their loved ones. Residents want their families to continue to be involved in their lives even though they can't visit right now.
Staff quickly progressed from providing family members with current photos of residents with a whiteboard message of their choice to facilitating Zoom and FaceTime calls. They facilitate up to 30 requests per week. Vera explains, "We invested in iPads to help us engage residents with families for these calls."
Making Special Days Special
Residents who have had a birthday since the pandemic started have enjoyed parties via Zoom. Vera buys and decorates a cake, and she and the resident's aide set up a Zoom call with family members to celebrate. Staff also helps residents celebrate wedding anniversaries and the arrivals of new grandchildren.
Activities staff dedicated one week to window visits for moms around Mother's Day and a second week to dads around Father's Day. Walkways and two glass doors were cheerfully decorated, and families scheduled a time for a 20-minute in-person visit, using phones and iPads to communicate through the glass.
To find out more about our welcoming retirement community, simply click here or call 919-848-7080 today!