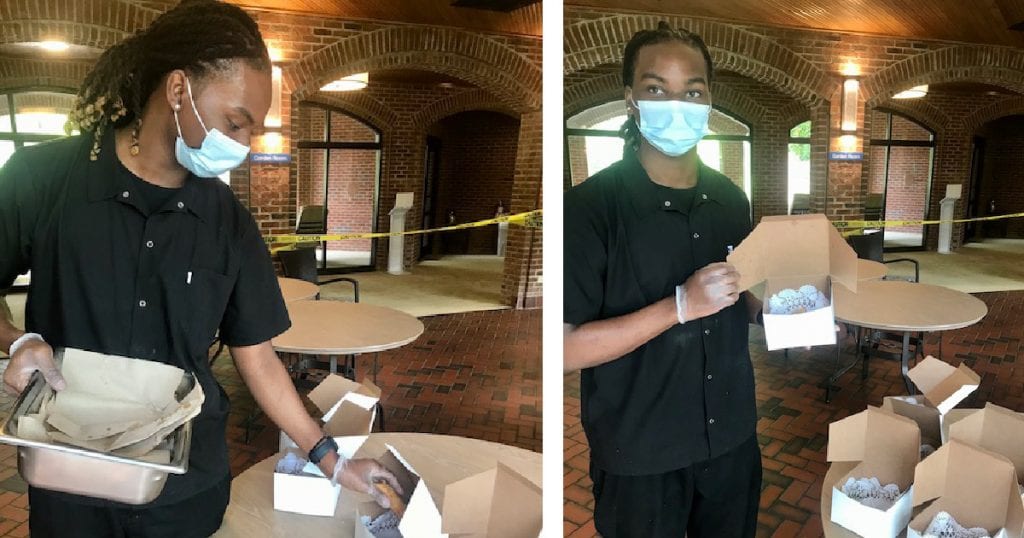 If you're like most people, you wish you had someone else to shop for groceries and prepare delicious, healthy meals just for you. Thanks to our Food Services Department, Springmoor residents don't have to wish! And instead of cleaning up a messy kitchen, they spend more time on activities they enjoy.
Active senior living communities typically offer meals of course, but our dining services are second to none. Our executive chef and his team provide 1,000 healthy, delicious meals every day. We offer residents a wide array of choices, from Southern comfort food to entirely plant-based options.
When the world seemingly changed overnight due to the Coronavirus pandemic, the Food Services team immediately responded by putting additional safety protocols in place. To ensure social distancing, the team rapidly transitioned to hand-delivering individual meals directly to residents' doors.
Here's how events unfolded: On March 16, 2020, Springmoor dining services were operating normally. Residents could choose waiter service or go through a cafeteria line, order takeout, or visit the café or bistro for casual dining.
As the impact of COVID-19 became clear, Food Services quickly adjusted and began providing takeout food to all residents on March 17 to help ensure everyone's safety. Residents ordered from a limited menu for about a week and then once again received access to a full menu.
Making the speed of these transitions even more impressive, Food Services had packed up and moved into a modular kitchen in February of 2020. The move was completely unrelated to the virus; the Springmoor kitchen is in the process of being renovated to keep pace with the growth of the community. The modular kitchen is of course fully functional, but it's far less spacious.
Despite the challenges of a small kitchen, the staff continues to ensure all residents receive the meals of their choice, while carefully observing all safety and temperature protocols. "We're doing everything possible to keep Springmoor healthy," says Jennifer Mondolino, General Manager of Dining Services.

Thriving During Change
Residents have adapted graciously to the changes brought about by the pandemic. "They're coping with good humor and understanding," says Jennifer. "It's wonderful to see how the community has pulled together in a time of crisis."
A major shift in dining services procedures that occurred immediately was the need to provide menus to residents in advance. Residents can now circle their choices on paper or go to Springmoor's online portal to make their selections electronically if they prefer.
Even during the pandemic, the Food Services team has continued to listen carefully to the residents' requests regarding food choices and act quickly to accommodate them. Staff has made premium menu items such as lobsters, fillets, and shrimp cocktails available for dinner, despite the pandemic. They've also added a garden salad as a daily option due to residents' requests.
Safety First
Many safety procedures such as maintaining sanitary surfaces have always been in place in the dining department. As an additional precaution during the pandemic, all staff members now have their temperatures checked before beginning work. Food services staff have always worn gloves, and now masks are also required.
Every day, employees get a refresher course on safety measures such as sanitizing, proper hand washing, and how to correctly put on gloves and masks. All employees are also responsible for maintaining social distancing when they aren't at work to help ensure the safety of the Springmoor community.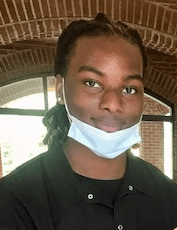 Celebrating Special Occasions, No Matter What
One member of the Food Services support staff has gone above and beyond to make special occasions memorable for residents. Messiah Thompson is a high school student who has worked at Springmoor for over a year as an afternoon grill cook. Wanting to make sure that moms felt loved on their special day, he spearheaded the creation and delivery of Mother's Day treats.
Along with other team members, Messiah arrived at work at 6 am on Mother's Day to assemble boxes with pastries he had carefully selected: croissants, blueberry crumb muffins, and homemade carrot cake. Staff placed items on dollies, attached an Earl Gray tea bag to the inside of each box lid, and applied a colorful sticker. Because all of us have a mom we care about in our lives, staff delivered these treats to each resident.
Messiah has also coordinated meal delivery to the detached housing residences to make sure residents stay safe and receive delicious meals. He wants to continue in food service for his career, and he's off to an amazing start!
Eat, Drink, and Be Healthy
During normal times, Food Services maintains a dining room, café, and bistro. At present (late May 2020), breakfast can be ordered only for delivery from the café and bistro. Safe changes are occurring gradually at Springmoor, and lunch and dinner will also be available soon.
Before the dining room reopens, the staff will receive instructions on how to safely serve residents. If a resident isn't comfortable eating in the main dining room, he or she has the option to order takeout or delivery or visit the café and bistro. Choosing to live in a retirement community like Springmoor means you don't have to cook for yourself unless you want to!
Contact us today at 919-848-7080 to find out more about the exceptional food and service we provide every day. Our friendly team is also happy to answer questions about the many steps we're taking as a community to keep residents and staff safe and healthy during the pandemic.