Selfless, humble, tenacious, intelligent, empathetic and visionary are just a few adjectives that describe Marjorie O'Rorke—a lifetime community volunteer, Springmoor resident and recent inductee into the Raleigh Hall of Fame.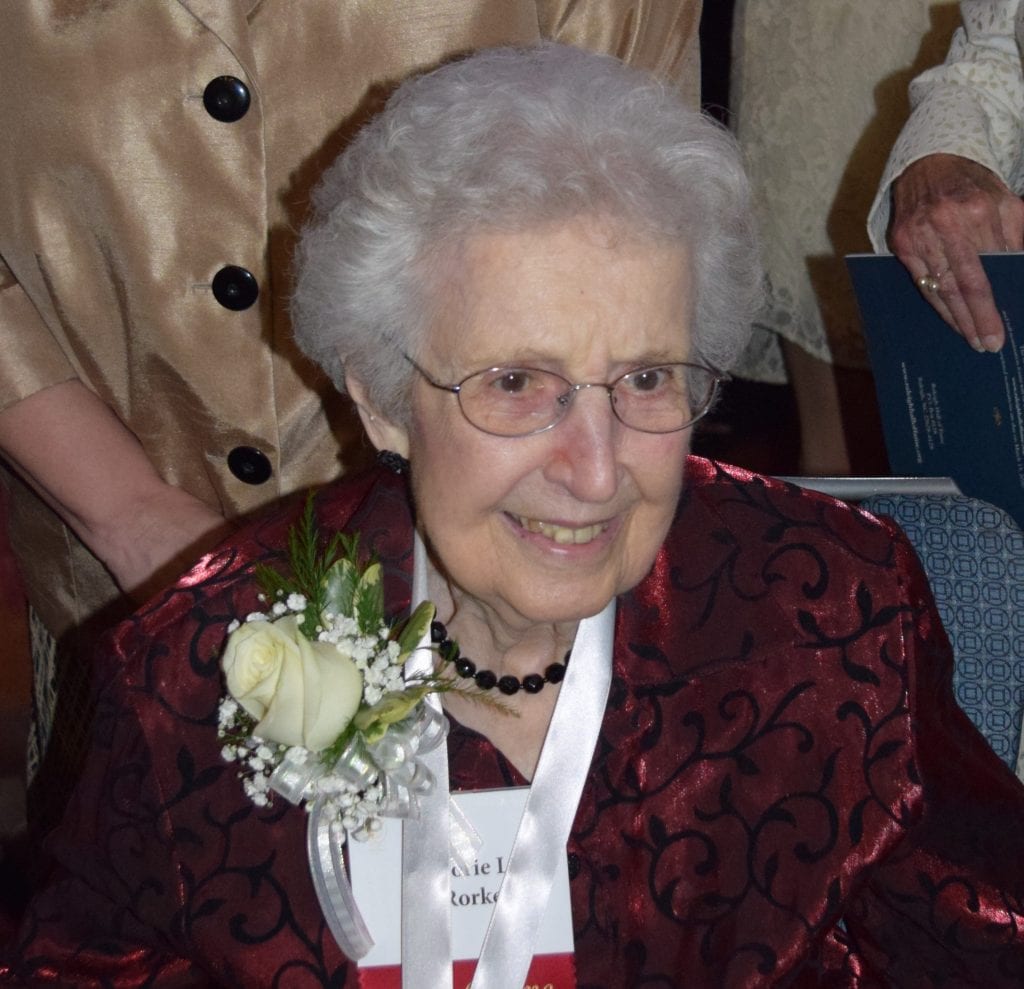 The Raleigh Hall of Fame recognizes individuals, including activists and volunteers, and non-profit organizations that have made significant and lasting contributions to the City of Raleigh. For 56 years, Marjorie has devoted endless hours to the Dorothea Dix Hospital and the Dix Park Conservancy; however, the news of her induction into the 2019 Raleigh Hall of Fame surprised her. "I didn't think I had done anything great," Marjorie said.
Nurse turned volunteer
Having earned a nursing degree from Yale University, Marjorie moved to Raleigh in the early 1960s and began work as a nurse at Duke University Hospital. Soon after that, she joined the newly established Dorothea Dix Volunteer Service Guild at the Dorothea Dix Hospital, also in Raleigh.
"Because it was a psychiatric hospital, they had trouble recruiting people for the Guild and I could see that they needed people to work there," Marjorie explained.
The Guild, which served the needs of patients, was a new concept at psychiatric hospitals. During her tenure at Dorothea Dix Hospital, Marjorie led clothing drives, created a clothing and cosmetic station for patients, raised money for Christmas presents and a picnic area for patients, and convinced the North Carolina symphony to perform for the patients at Christmastime.
"We tried to give the patients a little something from the outside," Marjorie explained.
One of Marjorie's memorable initiatives was the symbolic removal of a wall between a patient area and the hospital's coffee shop, which was operated by the Guild. In an effort to integrate staff and patients, Marjorie gained consensus to have the wall removed.
Throughout the years, Marjorie worked side-by-side with hospital staff to change the perception of mental health. "Lots of changes were taking place," Marjorie said. "There was a greater understanding of mental illness, its causes and medications."
The next chapter: writer and historian
According to Marjorie, her crowning achievement was writing the history of Dorothea Dix Hospital. At the request of the hospital's director, Marjorie researched hospital and state records, combed libraries and archives, and conducted numerous interviews to create a 150-year history of the hospital. "I had no idea how long it would take," Marjorie shared.
After 20 years of writing and research, and with a manuscript in hand, Marjorie approached the North Carolina Department of Cultural Resources for help publishing the book. Despite budget cuts, and thanks to her fundraising, "Haven on the Hill" was published in 2010. Today, the book is in libraries throughout the country and as far away as Germany.
Neighbor, fellow inductee and admirer
Jud Ammons, founder of Ammons Construction Company and developer of Springmoor, was inducted into the Raleigh Hall of Fame in 2011 for his contributions to the community through his building projects such as daycare centers, recreational amenities, affordable housing, industrial parks—and Springmoor.
Like Marjorie, Jud holds fast to his convictions—namely to build quality communities. His greatest accomplishment is Springmoor, and it gives him great satisfaction knowing that people, like Marjorie, come here for its quality healthcare, welcoming community and beauty. Now a resident of Springmoor, Jud lives across the hall from Marjorie and has known her for many years. "She's a very smart lady," Jud commented. "She was really devoted to Dorothea Dix Hospital and made it a better place. I'm very proud of her."
Always an advocate for mental health
Like Dorothea Dix, Marjorie is a champion of mental health. "Our country needs to pay more attention to mental health," Marjorie commented. "There needs to be more resources in the community such as facilities to support those with mental illness and their families."
At 95, Marjorie remains passionate about her cause. She serves on the legacy committee of the Dix Park Conservancy, a group dedicated to the creation of a city destination park to honor the cultural significance of Dix Hill and Dorothea Dix.
At every turn, you'll meet interesting people like Marjorie and Jud at Springmoor. To learn more about this premier Continuing Care Retirement Community and the many vibrant people who live here, call 919-651-4844 for a free information kit or simply click here.