After Looking at All the Retirement Homes in Raleigh, NC, Springmoor Was an Easy Choice for The Robinsons
Having spent nearly four decades in the area, Martha and John Robinson certainly knew of most of the retirement homes in Raleigh, NC. When the Robinsons decided to make their move to a CCRC (Continuing Care Retirement Community), they didn't hesitate in choosing Springmoor.
"We knew that Springmoor was one of the longest-established communities in the area," John said. "We have had many friends living at Springmoor and had visited them many times, so we had a chance to become familiar with the community. We liked everything we saw, and of all the retirement homes in Raleigh, NC, Springmoor best suited our needs."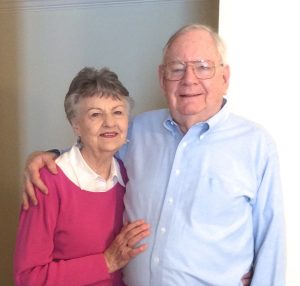 Off to a good start
John explained that when he and Martha committed to Springmoor in the spring of 2016, the "countdown to move-in" began. With their commitment set, the Springmoor staff helped the Robinsons sort through the options in a way that fit their desired move-in timeline. The pair sought one of Springmoor's two-bedroom deluxe apartments and decided to wait until after the holidays and winter to make the move. Then, when the perfect home became available in the spring of 2017, the Robinsons secured it.
"The process is quite comfortable. You don't feel pushed," John recalled. "Once something opens up, the Springmoor team is very good about helping and making sure it's the right fit. We're only four or five miles from our former house, and it was a very easy transition."
Enjoying an active, independent lifestyle
"We're highly independent. We both drive and still use our cars," John explained. "In many respects, it's like living in an apartment with a built-in restaurant!"
The Robinsons are pleased to use Springmoor's recreation and fitness amenities, saying that they're "really quite excellent," while adding that the community "has essentially anything you could want."
Martha and John enjoy going off campus for many reasons, including taking advantage of the wonderful area attractions. They hold season tickets for the North Carolina Symphony and the Carolina Ballet, and the pair also volunteer at the North Carolina Museum of Art. One of their favorite things to do is use the bus that's arranged by the Springmoor transportation department to go see performances, so they don't need to worry about driving or parking in town.
Independence for today, peace of mind for tomorrow
Both Martha and John say that they've had personal experience with elderly parents who have needed nursing care, and because of that, the idea of a CCRC really appealed to them. Having the opportunity for guaranteed ongoing care, if needed, was something they recognized as having a lot of value for them – and for their family.
"Anybody who doesn't have a pending health issue feels like it's not time to move yet," John said. "The common idea is that it'll happen 'when I get old,' so it's tough to commit to moving to a CCRC. We realized that this was making a decision to secure our future, and once you've made that commitment, it's really quite easy."
The Robinsons recognize that those who make the choice to move to Springmoor find themselves—almost immediately—happier than they would have been if they had stayed where they were. Even if someone is moving alone, John and Martha have observed that their fellow residents treat each other like a large, extended family, which is one of the biggest benefits of living in a CCRC: the positive social interaction.
Now that they've settled in at Springmoor, surrounded by new friends and delights in the city they've called home since 1979, the Robinsons are enjoying CCRC life. If you're looking among the retirement homes in Raleigh, NC, we invite you to explore Springmoor because we think you'll agree with the Robinsons that it's "quite a wonderful option for everything!" Simply click here, or call 919-651-4844 to request a personalized tour.