wellness in every dimension
Wellness that starts with purpose
From the time we first welcomed residents into this community, Springmoor has championed a purposeful approach to wellness. Today this philosophy is taking on a whole new meaning.
More than a focus on physical fitness, our Pathways philosophy recognizes wellness as a multi-dimensional state of being. Here you'll find services, amenities and activities that enhance and celebrate optimal health in every dimension—intellectual, spiritual, physical, social, emotional, nutritional, vocational and environmental.
Our community-wide support of multi-dimensional health starts with a state-of-the-art wellness center.
Pathways Wellness Center
This creatively designed space will inspire you to pursue your own pathway to wellness. Within this center you'll find many appealing choices that speak to the mind, body and spirit. A range of fitness classes includes strength training, cardiovascular endurance, yoga, and Tai Chi and line dancing. Educational programs range from guest lectures to how-to workshops. Enter a bridge tournament, have a massage or get a mani-pedi. There's an activity to suit every mood and goal.
Dining and entertainment
The Pathways Wellness Center is also a great place to dine and socialize. The center's Village Bistro and Dining Room serves nutritious and delicious choices for breakfast, lunch and dinner. Our University Theater dishes up movies and special events. It's wired with the latest hearing loop technology so even those with assistive devices can hear every word. Afterwards meet up with friends at the center's Willow Springs hospitality bar to share a drink and lively conversation.
Top notch facilities and services include…
Heated saltwater pool
Hot tub
Sauna
Expansive exercise room
Bistro dining
Hospitality bar
Movie theater
Game room with billiards table
Computer room
Salon
Individual fitness assessments
Massage therapy
Health screenings
Flu, pneumonia, shingles and Hepatitis B vaccinations
Luncheon and social events
Tournaments
Clubs, lectures, seminars and lessons
Hair and nail services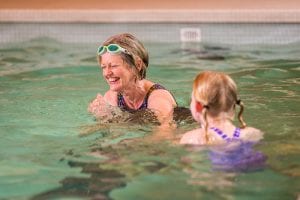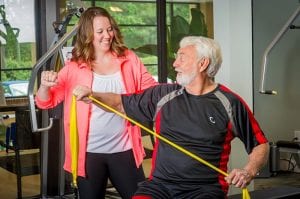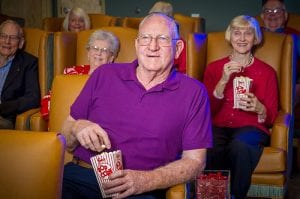 "All dimensions of life are dealt with here: spiritual, intellectual, physical and social."
—C.P. Minnick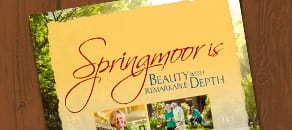 Request a FREE Information Packet
Request more information, schedule a tour or just ask us a question!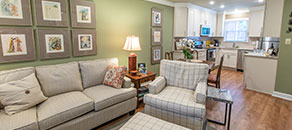 Schedule a Tour
Come see firsthand the beauty and depth of life at Springmoor.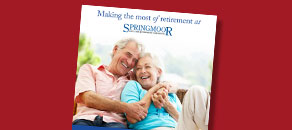 Read our Annual Report
Learn about our accomplishments and financial information.
Quick Message
Or call us! (919) 848-7080