A lifestyle of activity and freedom
Quality services provide more quality time
Springmoor is staffed with personable, responsive professionals in their field who take pride in creating an environment that supports a healthy, happy, active lifestyle. They not only ensure you have more free time each day, but they also make it easy to fill that time with quality choices.
Household chores, nagging repairs and never-ending lawn care no longer take up your time. Now you can finally start that fitness regimen…spend a guilt-free day golfing…learn a second language or take a cooking class—your options are limitless and your time is all yours.
Life-enhancing services include:
Nutrition
Delicious chef-prepared meals (one full-service meal a day is included in your independent living monthly service package)
Physician-requested special diets
Security
24-hour emergency call service
Around-the-clock staffed security
Salon & Spa
Massage therapy
Hair and nail services
Sauna and whirlpool
Residency Perks
Guaranteed residence for life
Springmoor Comprehensive Healthcare Program (CHCP) monitors health insurance claims
Use of on-site Stewart Health Center for outpatient and inpatient care
Three meals each day for residents of the Supportive Living Center and Stewart Health Center
Hospitality & Maintenance
Home maintenance and repairs, inside and out (exclusive of personal property)
Care of grounds, including landscaping, mowing, raking and watering
Housekeeping and flat linen service
Transportation
Scheduled transportation for shopping, activities and medical appointments
Wellness
Fitness assessments and health screenings
Personal trainer
Spiritual
Chaplain
Spiritual services
"I feel so comfortable and secure here. You don't have to worry about anything to do with your house or yard. I just feel that everything I need is here!"
—Jan Hagarty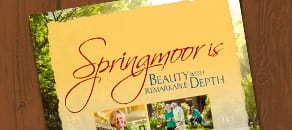 Request a FREE Information Packet
Request more information, schedule a tour or just ask us a question!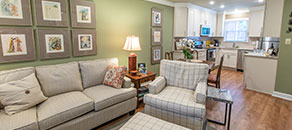 Schedule a Tour
Come see firsthand the beauty and depth of life at Springmoor.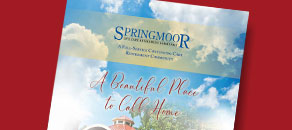 Read our Annual Report
Learn about our accomplishments and financial information.
Quick Message
Or call us! (919) 848-7080