A lifestyle of activity and freedom
Vibrant activities help a lifestyle soar

Whatever your interests or passions, you're sure to find activities you love at Springmoor. Rediscover neglected hobbies and explore new favorite pastimes among this lively group of people who believe living life to the fullest is even more fun with friends.
In addition to the on-site activities below, enjoy easy access and scheduled excursions to the bountiful attractions of Raleigh, including fine dining, museums, shopping, performing arts, nature trails and lifelong learning opportunities at local universities.
Check out our calendar to see current happenings.
On-site activities include:
Social
Wine and cheese socials
Breakfast socials
Coffee time get-togethers
Entertainment
Musical performances
Movies
Interactive computer games
Spiritual
Bible studies
Worship services
Games & Competition
Golf
Bridge
Croquet
Ping-Pong
Shuffleboard
Putting green challenges
Contests and tournaments
Education
Continuing education seminars
Guest lecturers
Art classes
Hobbies
Gardening
Literary guild
Book group
Wellness
Fitness walking
Exercise classes
"We feel like we made the right decision to move to the right place at the right time. There is such a wealth of activities, and although we've tried, we just can't make it to all of them! It's an incredibly friendly and giving community and we are happy to be a part of it."
—Jim Bundy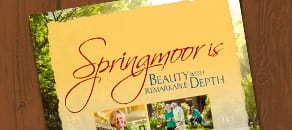 Request a FREE Information Packet
Request more information, schedule a tour or just ask us a question!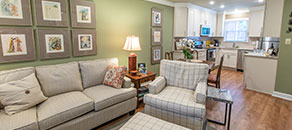 Schedule a Tour
Come see firsthand the beauty and depth of life at Springmoor.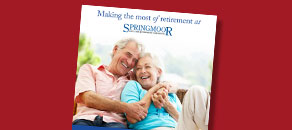 Read our Annual Report
Learn about our accomplishments and financial information.
Quick Message
Or call us! (919) 848-7080