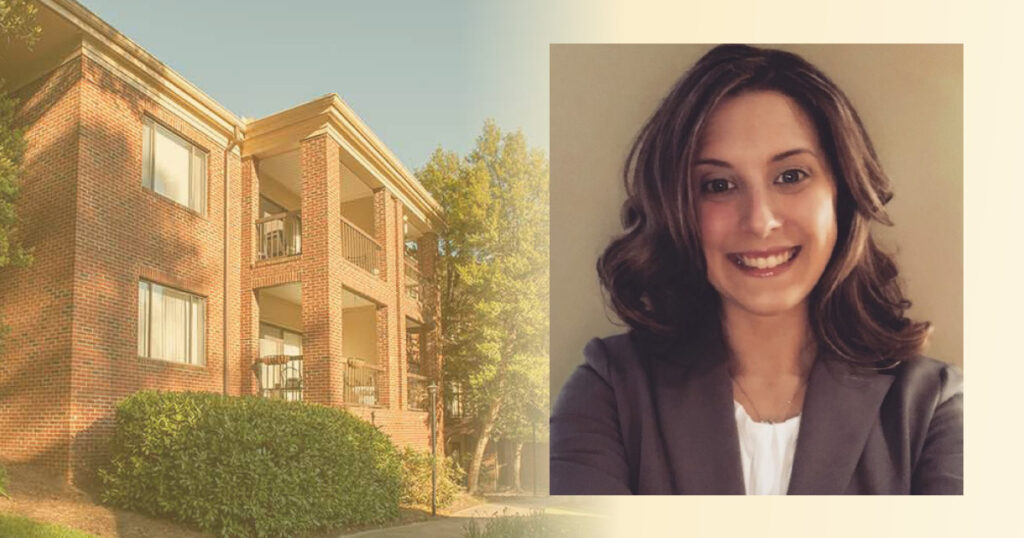 Ashley Bochenek brings almost two decades of hospitality experience to her new role as Springmoor's Director of Dining Services. Initially hired as our Operations Manager, she then served as our Interim Director of Dining Services. After a short time, she was offered the Director position on a permanent basis.
"I have received many positive comments and letters of recommendation regarding Ashley and have no doubt she will be the best Dining Services Director we have ever had at Springmoor," says Brandon Hair, Executive Director. "Her leadership, follow-through, and compassion for all the residents she serves make her the perfect fit for our community."
Ashley's experience in food service includes bakeries, senior centers, restaurants, hospitals, and universities. Past jobs include being a bakery manager in Saratoga Springs, New York; a restaurant manager in Albany, New York; and an executive chef with Sodexo in Upstate New York at a long-term term care/independent living community. She was also an executive chef in Manhattan at Inside Park at St. Bart's.
"My mother owned a bakery for 27 years," Ashley says. "That's where I discovered my interest in food and running a business. The bakery was a family business, and my aunt and I helped during the holidays." Ashley's father, a 36-year veteran of the armed services, decorated wedding and birthday cakes on the side while still in the military.
Ashley's path to Springmoor
Ashley was an Executive Chef at St. David's Medical Center in Austin, Texas, when she found out about the open Operations Manager position at Springmoor while conducting a multi-state job search. "I had been wanting to get back to the director side of the business," she says.
When she came across the job posting for Springmoor on the Sodexo website, she was excited to apply. "When I worked in senior healthcare/independent living previously as an executive chef, I loved the environment and getting to know the residents. I still keep in touch with a couple of residents and some of the people I worked with to this day."
The Springmoor management team recently completed the planning for Springmoor's fall 2023 menu. In addition to Ashley, members of the team include Executive Chef Matt Love, the sous chefs, and Springmoor's two dieticians, Marnie and Joanna. "We work together to ensure that we have options that will please everyone," Ashley says.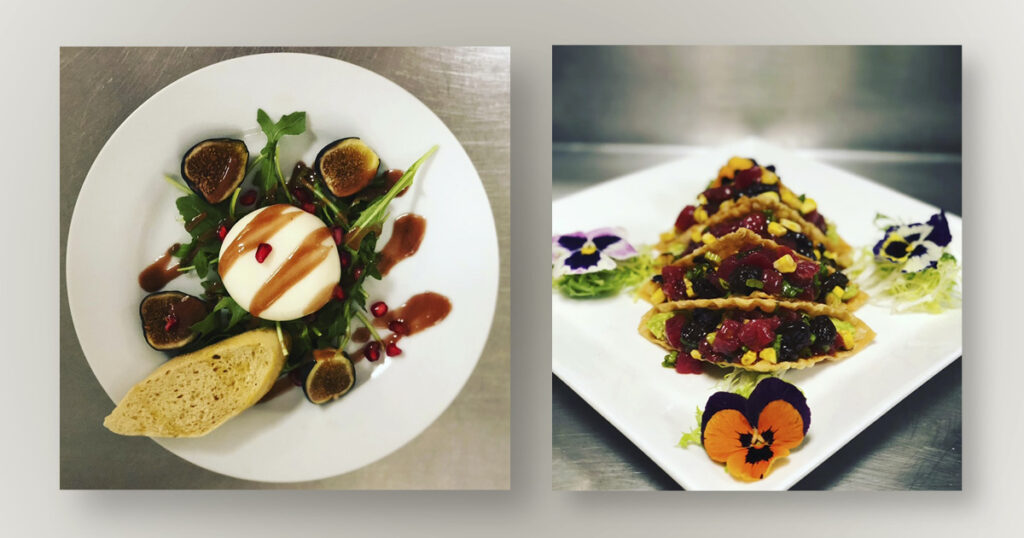 The Food Services team at Springmoor strives to offer residents a varied dining experience that is both delicious and nutritious while being extremely responsive to resident feedback. To name just one example, the menu has been adjusted to offer more heart-healthy items.
The team's fall menu features vegan and vegetarian entrees at least three days a week. In addition to the three entrees offered daily, the Dining Services Department provides a daily "mindful menu" that usually revolves around grilled salmon or chicken.
Ashley's early years and current family
Ashley was born in Arlington, Texas. Her father was stationed in Fort Worth with the U.S. Air Force. Her parents were originally from Upstate New York, and they returned to this area when Ashley was a child. She grew up mostly in New York near Saratoga Springs and then attended culinary school at the Art Institute in Santa Ana, California. She came back to upstate New York to finish her bachelor's degree at SUNY Delhi.
Her military career took her back to Texas. Ashley was in the Air Force for seven years in Security Forces before transitioning to medical services and serving as a dental assistant. After leaving the Air Force, she was the Director of Residential Dining at the University of Texas at San Antonio (UTSA).
Her husband Sean is from the San Antonio area and is also a veteran. The couple met while she was working at Randolph Air Force Base. Sean served in the Army and is medically retired due to a parachuting accident.  
Ashley and Sean have two small children, Harper (3) and Caroline (2). "They keep us very busy when we aren't working," she says with a smile. She also has an older daughter named Breanna.
Plan your visit to Springmoor today!
Like many CCRCs (Continuing Care Retirement Communities), Springmoor is an entrance fee community. Paying this one-time fee gives you access to all of our facilities, amenities, and services, including dining. Residents enjoy restaurant-style dining and a choice of three to four entrees each day.
We offer a full continuum of healthcare and guaranteed residency for life. Your monthly service package gives you maintenance-free living and predictability in your ongoing expenses.

Contact us today at 919-848-7080 to find out more about the wide range of exceptional activities we offer every day so that residents can live their best lives. Our friendly team is happy to answer questions about Springmoor's amenities and what's included in your monthly service package. You can also order a free information packet. We look forward to meeting you soon!