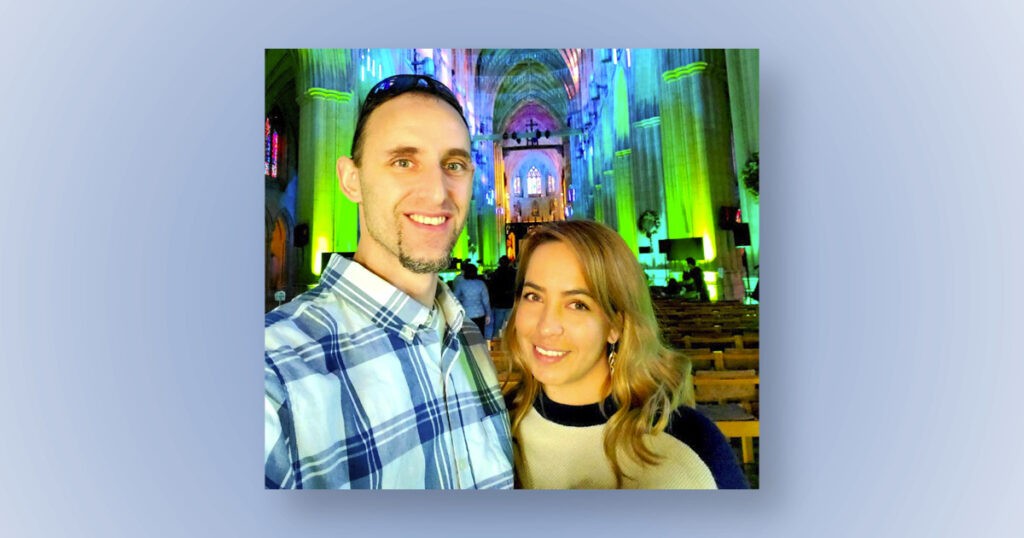 Matt Love has been cooking professionally for more than 23 years, with 12 years as an Executive Chef. "I've worked in just about every aspect of the culinary industry," he says. His extensive experience includes catering, restaurants, fast food, military cooking, corporate and business dining, higher education, assisted living, and the retirement sector.
Matt's passion for cooking was sparked by his maternal grandmother, who helped raise him. He spent his summers at his grandparents' house, and they taught him how to prepare meals for a large family, including six children.
In 2011, Matt's grandmother moved into a senior living community. "She frequently called me seeking advice on the different ways food might interact with her medications," Matt says.
Although he had completed his chef training and earned a bachelor's degree in Restaurant/Food Services Management from Johnson & Wales University, Matt hadn't been educated as a dietitian. His grandmother's concerns prompted him to learn more about providing optimum nutrition to seniors, and he changed his focus to the retirement sector of food service.
An eclectic approach to food and kitchen management
Matt is committed to providing healthy, delicious dining options that appeal to a wide range of tastes and dietary needs. He puts tremendous thought and effort into menu planning and recently completed the fall menu for Springmoor.
"The new menu starts to move us away from depending so heavily on rice and potatoes as side items and including more nutritious options like couscous, barley, quinoa, farro, and polenta," he says. "These grains offer protein and exciting alternatives for both hot and cold sides."
Matt continues, "To increase nutritional value while enhancing flavors, we'll also be preparing fewer soups and entrees that contain flour and cornstarch. For thickeners, our staff will be using vegetable purees instead, as well as potato and garbanzo bean water." For plant-based and vegetarian options, the Dining Services department will offer more fresh vegetables prepared with oil and wine in addition to pasta and baked dishes.
Matt learned about the open executive chef position at Springmoor from Ben Battle, our former Dining Services General Manager. In the past, he enjoyed a great working relationship with Ben in Washington, DC. Matt had lived in DC for more than 14 years and jumped at the chance to relocate to the Raleigh area and begin a new phase of his career at our community.
When asked about his philosophy regarding efficiently preparing and serving hundreds of delectable meals every day, Matt says that he believes in leading by example. "My first rule in all the kitchens I've managed over the last 12 years is that I'll never ask any of my staff to do anything that I wouldn't do myself. I learned this during my time in the US Army as a cook, and I continue to practice this each day."
Matt recognizes that each of us has different tastes, comes from a unique background, and grew up enjoying and experiencing different foods at home and while traveling. "Resident questions, concerns, and comments come with the territory of managing a kitchen and being a chef," he says. "I strive to offer a lot of choices and opportunities for residents to experience different regional dishes and types of cuisine."
Matt enjoys employing diverse cooking styles and approaches to food. "Food is like technology," he says. "It is forever changing year after year. The way food was made and prepared 15–20 years ago is not the same as today."
He and his team strive to offer a wide range of new menu options on a continual basis. They pay close attention to the resident feedback they receive to determine likes and dislikes and make appropriate adjustments.
---
Premium entrées are offered as part of the resident meal plan. Some of the options on the premium menu this summer have included:
Shrimp Cocktail
Mini Lobster Salad Sliders with Bibb Lettuce on Hawaiian Rolls
Greek Salad
Filet Mignon with Sauteed Fig Gremolata
Grilled French Lamb Racks with Agave Dijon Sauce
Seared Jumbo Diver Scallops with Citrus Paprika Aioli
Potato Gnocchi
Butter Poached Baby Carrots
Grilled Lemon Butter Asparagus
Roasted Heirloom Purple Potatoes
Ruby Red Wild Rice Medley
Grilled Angel Food Cake with Blueberry and Pineapple Mint Salsa
Baked Challah Bread Pudding with Crème Anglaise
A dynamic personal life
In 2019 a friend introduced Matt to his wife Norma, who goes by her middle name Paola. "I knew right away that she was the one," he says. "Within a short time, we were married. I wasn't going to let this one go!"
The couple celebrated their third wedding anniversary on March 20, 2023. Paola is from Bogota, Columbia and has one son who just turned 25 years old. She is an Environmental Services Manager for a hotel and oversees the cleaning and laundry department.
Matt and Paola have a lot in common. They love to watch movies and mini drama series while relaxing at home. They're both outgoing and find peace in traveling in search of beautiful waterfalls, coastal beaches, and natural areas in the mountains.
He adds, "During my downtime, I also enjoy drawing and coloring and reading my dozens of cookbooks. My motto is 'You can never stop learning.'"
Born and raised in Portland, Maine, Matt also spent a lot of time at his parents' second home in the White Mountains of Northern New Hampshire while growing up. He began his cooking career as a Food Specialist (cook) in the United States Army and served in Germany and Texas, as well as one tour of combat duty in Iraq in 2003. "The Army helped pay for my college culinary education," he says.
We're excited to welcome Matt to our community and look forward to great things to come!
Plan your visit to Springmoor today!
Like many CCRCs (Continuing Care Retirement Communities), Springmoor is an entrance-fee community. Paying this one-time fee gives you access to all of our facilities, amenities, and services, including dining. Residents enjoy restaurant-style dining and a choice of three to four entrees each day.
We offer a full continuum of healthcare and guaranteed residency for life. Your monthly service package gives you maintenance-free living and predictability in your ongoing expenses.
Contact us today at 919-848-7080 to find out more about the wide range of exceptional activities we offer every day so that residents can live their best lives. Our friendly team is happy to answer questions about Springmoor's amenities and what's included in your monthly service package. You can also order a free information packet. We look forward to meeting you soon!