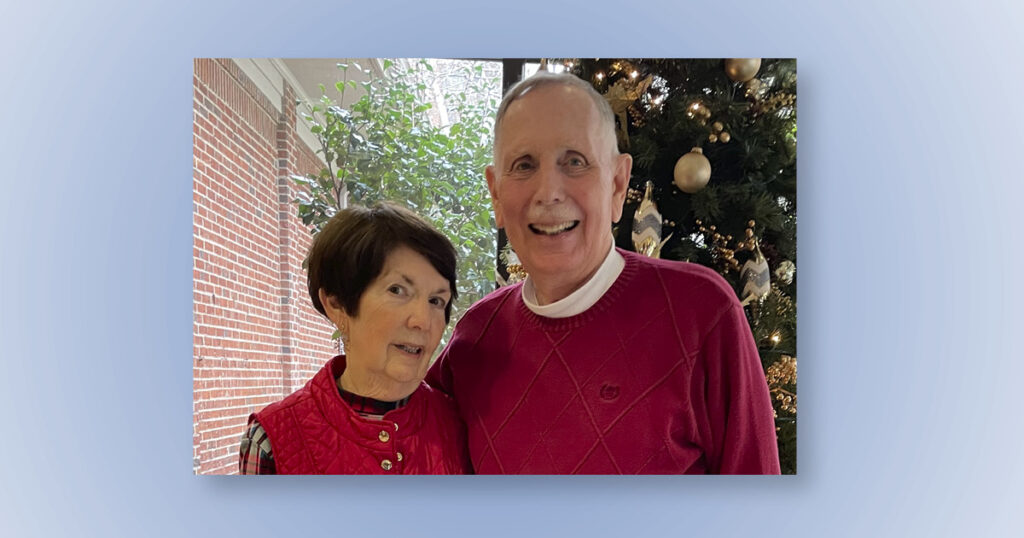 Residents Lynis Dohm and Tom Zimmerman have a lot in common in addition to choosing to move to Springmoor. They're both married to a lovely woman named Carol, they've enjoyed illustrious careers in the sciences, and they've continued to work after retiring.
Moving to a senior living community doesn't mean you have to give up the things you're most passionate about. Our staff provides chef-prepared meals, home repairs and maintenance, and much more. We offer an onsite medical clinic and can even assist you with your insurance claims. You have more time and energy to pursue your hobbies and interests, spend time with friends and family, and be active in your career.
Meet Residents Lynis and Carol Dohm
Lynis and Carol Dohm moved to Springmoor in July 2022. Like Tom and Carol Zimmerman, they have a two-bedroom deluxe apartment. (Read the Zimmermans' story in Part I of this blog.)
"We were all set to move into a retirement community in Greenville until our kids had an intervention," Lynis says with a laugh.
Lynis and his wife Carol looked at about eight communities in the Triangle, and Springmoor was by far their top choice. The community is located a 30-minute drive from each of their two adult children. "We definitely made the right decision," he says.
"Our deluxe two-bedroom apartment is just right for us," Lynis says. "We didn't go for a house or villa because we don't need that much space, and it's nice to be able to stay in the building to go to dinner." Having an apartment works well because Carol is a very social person who enjoys having lots of neighbors to interact with.
The couple has a daughter in Holly Springs with two sons, and a son in Youngsville with six children. Lynis and Carol have five great-grandchildren as well. Twenty-one members of the family gathered at Springmoor the day after Christmas in 2022.
Like the Zimmermans, Lynis and Carol were only interested in retirement communities that offered continuing care. "We had to make decisions for both of our mothers' care, and we decided to come to Springmoor now so that our kids didn't have to make decisions for us later," says Lynis.
Lynis and Carol both value the convenience of the clinic located on campus. "We're glad to have the clinic take care of us," he says. "Our friends, our doctor, and our church were all in Greenville, and now we've transitioned to having all of this here in Raleigh."
When asked about the activities they enjoy most at Springmoor, Lynis says they are becoming pickleball enthusiasts.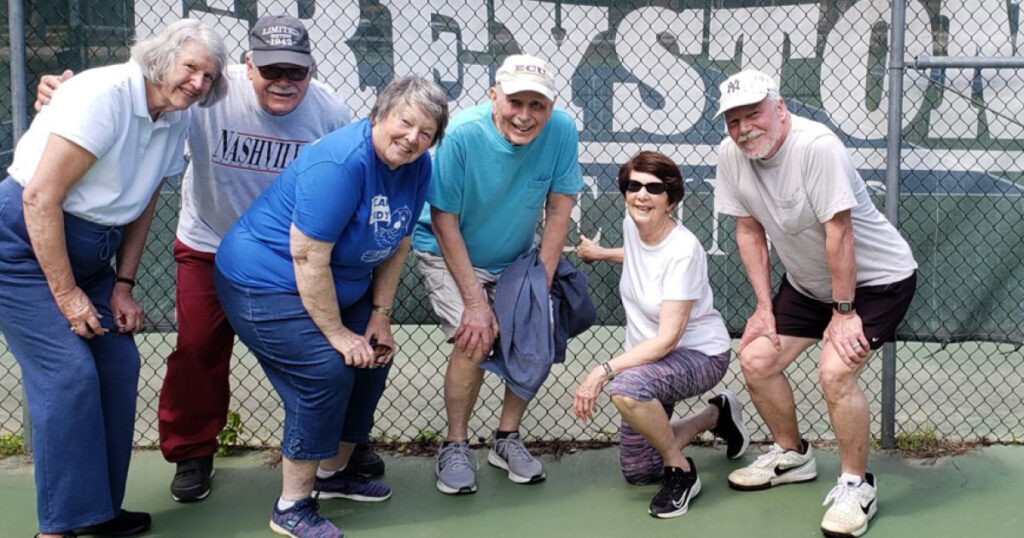 Much of Lynis' time is currently spent doing research on obesity and diabetes. He and his team were awarded a five-year grant, and as of this writing, there are 11 months to go in the grant cycle.
He was the co-principal investigator for the grant before he and Carol moved to Raleigh. Now that they've relocated, most of the administrative responsibilities of the grant have been transferred to a colleague.
Both Kansas natives, Lynis and Carol moved to Greenville, North Carolina when the new medical school at East Carolina University (ECU) opened in 1972. "I taught biochemistry to the first class of doctors in the brand-new medical school," he says.
Lynis continued to work at ECU for the next 50 years. He has a PhD in biochemistry and taught both physiology and biochemistry. "Most of the time I spent teaching was with graduate students. Grants from the National Institutes of Health (NIH) supported much of the work," he says.
Carol worked as a nurse while Lynis was in grad school and was then a stay-at-home mom. After their two children graduated from high school, she returned to her nursing career. The couple is celebrating their 60th wedding anniversary this year.
At age 65, Lynis started phased retirement, and he has been doing research on obesity ever since. Obesity is a major public health problem worldwide, and he has landed multiple grants to fund his work.
"I'm having too much fun to quit working," he says. "I want to know the answer. The fact that I have a really good team to work with is key. I'm able to do much of my work on my computer in my office here in Raleigh, and I travel to Greenville once a week."
Lynis and his team are currently studying severely obese people with BMIs over 40. He and the other researchers compare the metabolism in the muscles of obese people to the muscle metabolism of lean people and have published many papers on their findings. In the hope of helping people achieve better health, the team is trying to determine if the differences in the muscle metabolism of the two groups are a cause of obesity or the result of it.
In addition, Lynis has been working since the 1980s with Dr. Walter Pories, the surgeon who developed the gastric bypass. Dr. Pories is now in his 90s and still gives lectures around the world.
"People who have gastric bypass surgery have less cardiovascular disease over time, and their diabetes goes away," Lynis says. "This surgery seems to really change metabolism," Lynis says. "We want to know how."
His interest in muscle metabolism began when he was in the army and studied exercise. They were trying to determine how individuals can train more effectively and have greater stamina for physical labor. At one point in his career, he also did a sabbatical at Oxford to study the role of muscle metabolism in diabetes.
Lynis says, "About one more year of working, and I'll be ready to let go. The team will go on with the research, and I'll still be able to keep up with them and read their papers."
He is hopeful about the new treatments for obesity. The new drugs that are being developed to treat obesity are working. "These drugs mimic hormones from the gut that keep you from feeling hungry," he says. "These hormones that turn off the appetite are exaggerated by the gastric bypass, and the new drugs have come from studying this."
Lynis emphasizes that prevention is key. "We want to prevent obesity rather than trying to treat it." Exercise and eating healthy foods in the appropriate amounts play a huge role in helping people keep their weight down.
As a CCRC, Springmoor offers seniors a variety of residence options, ranging from apartments to larger villas and homes. If you're looking for an active senior living community in Raleigh, we'd welcome the opportunity to answer your questions. Please call us at 919-848-7080.
Or, you can click here to fill out a short online form to receive a free packet of information or schedule an appointment for a personalized tour. We look forward to meeting you soon!