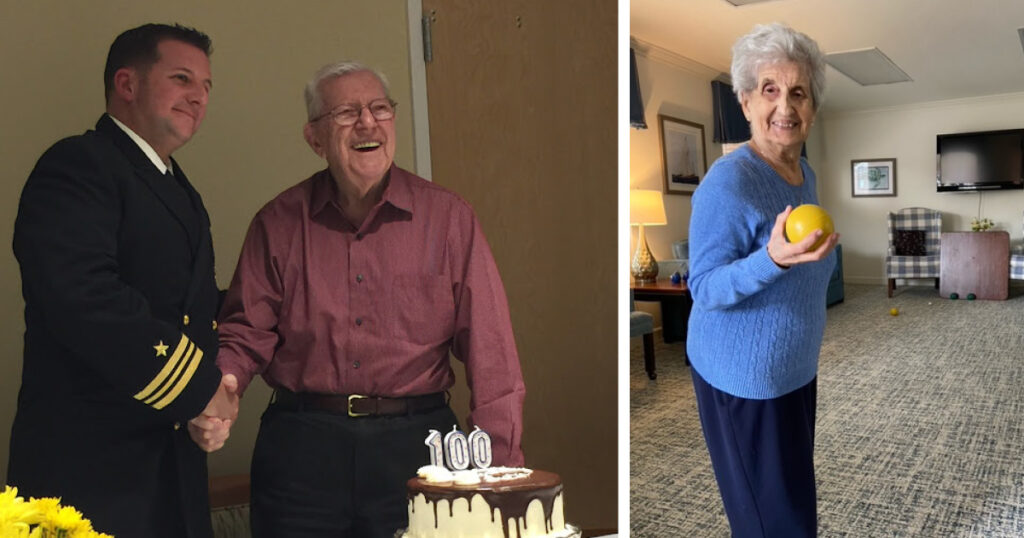 Lillian Mallia knows a thing or two about Springmoor. Both her in-laws were members of our community, and her mother currently resides in Supportive Living.
"I just can't say enough wonderful things about Springmoor," Lillian says. "A lot has to do with the fact that they're a nonprofit, the Ammons family's philosophy of what senior living should look like, and the fact that they provide a full continuum of care."
She shares that it's been extremely reassuring over the years for both her and her husband Lou to know their parents are receiving such high-quality care and support. "From the chaplains to security to the clinic staff, I've interacted with the entire range of employees," she laughs.
"Whether they work in dining or housekeeping or provide skilled nursing, everyone is so accommodating to families," Lillian adds. "I never get the feeling I'm bothering them."
The family's connection to Springmoor began when Lillian's father-in-law, also named Lou Mallia, relocated from New Jersey to Springmoor in 1998. He moved into an apartment in Independent Living, and his wife Pauline took up residence in our Stewart Health Center (SHC), where she lived for 4 years.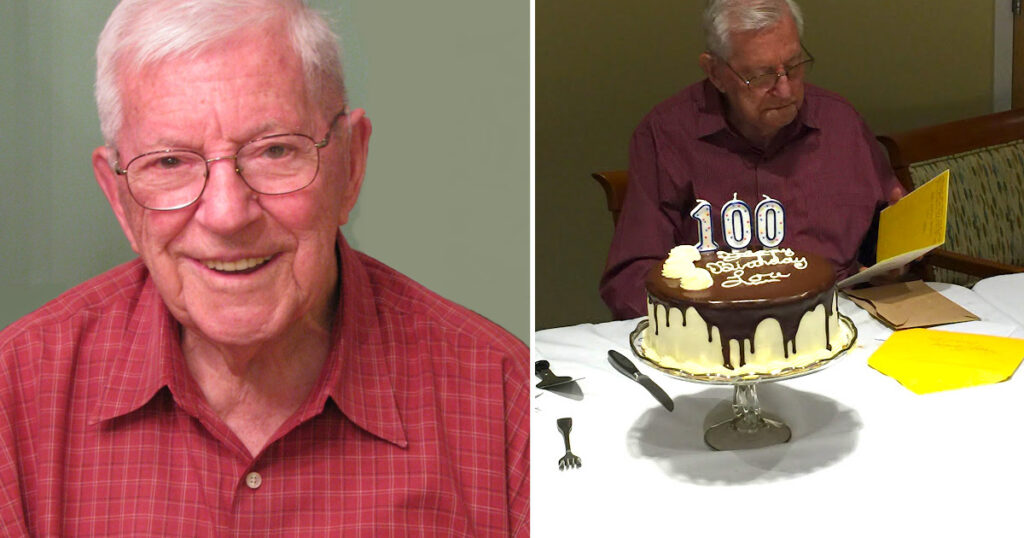 Before the couple moved to the community, Lou had been his wife's only caregiver. She had experienced mini strokes and had significant health issues. Once she moved into SHC, Lou had the support he needed to ensure that his wife received the full range of daily care she required.
Lillian emphasizes that the family wanted a community where her in-laws could be together, despite needing very different levels of support. Because Springmoor provides all levels of care on one campus, Lou was able to be with his wife every day.
"My husband and I really can't say enough good things about how Dad assimilated to the community and how both the residents and staff embraced him with open arms," Lillian says. "We are sure Dad living at Springmoor added many quality years to his life."
Lou bonded with a group of fellow residents that included Helen Bosse, who currently resides in SHC. The two friends ate together in the dining room for 16 years. "Even when Lou got to the point where he could hardly hear, Helen stuck with him," says Lillian. "She was a great friend to him."
While Lou lived at Springmoor, he participated in a wide variety of activities. He had a garden in South Village that his son Lou helped him maintain. The elder Lou enjoyed sharing the vegetables he grew with other residents.
"Dad also really took advantage of all the wonderful offerings in the auditorium, like music and lectures," Lillian says. He was a regular attendee at coffee hours with neighbors, and he played ping pong a couple of times a week. He also participated in day trips to nearby cities such as Wilmington, which is located on the North Carolina coast.
"Lou really involved himself in the community," says Lillian. Springmoor held a senior Olympics, and Lou thrived on competing and was proud when he won an event. He also served on the Dining Services Committee of the Residents Association, participated in the community yard sale, and accompanied SHC residents to doctor's appointments off campus.
Lillian adds that he was also the "go to fix-it man" in his part of the community. "Lou was very handy and enjoyed helping his neighbors with small repairs." He took great pride in being voted "King" of the community one year.
Phyllis Mayo was the chaplain when Lillian's father-in-law was a resident. She had a special connection with Lou, and he was a regular attendee at Sunday Vespers.
The Mallia family also took advantage of hosting private events and celebrations on campus. One very special occasion was Lou's 100th birthday party, held in Springmoor's Carolina Room. A local restaurant catered the party, and Dining Services provided coffee and other beverages.
On a regular basis, Lillian would enjoy lunch with her father-in-law at the Bistro, and the whole family would make reservations to eat dinner with him in the dining room. Sometimes they would attend performances in the Springmoor Auditorium after eating together.
Lillian emphasizes that she and her husband Lou have supported each other in the role of caregiver to both sets of their parents. Her husband visited his dad on most Saturdays so they could eat lunch together. "My husband would also go to his dad's apartment after dinner during the week," Lillian says. "They'd eat ice cream, watch a ball game, and keep each other company."
Lillian's husband Lou usually accompanied his dad to clinic appointments as well. Lou Senior had hearing loss, and it was a great help to him to have another person take note of the doctor's comments and instructions.
Lou died in January 2018 at the age of 101. "On the occasion of Dad's death, my husband Lou wrote a letter to the staff, including the clinic staff, thanking them for the tremendous care they had provided," says Lillian.
She adds, "I tell everyone I know that you need to have conversations with your parents now about how to handle any long-term support needs. Don't wait until your back is against the wall. Talk about the 'what ifs' and put some plans in place."
In the fall of 2019, Lillian's own parents made the transition from their long-time home in Kingston, New York to Springmoor. Her father, Iggy (Ignazio) Bosco, went directly into SHC, and her mother, Mary, moved into an apartment.
"It was a real shock for Mom to move from their house of 60 years and away from her hometown, but it was necessary," Lillian says. "The hope was that Dad would be able to move out of Stewart Health Center, but 7 days after they moved, he died."
A few months later, COVID struck North Carolina. Lillian lives only 10 minutes from Springmoor, and she and her husband decided to bring Mary to live with them for about 9 months.
By January 2021, the crisis had receded somewhat. Springmoor residents were among the first in the world to have access to the COVID vaccine, and Lillian's mom moved back to campus—this time to Supportive Living. "We felt that being in Supportive Living would allow her to remain as independent as possible while still receiving the care she needed."
Lillian shares that her mother loves her comfortable apartment and says it has just the right amount of room. "The staff really watches out for the people in Supportive Living. They're independent residents, but they're provided with an extra level of care," she explains. "There's always a nurse there during the day, and CNAs are onsite throughout the night."
She continues, "Supportive Living is a smaller part of the community with its own dining room. Mom doesn't have to navigate the larger campus. She participates in almost all the activities that Anna Hogan, the Activities Coordinator, offers."
When Mary first moved into Supportive Living, the first person they ran into was fellow resident Helen Bosse, a close friend of the elder Lou Mallia. Because Lillian's mom moved to Springmoor from another state, it was a great comfort to connect with someone the family already knew.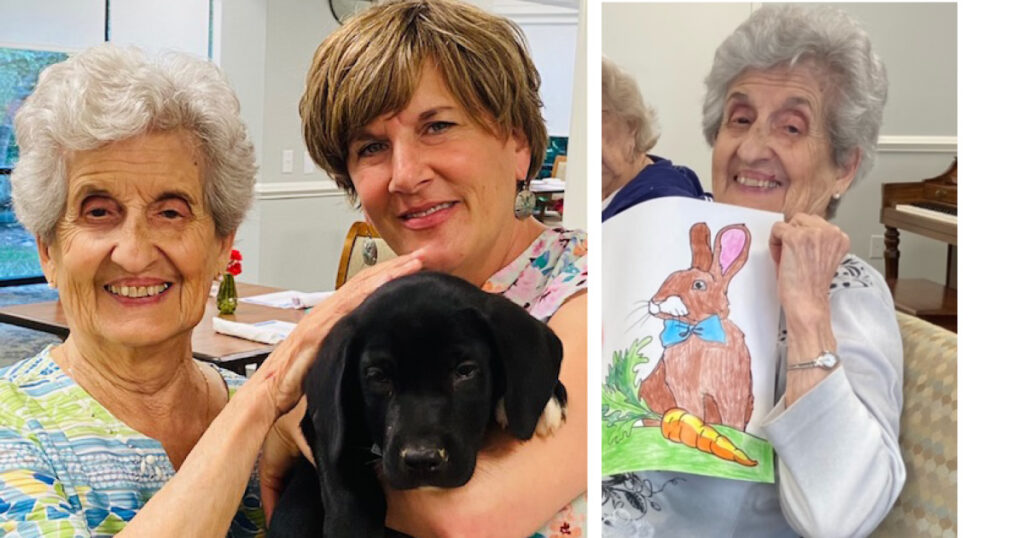 In addition to spending time with her mom in her apartment, Lillian usually accompanies Mary to the clinic. She comments that Springmoor staff encourages family involvement at all levels of care.
As an adult child of a resident, Lillian has gotten to know Executive Director Brandon Hair. "His communication is top-notch," she says. "Even throughout COVID, he sent regular email updates, and I could also go to the resident portal to watch the weekly town hall meetings. Whenever I've made suggestions, he's always very receptive."
Lillian adds that "The community feels like a big family. Whenever I've had questions or concerns, the staff has always welcomed me and done whatever they could to address my family's needs. The fact that employees stay so long says volumes about how management treats their staff."
See Part II of this blog for Resident Tom Howell's story.
You owe it to yourself to explore how good life can be at a retirement community—where most chores from cooking to home repairs are done for you. At Springmoor, we'll even handle your health insurance paperwork! You'll have the well-deserved chance to spend your time doing the things you enjoy most with friends and family.
As a CCRC (Continuing Care Retirement Community), Springmoor offers seniors a full continuum of health care. Independent residents choose from a variety of residence options, ranging from apartments to larger villas and homes. If you're looking for an active senior living community in Raleigh, we'd welcome the opportunity to answer your questions. Please call us at 919-848-7080.
Or, you can click here to fill out a short online form to receive a free packet of information or schedule an appointment for a personalized tour. We look forward to meeting you soon!
---