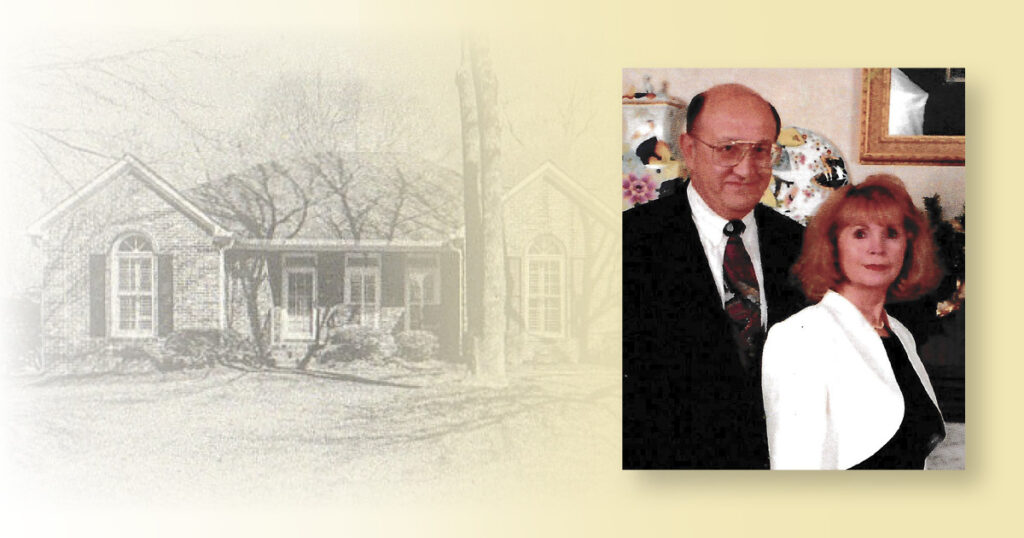 Springmoor resident Theron Few turns 90 this year. He recently completed a book about his wife and their life together over the past 25 years. Titled My Darling Darlene, the book describes how the couple met and follows their journey together all the way to the present.
The book's dedication reads "To my loving wife of a quarter century, what a blessing the day we met!" Theron explains that he wrote the book to give to Darlene on the occasion of her 85th birthday in October 2022. "All the people who attended the party for her received a copy. I'm hoping this book will be a legacy for the family."
The preface of My Darling Darlene concludes with these words, "And for those who have reached the age of retirement, my advice is simple: Don't wait too late to enjoy a community of continuing care. Give up the house and the stuff and partake of the joys of community."
Tying the Knot
Theron and Darlene were engaged for two and a half years before marrying on May 10, 1997 at Watts Street Baptist Church in Durham. "Seven years of being divorced and alone had finally ended," writes Theron in My Darling Darlene.
It was a second marriage for both of them. He was 63 when they tied the knot. "Darlene was 39 for the 20th time," he laughs. "I'm four years and four months older than she is."
"Unbeknown to us, UNC and Duke had graduations on the same day as our wedding," Theron explains. "We held our reception in Hillsborough, North Carolina at the Colonial Inn."
In his book, Theron describes the art of being married to someone as "the great art of compromise, of understanding and making allowances." Recently, he and Darlene celebrated 25 years of marriage. The couple had lunch and stayed overnight at the Colonial Inn, which originally opened in 1838 and has recently been renovated.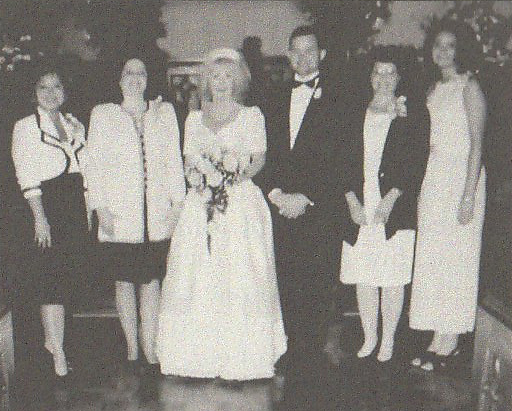 Theron's Early Days and Career Path
Theron was born in Pelham, South Carolina, which he describes as "a small textile village." He attended Wofford College in Spartanburg and continued to live in South Carolina for most of his life. At the age of 33, he earned a degree from Emory University in Atlanta.
For much of his career, Theron was an accountant serving as the controller of a small, international corporation. In 2000, he took a job at the division level of the Salvation Army and served as the regional resource development director. Theron covered 20 North Carolina counties, and he calls this "the most fulfilling job I ever had."
Theron was on the staff of this nonprofit for 11 years: "I drove over 100,000 miles for the Salvation Army. North Carolina, with both the mountains and the coast, is an interesting state. I heard about Springmoor in my travels, and I always thought of it as 'the Cadillac' of Life Care Retirement Communities in the state. I'm so thankful my wife Darlene and I are here."
Darlene was an accountant and worked for a real estate management firm in Durham. She retired in 2006. Theron retired in 2011 at age 78.
A Long-Distance Relationship
For the two and a half years they were engaged, Darlene lived in Durham, and Theron lived in Florence, South Carolina. Each weekend, one of them made the three-hour commute to visit the other.
After getting married, they planned to live together in Darlene's Durham townhouse. Life threw them a curve ball when Theron's boss in Cincinnati asked him to work in Ohio temporarily.
"Temporarily" turned into almost two years, and every weekend Theron commuted by air between Durham and Cincinnati. Finally, in February of 1999, Theron arrived in Durham for full-time residency with his wife.
In 2003, Darlene began saying she wanted a free-standing home of their own. Theron comments that Durham had gotten too big for them. "We went shopping and found our dream home in two hours in Mebane and bought it on the spot. The funny thing is, we found the house because I got off on the wrong exit," he laughs. The couple enjoyed many happy years in Mebane with family nearby.
An Unwelcome Diagnosis
In February 2018, Darlene fell in their tiled bathroom and had to go to the ER for treatment for a head wound. A few months later, she fell again, and the family doctor referred the couple to a neurologist.
After tests and evaluation, the doctor diagnosed Darlene with Lewy body dementia (LBD). LBD is the second most common type of progressive dementia after Alzheimer's disease; it produces Parkinson's like symptoms.
Theron writes in his book, "Darlene was 83 and rapidly aging. Considering her age and progressive health deterioration, along with my own, I began to talk with her over the 2020 year about downsizing to another home. The house in Mebane was now simply too much for us to handle."
That same year, Theron began to calculate how much money he was spending monthly on help with yard work, house cleaning services, and all of the other expenses of home maintenance. He writes, "In view of how much the current supports of our lives were costing in dollars and how much stress coordinating everything added up to, I was leaning strongly towards making a change in our life situation. It was time to look into alternative housing arrangements."
The couple became anxious to sell their house in the hot housing market of 2021 in preparation for moving to Springmoor. Having joined our waitlist and knowing there would be a one- to three-year wait for a residence on our campus, Theron originally decided to look for temporary senior housing.
When Darlene's reluctance to move resulted in canceling these plans, Theron was plagued by fears that kept him awake. A voice inside his head nagged over and over: "You waited too late!"
As he writes in his book, his thoughts ran along these lines: "In her present state of mind and body, Darlene cannot tolerate this move. And you, yourself, will be 88 years of age tomorrow. How do you think you will survive? The time to move to senior living or assisted living has passed for the two of you!"
"You and Darlene could have moved [to a retirement living community] in your 70s…. Now you would not be facing alone your aging, health problems, or those physical ailments that have crept upon you so gradually. There would be staff to help, and you could have ENJOYED SENIOR LIVING!"
"There were days when we each felt we would not make it until we were settled once more. We simply had waited too late and now a change was more difficult than it would have been if we had moved when we were younger."
The Springmoor staff provided support during this difficult time. "Through Beth Holden in the marketing department, I found the right people to help me with the downsizing process at our house in Mebane," Theron explains. "I was looking forward to a life with peace, security, and freedom at Springmoor. I would have access to new friends and a new home near family."
Increasing Health Challenges
While the couple continued to live in Mebane and downsize until an apartment at Springmoor became available, Darlene fell, breaking two bones in her wrist. She wound up being admitted to the hospital for three days for treatment.
As Theron explains in his book, "Part-time care [at home] did not seem sufficient now, and so I arranged for her to have an around-the-clock (24/7) live-in caregiver. . . while her arm was in a hard cast."
He continues, "We enjoyed having the 'around-the-clock' service from an experienced caregiver during Darlene's recovery. However, we soon realized that this luxury was only affordable for a short time."
The couple received a welcome phone call from Springmoor in December of 2021 with the news that a one-bedroom apartment had opened up. Before they could move in, however, Darlene fell again at her daughter's home in Wake Forest. This time she had fractured the C-2 vertebrae in her neck.
Theron calls this Darlene's "exceptional change." In addition to spending four months in a neck brace and dealing with LBD, she was now plagued with bladder infections, high blood pressure, diabetes, and hearing loss. She spent 10 days in a rehab nursing facility and was then admitted to Stewart Health Center at Springmoor on January 28.
"We were ever so grateful for this 'early admission' for Darlene before I took up residency [of our Springmoor apartment] on February 2, 2022 as planned," Theron says. Darlene remained in the health center for six months, and he was constantly by her side.
"Fortunately, it was easy for me to visit her once I was living on site," he says. After her period of recovery in the health center, Darlene was able to move into the apartment with Theron.
Taking Advantage of Springmoor's Many Events and Activities
Theron cautions others not to wait too late so that they miss the benefits of a retirement community like Springmoor. "Whereas on the one hand, it was hard to give up our dream home in Mebane, you reach a point in life where you don't need a lot of stuff around you. You need to simplify," he says.
Theron has been an active participant in our Life Writing Workshop, and he very much enjoys having a library right here on campus. He has also taken part in some of the discussion groups we offer.
He and Darlene have appreciated being able to hear live music on campus, both together and separately, especially during the Christmas season. They also love the food and take advantage of having multiple dining options on campus.
Recently, Theron enjoyed The Chaplains Monday Movie Matinee, Where the Crawdads Sing. He also played in the Springmoor bridge tournament this year. He says, "I love bridge and played a lot in the '50s and '60s. It's great to pick it back up again."
The couple has relished the opportunity to get to know other residents. "There are a lot of nice people at Springmoor who hail from all over the country," he says.
Early in 2023, Theron and Darlene traveled to Durham to visit the friend who introduced the two of them. They also love going out to eat once in a while. They were able to take Candy, their caregiver, to their favorite restaurant in Mebane.
Born in 1933, Theron will turn 90 on June 29. Always the history buff, he points out that FDR had taken power just a few months before his birth. He will be reserving all five guest rooms at Springmoor so that family can visit to celebrate his birthday over the July 4th weekend.
A Passion for History
Theron shares that the first members of the Few family came to the United States from England in 1683.  "My children are the 11th generation here in America," he says.
One of Theron's grandfathers is considered to be one of the first martyrs of the Revolutionary War. He was one of the Regulators and fought in the battle of Alamance. He was hung as a result.
Theron had the privilege of reburying a great uncle, William Few, who was one of two Georgians who signed the U.S. Constitution. He presided over the reburial with former Senator Sam Nunn of Georgia.
"There were only 54 signers of the Constitution," he says. "In addition to being one of them, William Few entertained four of the first five presidents in his home in New York City."
Theron enjoys watching and reading biographies, and he has a particular interest in the WWII era. "These were my formative years, and I have a great interest in learning about what was happening around the world during this time period."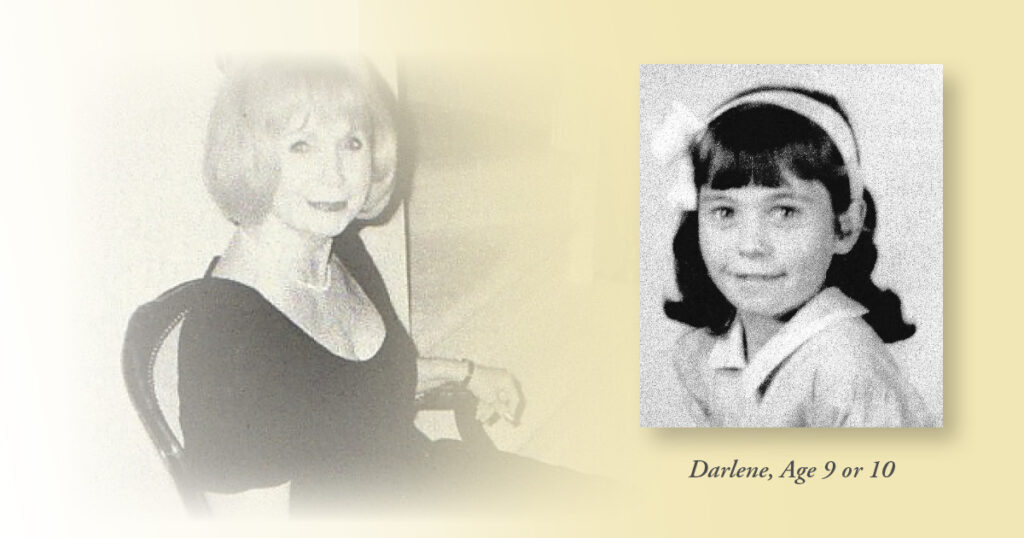 The Courage to Persevere
"I am committed to taking care of Darlene for the rest of her life," Theron says. In addition to living at Springmoor, the couple has Candy's support five days a week.
Because Darlene has LBD, he can't be sure what information she is processing. Most of the time she can communicate with him, but she also recedes into her own world. "I have to accept this separate world of hers," he says.
Approximately a month after Theron moved into his Springmoor apartment, he received a call from his granddaughter that her father, Theron's middle son, had died of a massive heart attack at age 61.
This was not the first tragedy the couple has survived. From their previous marriages, Darlene had five children, and Theron had three. They have lost five of their eight children. "Her oldest and youngest daughters and my youngest son are the only ones surviving," he says.
"I cannot imagine what my life would have been like all of these years if [Darlene] had not been at my side. . . . The loss of five children, serious health issues from the very beginning, and creeping age have not deterred us. We are heading into our '90s—we hope."
About our Caring Community
Like many CCRCs (Continuing Care Retirement Communities), Springmoor is an entrance-fee community. Paying this one-time fee gives you access to all of our services, facilities, and amenities like our portal, in-house TV stations, and business center, as well as a full continuum of healthcare (and much more!). We offer guaranteed residency for life. Your monthly service package gives you maintenance-free living and predictability in your ongoing expenses.

Contact us today at 919-848-7080 to find out more about the wide range of exceptional activities we offer every day so that residents can live their best lives. Our friendly team is happy to answer questions about Springmoor's amenities and what's included in your monthly service package. You can also order a free information packet. We look forward to meeting you soon!