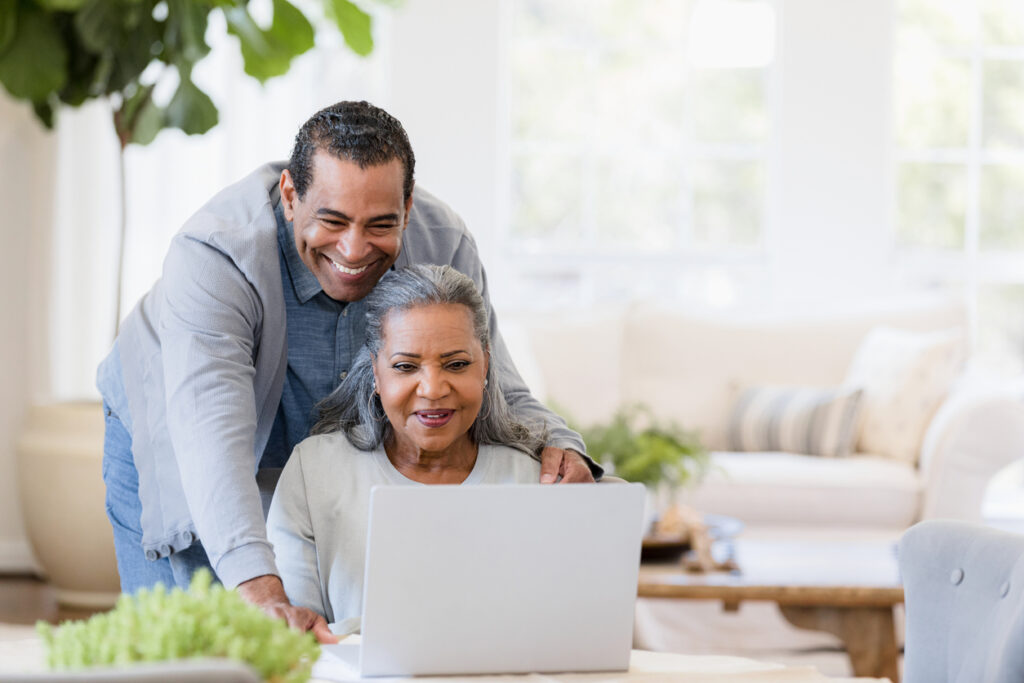 Each month our Director of Information Technology Daniel Sekeras writes about IT for the Resident Memorandum. Topics he's covered recently include email safety, smart devices, and avoiding two prevalent scams.
A primary focus of Springmoor's IT Department is training all employees regarding best practices when using technology. Learning how to spot scams and phishing emails helps keep our network secure and supports our staff's efforts to provide the best possible services to residents.
Much of the information Daniel provides to staff is useful for residents as well. Anyone who uses technology can benefit from knowing how to avoid scams. Continue reading to increase your online safety!
Tips for protecting yourself from email scammers
As you're probably aware, bad guys often use emails to "phish" (fish) for personal information or deploy malware/ransomware. When you receive an email from an unknown source, put the following tips into action.
Check the name of the sender against the actual email address. Most major companies have an established domain (the part of the address after the @ symbol) that is always associated with the emails they send. If the sender's email address looks suspicious or doesn't match the actual sender's name, the content of the email is probably illicit or deceptive in some way.
Check for typos. Emails that are phishing for information or otherwise have malicious intent almost always contain misspellings and poor grammar.
Do not share your information hastily. If an email seems suspicious, ask someone else to review it prior to submitting any form of data about yourself.
Do not fall for urgency. Scammers use tactics to try to scare you into acting quickly. Crooks don't want you to have time to figure out their email is fake and react appropriately.
Hover your cursor over links in the suspicious email without clicking on them immediately. Hovering over a link should display the true address of the hyperlink, which allows you to spot possible illegitimate links in emails you receive.
Does an email sound too good to be true? Then we all know it probably is! Phishing attempts sometimes try to make you think you've won something and may ask you to provide private information to receive money or a prize. Remember: you cannot win the lottery if you never participated in the first place.
Keep your devices updated. Your devices and any applications installed are at risk of attacks if they are not up to date. Security patches for most devices and software systems are deployed regularly and should be applied as soon as they are made available.
Check your accounts regularly. Make sure that nothing looks out of the ordinary. Change your passwords on a regular basis and use strong passwords unique to each account.
Use multi-factor authentication for any accounts with this option. This adds a second randomized passcode that only the account holder should have access to, and it is nearly impossible for crooks to crack.
If you suspect you may have been a victim of a scam, immediately contact someone with a technical background or engage a professional technical support specialist to assist you.
Understanding the vulnerabilities of smart devices
Almost every piece of technology now utilizes the internet to make it "smart" so you can access and control it from anywhere. The downside of this increased convenience is a greater chance of a security breach. Daniel shared the following tips with Springmoor employees via the PII Protect cybersecurity training newsletter and then also briefed residents in one of the community's monthly newsletters, the Resident Memorandum.
If you have a smart security camera, you need to be aware that hackers often target these devices using credential stuffing to gain access. This occurs when a hacker uses your personal information to guess your account login. Wi-Fi security cameras pose an additional risk if your Wi-Fi network is not encrypted or otherwise protected as it should be.
There are ways to identify if your security camera has been hacked. Look for unusual rotations, blinking lights, or strange noises. Get help from an expert if you see these warning signs.
If you're a smartwatch user, you probably love the convenience of tracking your wellness activities and sending messages right from your wrist. It's important to remember that smartwatches are an extension of your phone and should be treated as such when it comes to security.
You want to disable features such as microphone, camera, and location when they're not in use. Make sure you have the security settings enabled so your watch can't be paired with new devices if it's stolen.
Voice-activated smart home assistants allow you to turn on an alarm, unlock your smart door, and carry out many other commands. If a hacker accesses this device remotely, they could order similar commands, listen in on your conversations, or access your private information. Make sure the password to access your smart home assistant is strong and utilize any additional security features offered.
General tips for keeping your smart devices safe from cybercriminals include the following:
It's all about protecting your passwords! Utilize a strong and unique password and multi-factor authentication for each account.
Create a secondary Wi-Fi network for your smart devices.
Update your smart device's operating system regularly. Turn off devices when not in use or disable certain settings.
Turn off devices when not in use or disable certain settings.
Forewarned is forearmed. When you have prior knowledge of possible scams, you're better prepared to take action to protect yourself. Below we describe two common dangers to be aware of.
In the "Grandparent Scam," someone claiming to be your grandchild calls saying they're in trouble and need money to be bailed out of jail or for another urgent reason. If the loving grandparent is taken in and wires money to the scammer, a subsequent caller may pretend to be a police or corrections officer and instruct them to send more money.
You can protect yourself by never offering any information to an unverified caller. For example, if they say, "Grandma, do you know who this is?" simply say no. Do NOT suggest the name of a grandchild. The scammer will simply confirm that this is indeed "John" and use this knowledge to continue to reel you in.
If you have any doubt regarding the identity of a caller, ask them a question only a real grandchild would know. Examples include: "What did I give you for your birthday?" or "What's my dog's name?"
Hang up and call the parents or a sibling of the caller to verify their story. You should never wire money under uncertain conditions because it is usually impossible to trace or recover it. Also, never give out your credit card number unless you're confident the request is legitimate.
You'll also want to be aware of the "Fake Merchant" scam. Cybercriminals may send a fraudulent email or provide a link to a fake website that mimics a well-known merchant.
If you make any "purchases," the funds go to the scammer, and you receive nothing in return. Unfortunately, once criminals realize someone can be fooled, they will likely send additional "offers."
Always check the "from" address of an email and make sure it is coming from a legitimate address. As mentioned above, businesses always use their domain name to send emails. For example, Amazon will always send from an email address ending in @amazon.com.
Plan your visit to our campus today!
It takes a visit to understand what a special place Springmoor is. Like many CCRCs (Continuing Care Retirement Communities), we are an entrance fee community. After you pay this one-time fee, you have complete access to all of our services, facilities, and amenities like our portal, in-house TV stations, and business center, as well as a full continuum of healthcare (and much more!). We offer guaranteed residency for life. Your monthly service package gives you maintenance-free living and predictability in your ongoing expenses.

Contact us today at 919-848-7080 to find out more about the wide range of exceptional activities we offer every day so that residents can live their best lives. Our friendly team is happy to answer questions about Springmoor's amenities and what's included in your monthly service package. You can also order a free information packet. We look forward to meeting you soon!