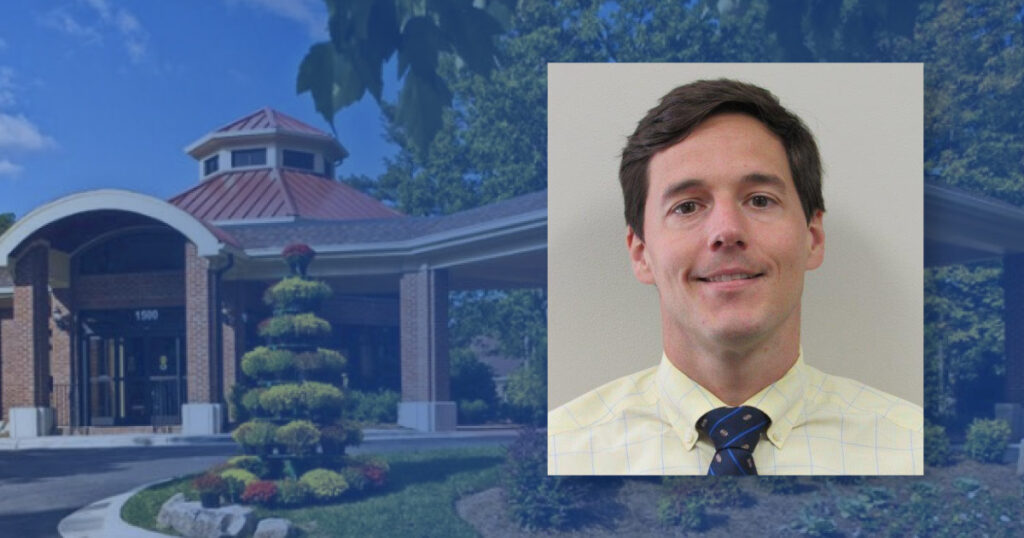 Like so many of our staff, Brad has a long history with our community. When he was 14, he started his first "real" job as a busser/dishwasher at Springmoor, and he continued to work in our Dining Services department throughout high school. He focused at the time on the immediate reward of being able to contribute a significant amount of money toward buying his first car.
"It was later that I came to understand the tremendous value of the work experience I gained," Brad says. "As a teenager working at Springmoor, I learned how employees should be treated, how to interact with coworkers from different backgrounds and cultures, and how to positively interact with 'customers.'"
Brad formed relationships with Springmoor residents, and the knowledge they shared helped shape his work ethic and provided inspiration for what his path in life could be. "After almost 20 years away," Brad says, "I came back to Springmoor in 2020 as the project director for the Stewart Health Center renovation. Many of the people I built relationships with when I was in high school are still here to share in my success."
In his administrative position over the health center construction project, he rediscovered how much he liked interacting with the residents, as well as managing the healthcare component of the job. Brad says, "I never would have imagined I'd end up back here, but life has a way of drawing you where you need to be. The family culture amongst staff and residents made me feel comfortable returning home to advance my career after having spent time in other industries."
Brad took the next step on his career path when he was promoted from our Director of Strategic Projects to his new position of Associate Director on October 1, 2022. "Brad's experience, passion, and dedication to serving our residents made him the perfect choice for this position," says Executive Director Brandon Hair.
Brandon adds, "Since first meeting Brad, I knew he had many of the qualities necessary to be a highly successful servant leader. He shares power with others, prioritizes employees' needs, and supports everyone around him so they can perform at their highest level."
Brad recently completed a nine-month AIT (Administrator in Training) program under Cary Corley, Springmoor's healthcare administrator. Cary is a licensed preceptor for the program under the NC Board of Examiners for Nursing Home Administrators.
"This vigorous training ensures that Brad has in-depth knowledge regarding all aspects of managing our Stewart Health Center," says Brandon. "He has passed the state and national tests to receive his Nursing Home Administrator License."
As Associate Director, Brad helps Brandon oversee the community's general operations. When asked about a typical day in his new role, Brad describes how each day kicks off with a "morning standup" meeting with Brandon and all of the department heads. Because he remains responsible for the health center renovation project as he transitions to his new role, Brad then meets with the contractor and checks on the status of the construction.
The rest of Brad's daily activities center around meetings with staff and residents regarding the six departments he now oversees as Associate Director: IT, Grounds, Stewart Health Center, Maintenance, Housekeeping, and Security & Transportation. Brandon continues to manage Dining Services, Pathways (resident life, spiritual life, and health & fitness), Human Resources, the Business Office (accounting & insurance), and Marketing.
"Having an Associate Director as well as an Executive Director allows Brandon and me to devote an appropriate level of attention—and intentional thought—to every department," says Brad. "Now both of us have more time to plan for future improvements in each area of life at Springmoor."
There are many complex and challenging goals to be accomplished within Brad's six areas. The health center alone has about 200 employees, and the other departments he administers have a combined staff of about 65 people.
In addition to supporting all managers as they keep their departments running smoothly, Brad works closely with residents in leadership roles in the community. He attends the meetings of the committees of the Springmoor Resident Association that correspond to each of the six departments for which he is responsible.
For example, he met multiple times with the resident-led Security & Transportation Committee to hammer out details related to recent security upgrades (see details below). Participating in Resident Association committee meetings gives Brad the opportunity to address and resolve any issues as they arise.
"Springmoor is a big community that feels like a small family," Brad says. "So many people have connections within the community, and I really enjoy getting to work with so many of the residents."
Exciting things are happening with the Stewart Health Center renovation project, and Brad keeps residents updated monthly in an internal publication, the Resident Memorandum. As of this writing in November 2022, the largest development is that the new entrance will soon be open on the back side of the health center.
"This additional entrance is just one component facilitating our transition to a neighborhood model and enhanced person-centered care," says Brad. "Family and independent living residents can more easily access the neighborhood in which the resident they're visiting lives."A large increase in parking spaces outside of the new entrance will improve convenience for visitors and staff alike.
An elevator is also being installed on the rear side of the building, and a new corridor will connect the back entrance to the front entrance. In contrast with the long, anonymous halls of a hospital, the corridors will now form a circle. This is just one facet of the renovation that supports a neighborhood feel and structure.
In addition to the major construction work occurring in the health center, Brad is planning and executing numerous smaller projects and improvements. "Early in November, we went live with an additional upgrade to security," he says.
Residents can now control access to multiple building entrances with a fob on their keychain, or they can punch in the access code on a keypad if they prefer. This improvement allows residents to come and go with more flexibility, as well as increasing safety on campus.
The community prides itself on being responsive to resident needs and keeping pace with a rapidly changing world. As one aspect of environmental stewardship, Springmoor recently installed an electric vehicle (EV) charging station on each side of the campus.
Each station has a pedestal with two charging plugs so that multiple vehicles can be charged at once, and there is room to grow as demand increases. Potential new residents are increasingly inquiring about charging accessibility for their EVs.
After extensive research, Springmoor chose SemaConnect as the provider for the stations. "To give residents maximum flexibility, our two stations function with more third-party apps than any other EV charging solution," Brad says.
He adds that incoming residents and prospects are increasingly tech-savvy and have high expectations in this area. "All new residents moving into the community have a cell phone, and about 60% of residents use our new online portal. The portal makes it so easy to provide information to members of the community quickly. It's much faster than paper memos, and many residents appreciate the convenience of being able to sign up for activities online."
Brad shares that five new pet stations were also recently added to the campus. Almost 40 residents have pets, the majority of which are dogs. The stations provide pet waste bags and trash cans. Small upgrades such as these can have an outsized impact on daily life in the community.
Brad is from Raleigh and attended Sanderson High School. He graduated from Clemson University. His father, Kyle Dilday, was the Health Center Administrator at Springmoor when Brad was only three years old. Kyle later became the Executive Director of the community for more than 20 years.
Due to his dad's job, Brad grew up learning about retirement communities. "Senior living was often a topic at the dinner table," he says.
Brad and his wife Hannah have three little girls: Rosie (almost 5); Tillman (3); and Wynn (2). "I know a lot more about Disney princesses than I ever imagined I would," he laughs. The family lives right around the corner from Springmoor.
He runs a lot in his free time and recently completed the City of Oaks half-marathon. Brad also follows Clemson football closely and attends a couple of games each year. Most of his time outside of work is spent helping Hannah care for the girls and doing kid-friendly activities like playing in local parks.
Brad says that the best part of his job is the people he gets to work with. "We have such a great staff. Many have long tenures, and they are here for the right reasons and are so dedicated to the workplace. And, I'm learning so much from both residents and other staff all the time."
He continues, "If you enjoy people and forming lasting relationships, while learning invaluable lessons from folks who have 'been there, done that,' working at Springmoor is a great opportunity. It's such a unique place because it's a family business and still has that feel. Jud Ammons was the founder, and the Ammons family is still very involved."
If you're interested in learning more about all that our nonprofit Continuing Care Retirement Community has to offer, please click here. Or, simply call 919-848-7080 today to schedule your personalized tour. Members of the Springmoor team look forward to meeting you soon!
Are you interested in a career at Springmoor? Review our current openings and apply online. We are hiring for a wide range of positions, including RNs, CNAs, and LPNs. Some positions may offer sign-on bonuses, referral bonuses, and tuition reimbursement. Ask for details when you interview.
We also need Package Assistants during the holiday season. This is a great part-time opportunity for students.