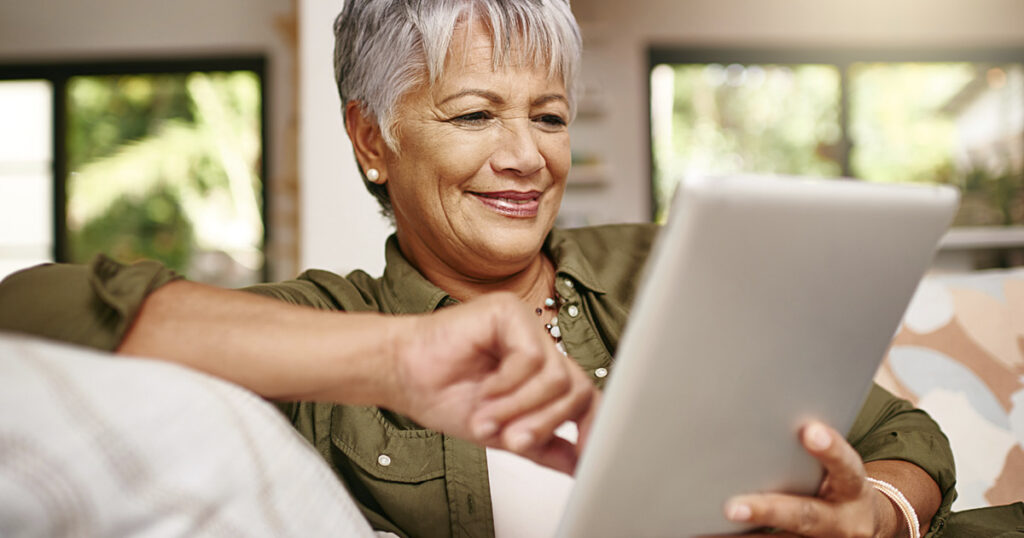 Seniors' use of the internet has increased a whopping 55% since the late '90s, according to a study by Pew Research. While technology can make life easier in numerous ways—from bill paying to enjoying movies in the comfort of your home—all tech users have experienced the frustration of being unable to make a device function as it should.
The ever-changing nature of modern technology makes it daunting for many folks. Whether your device of choice is a tablet, laptop, desktop computer, or smartphone, having easy access to tech support is critical to user experience. Daniel Sekeras, our Director of Information Technology, provides residents with help regarding our resident portal as needed.
Residents can also reach out to the members of the Resident Association's Technology and Media Committee for support with both the portal and broader technology issues. In addition, Daniel provides all newcomers with contact information for independent contractors who specialize in helping seniors with their devices and network.
"Our residents cover a wide age range from being in their 60s to having turned 100. Some folks embrace technology more than others, and our goal is to meet everyone where they are," says Daniel.

Daniel Sekeras, Director of IT at Springmoor
Check out these helpful tech tips:
1. Have you tried unplugging your device? It seems too easy to work… but even machines need to take breaks. Daniel and the members of the Resident Association's Technology and Media Committee recommend the following if you feel stuck when using your device: Turn it off and unplug it. Count slowly to 20 and turn it back on. Often this simple step will rectify the situation.
2. Just Google it. If you need information about anything under the sun, the world is at your fingertips when you use your Internet browser. Often a quick search provides the facts you need. Visit Google.com and type your question (technology-related or not) in the search bar.
3. Use YouTube. If you prefer absorbing information through videos rather than reading online, YouTube is an incredible resource. In the search feature, type the topic you want to learn about, e.g., "using Microsoft Word" to access numerous free tutorials like this beginner's guide to Word.
4. Keep the antivirus software on your computer up to date. Mashable recommends these eight free options. These types of software can protect your devices from both viruses and hackers. Ideally, you update this software as needed to keep your internet browsing as worry-free as possible.
5. You are smarter than your smartphone! Whether you have an Android or an iPhone, learning how to add contact information for your friends and family is time well spent. You'll no longer have to type in or remember each person's number. Include your "go to" person for tech support in your contact list.
6. Personalize your devices to accommodate your needs. If your screen is too dim or the text is too small to read, these settings are usually quite easy to change—if you know where to look.
iPhone users can tap "Settings" on their home screen. Scroll down a bit for "Display & Brightness." Within "Display & Brightness," you should see a tab for "Text Size."
The text size setting works similarly with Android phones. Try tapping "Settings," then "Display," and then "Font Size." Click here for tips on adjusting screen brightness.
Computers and tablets have similar setting options. Try Googling your specific device and your question, e.g., "How do I adjust screen brightness and text size on my Apple iPhone SE?"
7. Need to purchase a new device? Google a phrase such as "best smartphone (or tablet, laptop, or computer) for seniors." Of course, pay attention to the credibility of the source. Gather information from multiple sites and look for common themes.
8. Perhaps most importantly, 21st-century life requires protecting your cyber security with strong passwords. Following best practices for password security helps you avoid data breaches, loss of privacy, identity theft, computer hijacking, and even blackmail.
Some basic internet security guidelines:
-You should never include personal information like your name, birth date, address, or phone number in a password.
-Safe passwords are typically at least 16 characters long to decrease their vulnerability to a cyberattack.
-Avoid the use of actual words that are spelled correctly. Some cyber criminals use programs that process every word found in the dictionary to crack passcodes.
-You want to use a combination of letters, numbers, and characters such as the dollar sign to make passwords difficult for someone else to guess. Daniel cites this example from Norton and PII Protect: "ilovesummer can be changed to Il0ve$umm3r!2022." The latter is easier to remember than a completely random assortment of characters but much less likely to be figured out by a hacker.
-Use a unique password for each of your accounts. Have one place (not on the device itself!) where you keep track of them. Vox recommends the low-tech solution of writing passwords down and storing them in a secure place over even a password manager service. If you choose to store your passwords in written form, you'll want to be aware of recommended guidelines such as these.
If you prefer the idea of using a password manager, these software applications store and manage all of your passwords for your online accounts using an encrypted format. You have a master password that provides secure access to your comprehensive password information. Of course, it's critical to remember your master password and keep it secure.
Plan your visit to Springmoor today! Folks on our waitlist are once again able to visit Springmoor for a card game, exercise/aquatics class, mindfulness class led by our chaplains, or evening event such as a concert in our auditorium. Click here to review our current events and activities highlights.
Springmoor offers seniors a variety of residence options, ranging from apartments to larger villas and homes. If you're looking for an active senior living community in Raleigh, call us at 919-848-7080 with your questions.
You can also click here to fill out a short online form to receive a free packet of information or schedule an appointment for a personalized tour with COVID safety precautions in place. Our friendly team looks forward to meeting you soon!