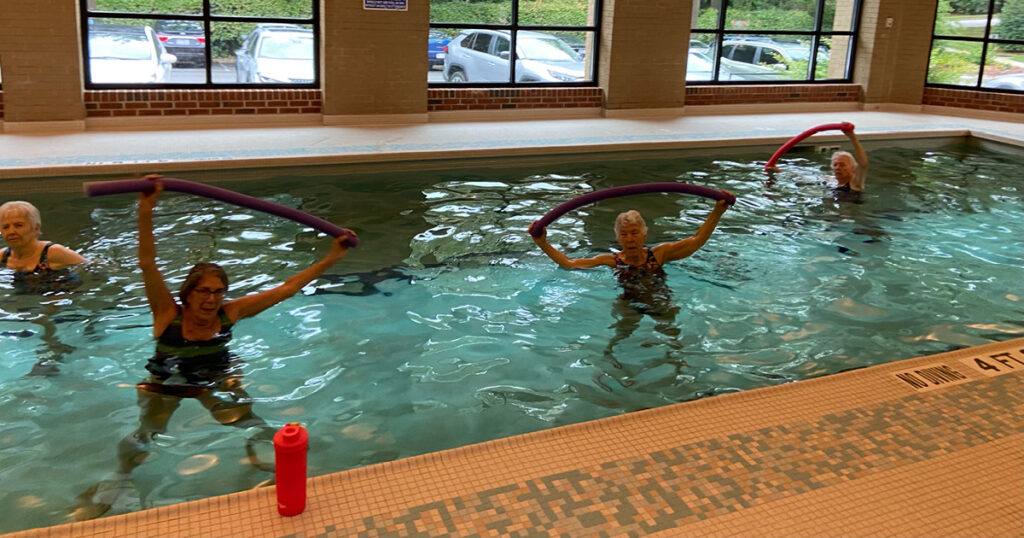 Life at Springmoor has been thoughtfully designed to support wellness in all areas of life. Our Pathways philosophy promotes a holistic approach to mental, physical, emotional, spiritual, and social well-being for all residents. Whatever types of activities you enjoy, you're sure to find multiple options—and many friends to enjoy them with—right here on campus!
Our Pathways Wellness Center is a multi-functional space featuring a saltwater pool, exercise machines, space for group workouts, and more. In addition to our numerous fitness classes such as Balance Challenge and Total Body Strength, we provide multiple aquatics classes—plus free swim—every week. Regardless of your fitness level, we meet you where you are.
As many of our residents will tell you, swimming is a terrific lifelong form of exercise. It's gentle on the joints, while increasing flexibility and muscle tone. Of course, you can get a great aerobic workout as well.
The best type of exercise is the kind you enjoy and will commit to doing regularly. Springmoor's Director of Health and Fitness, Kari Richie, and the other members of her team ensure there are multiple opportunities to move, whatever your preferences. The approximately 32 fitness classes scheduled each week include everything from yoga to cardio to line dancing.
Residents can also take advantage of outdoor exercise on our beautiful grounds. Residents Association President Peg Bedini is just one of many who frequently walks on our paved trails. Monday through Friday she also takes an exercise class, usually balance and strength training. "Kari is marvelous," she says, "She plans a wide variety of great wellness programs."
If you like games, we've got you covered as well! Our residents enjoy our putting green throughout most of the year, thanks to Raleigh's mild climate. Croquet, shuffleboard, and ping pong are other popular hobbies, and groups of residents regularly meet up at different locations on campus for fun and fellowship.
Each month, residents can take part in a variety of special wellness events and activities. These range from vaccine clinics to walks and birdwatching at nearby parks. Once a year, the Rex Mobile Mammography van visits our community so residents can conveniently receive recommended screening services.
Our staff also facilitates support groups that meet regularly for those dealing with dementia and Parkinson's disease, and our Fitness and Nutrition Club (FAN) meets monthly. Kari conducts FAN with Joanna Bell, Springmoor's registered dietician. Residents learn together and receive support in leading a healthy lifestyle.
Recently we constructed a stage area with an overhang in our South Village for outdoor exercise, as well as musical performances and other types of gatherings. This new green space area gives residents yet another opportunity to get outside and get moving.
Keeping the brain sharp doesn't happen by accident. At Springmoor we prioritize mental wellness and have so many choices that you'll have to prioritize your favorites. No one can make it to all of the activities we offer!
Our lecture series includes regular visits from Dr. Elliot Engel, who entertains us with enlightening presentations on many aspects of culture and the great masters of fine art. Topics range from Charles Dickens to Frank Lloyd Wright to the History and Mystery of Wine.
Scholar Andrew O'Brien offers lectures on British history and culture. Recent topics are Brexit, Prince Phillip, and Lawrence of Arabia. Our Residents Association meetings feature guest speakers from local nonprofits and government agencies.
Groups of residents also gather for book clubs, discussion groups, and "brain games." Many, like Carol Jones, participate in Osher Lifelong Learning Institute (OLLI) at NC State as well. OLLI provides short courses, study trips, and special events for adults aged 50+. Topics are wide-ranging in the liberal arts and sciences.
"I've been involved in OLLI for 20 years, including being on the hospitality committee," Carol says, adding, "The instructors are outstanding." She has traveled with the program all over Europe and the United States.
You may hear Raleigh referred to as the "Smithsonian of the South," due to our many world-class museums and the educational opportunities that local colleges and universities open to the public. The Triangle area boasts a number of historic attractions as well.
Springmoor maintains a library with several thousand titles, provides tons of on-campus volunteer opportunities through our Residents Association, and offers an ongoing life writing workshop with Dr. James W. Clark, NC State University Professor of English Emeritus. Our individual gardening plots are well-tended by dozens of enthusiastic residents. There is truly something for everyone.
With two full-time chaplains, Lori Higgins and Juliana Lindenberg, spiritual life at Springmoor is rich and multi-faceted. Options for larger group activities include Sunday Vespers, weekly Communion and Mass, and Sunday School led by a Springmoor resident. The chaplains also make Communion visits.
Regardless of how you approach spirituality, the chaplains provide one-on-one support and pastoral counseling as desired. They also regularly lead book studies and discussion groups that foster personal growth and the exploration of spiritual beliefs.
Last, but certainly not least, Springmoor residents have a lot of fun! Which activities you participate in are up to you:
Movies at our on-campus theatre.
Activities in our Meraki Arts Studio.
Regular card groups.
Live music of all kinds.
Group shopping trips.
Woodworking in our shop.
Birthday celebrations.
Holiday parties (with delicious food!).
Outings of all kinds both in Raleigh and further afield: out to lunch and dinner, theatrical performances, museum trips, historical attractions, and so much more!
Like many CCRCs (Continuing Care Retirement Communities), Springmoor is an entrance fee community. Paying this one-time fee gives you access to all of our services and facilities, as well as a full continuum of healthcare—with guaranteed residency for life. Your monthly service package gives you maintenance-free living and predictability in your ongoing expenses.

Contact us today at 919-848-7080 to find out more about the wide range of exceptional activities we offer every day so that residents can live their best lives. Our friendly team is happy to answer questions about Springmoor's amenities and what's included in your monthly service package. You can also order a free information packet. We look to meeting you soon!