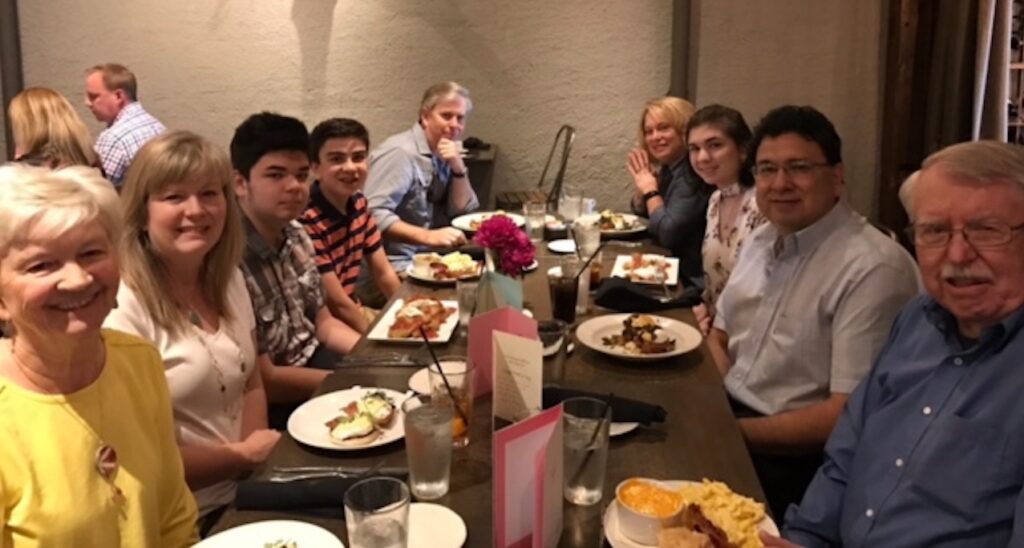 With so many possibilities for retirement living, how do you make the best choice for you? Especially if you're in the early stages of planning for a possible retirement move, you may be wondering to what extent your adult children should influence your search for a community.
While each family's situation is unique, we'd like to offer some tips for your consideration as you think about involving your family in the process. Springmoor residents Lib and Daniel Raiford also share their story of how their adult children assisted with the decision-making and logistics involved in making the move to an active senior living retirement community.
Tip 1: It's important to remember that anyone's health needs can change rapidly. Thinking now about what type of lifestyle, support, and care you may need and want in the future is helpful for both you and the rest of your family. Adult children often have careers and children of their own that may prohibit them from directly providing care for you if needed.
When you choose a senior living situation proactively in conjunction with your kids, rather than making an urgent, need-based decision, you relieve them of the burden of a rushed and stressful evaluation of living options. You're also helping ensure that you find the best fit for you.
Tip 2: When considering the short- and long-term costs of options such as aging in place, 55+ communities, and CCRCs (Continuing Care Retirement Communities) like Springmoor, having other adults who care about you help with research and act as a sounding board can be extremely helpful. Your adult kids may have professional expertise in finance, healthcare, or another field that will assist you in evaluating and comparing multiple alternatives.
Making the transition to retirement living is easier with support. You shuttled them to soccer practice, stayed up all night with them when they were sick, and funded everything from music lessons to braces to college. Let your adult kids lend you a hand now!
Tip 3: Whether you're just starting to consider moving to a retirement community or want assistance comparing several alternatives you've already identified as strong possibilities, you'll want to clearly communicate your needs and wants to your adult kids.
See Part II of this blog for Tips 4–6 and Glennis Hill's story.
You owe it to yourself to explore how good life can be at a retirement community—where most chores from cooking to home repairs are done for you. At Springmoor, we'll even handle your health insurance paperwork! You'll have the well-deserved chance to spend your time doing the things you enjoy most with friends and family.
Relocating to Springmoor from the Western Part of the State: One Couple's Journey
When asked where she grew up, Lib Raiford laughs and says, "I'm from around Mayberry, USA." She grew up on a farm outside of the Mount Airy/Pilot Mountain area of North Carolina. Her husband Dan is originally from Virginia and Florida.
The pair met at Guilford College in Greensboro, North Carolina and were the first couple to be married on the campus. Dan went on to earn a master's degree in physics from William & Mary in Virginia which led him to a career in computer science.
Having lived in Raleigh for a number of years, Lib and Daniel first retired to Franklin, North Carolina about 20 years ago. They loved life in the mountains, and it was wonderful living near their daughter, Laura, and her family.
Lib explains, "First we lived in a mountain house that was lovely, but isolated. When it snowed, we couldn't get out. Then we moved down to a villa in a golf course community for two years before coming to Springmoor."
In total, they lived in Franklin for about two decades before returning to Raleigh to live at Springmoor in September 2020. "Both of the kids supported us throughout," Lib says. "We had a little family reunion in Raleigh to start the process."
Matt, their son, had bought Lib and Daniel's Raleigh home when they moved to Franklin and lives only a mile from Springmoor. He was able to facilitate their relocation process in a variety of ways. Laura helped a great deal with downsizing as they readied their villa in the mountains for sale.
"Adult kids often play a big role in their parents' move and work with us to make the transition to retirement living easy for them," says Beth Holden, Director of Sales & Marketing at Springmoor.
Lib adds, "When Beth called to say an apartment was available for us, Matt was more than happy to come look around. He really liked the apartment and the community and was instrumental in our choosing Springmoor."
The Raifords were on the waitlist for about a year before learning space was available. "At first we thought we'd go with a one-bedroom apartment because my husband no longer needed an office," Lib says.
But after reflecting on their needs and reviewing floor plans again, she called Beth to discuss the possibility of a larger residence. The couple wound up deciding on a one-bedroom deluxe on the third floor.
After Matt visited their new potential space, Lib remembers his enthusiasm. He said, "Mom, this place is just great. Your view is super. There's a crepe myrtle across the patio, and the camellias bloom almost year-round."
Matt helped his parents make a floor plan for the furniture in each room of their new space. He assessed their existing furniture and helped them determine which items would fit and which they might sell. He even brought the swatches for paint and carpeting from Springmoor to Franklin for them to review.
The day the moving van arrived at Springmoor, Laura brought Lib and Daniel to the community, and she, along with Matt and his wife Leanne, helped unload. "Any move is stressful and having the kids be so supportive was really helpful," Lib says.
Lib shares that Leanne's parents are in the process of moving to Springmoor. She's trying to convince a couple of friends to make the move as well.
"All of us have been very pleased," Lib says. "I just get carried away with how great Springmoor is. Jud Ammons [Springmoor's founder] knew what he was doing."
Lib is very involved in campus activities. She plays bridge twice a week, volunteers in the library, and regularly attends outings and live music events on the grounds.
She also exercises on campus several times a week. "You can easily get in a mile walk on the beautiful campus, and we have a putting green as well," she says. Lib putts regularly with four other women.
"We just couldn't have asked for a better experience," Lib says. "Wendy and Beth at Springmoor did a beautiful job of getting us moved in, despite COVID. There are so many nice, interesting people here. Dan and I enjoy them so much."
As a CCRC, Springmoor offers seniors a variety of residence options, ranging from apartments to larger villas and homes. If you're looking for an active senior living community in Raleigh, we'd welcome the opportunity to answer your questions. Please call us at 919-848-7080.
Or, you can click here to fill out a short online form to receive a free packet of information or schedule an appointment for a personalized tour. We look forward to meeting you soon!