By Brandon Hair, Executive Director of Springmoor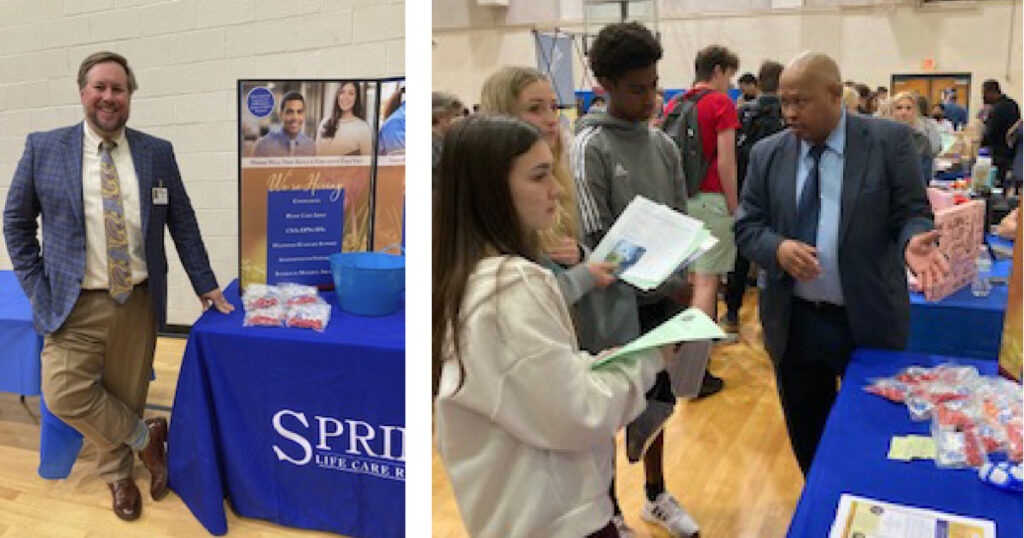 In March, I attended a high school job fair at Leesville Road High School in North Raleigh. Two other members of the Springmoor Leadership Team, Debbie Sivnksty (Director of Nursing) and Ben Battle (Dining Services Manager) accompanied me.
I had wanted to visit several local high schools to inform students, teachers, and guidance counselors about the excellent job opportunities available at Springmoor. I was excited to receive a formal invitation to attend an official job fair during which we'd be able to interact with more than 500 students.
Springmoor was one of over 50 organizations participating in the recent job fair. Many, however, were tech schools and colleges offering educational opportunities for students after high school graduation. We were one of only six booths that could offer employment to students immediately and the only one I was aware of which could provide jobs to young people under 16.
Other businesses like Chick-Fil-A, McDonald's, Crumbl Cookies, and Domino's Pizza require longer shifts that students under 16 can't do. Our 3-hour evening shift in the dining room is perfect for any teenager looking to get some real-life experience and make extra money while still having plenty of time to devote to school and extracurricular activities.
The management team at Springmoor works with students to accommodate their busy schedules. For example, during a particular sports season, many high school students may not be able to work for several months due to practice schedules—but they want to come back after the season concludes.
In the meantime, other sports are not being played, so we have that group working. Two of the largest sports young Springmoor employees participate in are football and lacrosse, which are played at different times of the year.
Another employment opportunity at Springmoor that students at the job fair found appealing was completing an internship in an area such as finance, marketing, business administration, nursing, or physical therapy. We offer numerous opportunities for teens to learn valuable skills while exploring different areas of work.
Ben, Debbie, and I emphasized in our conversations with students that working in a community serving older adults in any capacity teaches you great life lessons and makes an excellent impression on a college application—as well as future iterations of your resume. Other organizations like a car wash or fast-food restaurant typically can't offer these kinds of benefits.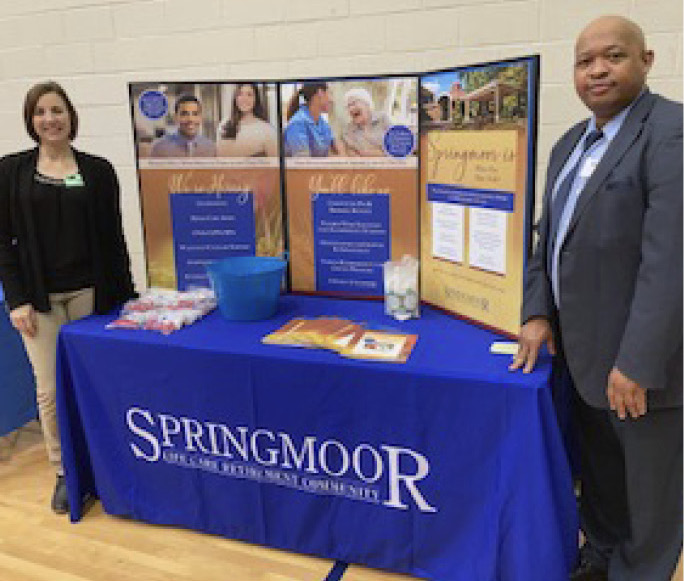 As the Premiere Continuing Care Retirement Community in Raleigh, We Provide our Employees with the Opportunity to:
Build life and workforce skills.

Bring joy to the lives of older adults.

Work with an exceptional team.

Develop servant leadership qualities.

Enjoy a meaningful job with a clear sense of purpose.

Grow as an individual, advance professionally, and meet personal goals.
To make the job fair even more beneficial for students, we set up two laptop computers, so they could fill out an application on the spot. We had over 10 students apply on the day of the job fair, and we gave out all of our initial flyers and brochures. I feel confident we'll have many new hires from this very successful event.
As the world slowly gets back to a more "post-COVID state" (whatever that means, but I hear it all the time), jobs are slowly coming back in all sectors. On the day I composed this memo, the unemployment rate had fallen even lower.
Employers seem to be back in the "driver's seat." We're able to choose from a pool of more qualified applicants and set more reasonable pay rates than during the past 2 years.
For communities such as Springmoor, it's critical to maintain a team of caring, dependable employees. It's part of our mission and commitment to every resident to provide the quality services they deserve while controlling costs. I believe we do that better than anyone else. However, the pandemic has made it more challenging than ever before.
This is why I'm so excited to report that the situation is improving regarding finding outstanding new team members. I'm confident the investments we're making in recruitment, such as our attendance at the recent job fair, will continue to result in identifying exceptional employees to provide services to residents.
If you know someone who would make a great addition to our team, tell them to visit us online today and fill out an application. They can ask about our referral bonuses, college scholarships, and college tuition reimbursement for certain programs when they interview!
We're particularly eager to meet caring individuals interested in serving as companions and home care aides, as well as interviewing highly qualified CNAs, LPNs, and RNs. Our employees develop relationships with our residents, their families, and their fellow staff members. Many current staff will tell you they've stayed at Springmoor for decades due in large part to the family atmosphere we value on our campus.
Established in 1984, Springmoor offers seniors a variety of residence options, ranging from apartments to larger villas and homes. If you're looking for an active senior living community in Raleigh, call us at 919-848-7080 to find out more.
You can also click here to fill out a short online form to receive a free packet of information or schedule an appointment for a personalized tour with COVID safety precautions in place. We look forward to meeting you soon!