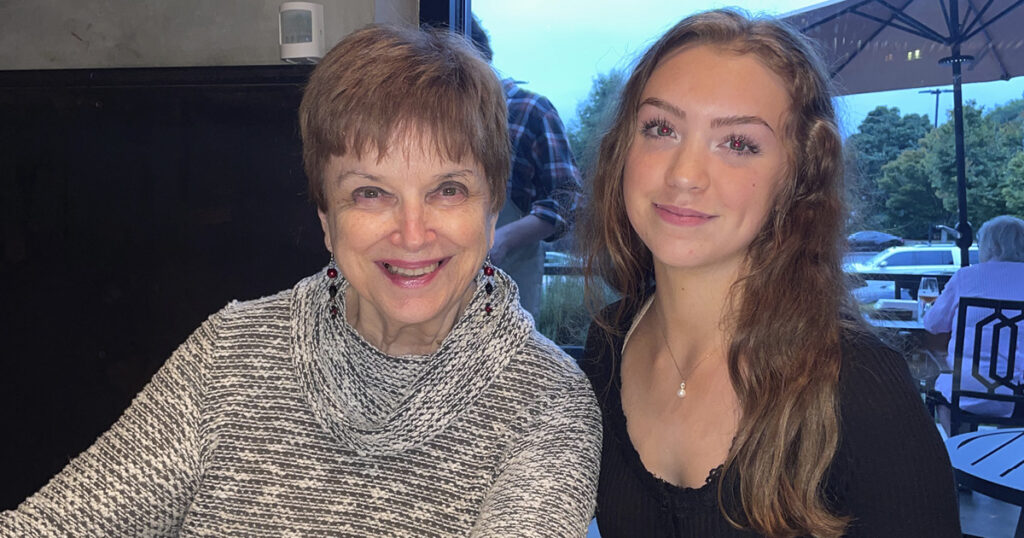 In April of 2022, Peg is celebrating being a Springmoor resident for 8 years. She says, "I can truthfully say I've never regretted moving in for one day. It's a wonderful place—the other residents, the staff, and the beautiful grounds—there's nowhere else like it in Raleigh."
When asked about her path to Springmoor, Peg laughs and says, "I've had a checkered background." She grew up in Raleigh from the time she was in elementary school and attended Murphey School and Hugh Morson High School.
Having received a scholarship to Duke University, Peg graduated with a bachelor's degree in English in 1958. She was recruited to teach in Rye, New York, a suburb of New York City and adored teaching high school English there for 3 years.
"I'm an only child, and my parents didn't like that I was moving so far away after college," says Peg. She adds wryly, "But, when my dad found out the starting salary in New York was $4,700 a year compared to $2,800 here in North Carolina, he became a lot more enthusiastic."
Peg was offered a fellowship at the University of Bridgeport in Connecticut and got a master's degree in guidance and counseling. She also earned a degree in professional development with an emphasis on administration from the State University of New York.
Continuing a Vibrant Career, Combined with Family Life
Peg then accepted a job in Arlington, Virginia in guidance counseling, and before long found herself marrying Ben, the football coach at Rye High School back in New York. Their long-distance romance was facilitated by Eastern Air Lines' shuttle between New York and DC. "You could just show up at the airport, and a ticket cost $15," says Peg.
The newlyweds moved to Bedford Village, New York in Westchester County and then to Upper Saddle River, New Jersey. While living in New Jersey, Peg crossed the nearby state line and led guidance and special education programs in Rockland County, New York. "I think the experience I gained in this position served me well throughout my career," Peg says.
Peg's son Tony was born in 1965, and her daughter Lynne was born in 1967. She stayed home for a few years, and they continued life in the Northeast. Ben traveled up and down the East Coast working for the Cleveland Browns and the Kansas City Chiefs. They enjoyed a summer home in Myrtle Beach, South Carolina.
Once both kids were high school age, the family relocated to Myrtle Beach. Lynne became a boarder at St. Mary's School in Raleigh and finished high school.
Both of Peg's parents were living in Raleigh at the time, and the three generations spent ample time together. Tony went off to Furman University, while Lynne attended Smith College.
Returning to Raleigh
In 1984, Peg and Ben moved back to Raleigh to be with her mom, now a widow, and Peg became the special assistant to the Assistant Superintendent of Schools for Wake County, Dr. Joyce Perry. She also served as the principal of Brentwood Elementary.
Once Ben had cancer surgery, Peg retired from full-time work and became an active volunteer. She is a fervent supporter of Transitions LifeCare (formerly Hospice of Wake County) and became a speaker for the organization after her husband died in 2008.
Peg's other volunteer commitments include being a member of the Woman's Club of Raleigh for more than 30 years as an officer, a trustee, and the chair of their antique show. She has also enjoyed being a docent at the North Carolina Executive Mansion.
Now living on her own, Peg downsized to a condo. "Then I decided I wanted to be the one who made the decision about where to live out my retirement," says Peg. "I had seen situations in which an older person with failing health would have to be placed somewhere that wasn't ideal."
Peg had visited multiple friends at Springmoor and says, "I never looked anywhere else." When asks what sets it apart, Peg emphasizes that Springmoor is a continuing care retirement community (CCRC). "I knew I wanted to be in a CCRC because I think other types of retirement communities can be a big mistake. You may be forced to move if your health declines."
Peg comments that the Springmoor staff, many of whom have a long history with the community, are top-notch, adding, "Our director Brandon Hair is fantastic. He has the interests of all here at heart."
Having recently taken up the gavel for 2022, Peg was also Resident Association President during 2017–2018. (Terms last one year with possible renewal.) She views serving in this role as an opportunity to "give back to Springmoor."
Peg is an ex officio member of each of the 17 committees of the association, which include Food, Welcome, Library, Buildings & Grounds, and Technology & Media. She attends the meetings of each committee. "Doing so allows me to communicate directly with each group on matters that directly affect life at the community," she says.
Individual residents also frequently reach out to Peg. She connects them with the appropriate staff person who can assist them with any given issue.
"I really love Springmoor so much," Peg says. "It's wonderful to have the opportunity to serve in this way. I enjoy working with the staff and the resident-led committees to help ensure all members of the community are safe, active, and engaged."
Leading a Busy, Active Life on Campus
In addition to being president of the Residents Association, Peg makes time for numerous other activities right here on campus. She takes advantage of the programs provided by Resident Life, and her favorite is the lecture series by Dr. Elliot Engel held in our auditorium.
Peg frequently walks around the grounds, and Monday through Friday she participates in an exercise class, usually balance and strength training. "Kari is marvelous," she says, referring to Kari Richie, our Director of Health and Fitness. "She plans a wide variety of great wellness programs."
Peg adds that Kari has assembled a talented staff to assist her and that she coordinates the health events at Springmoor. "We were among the very first to get Moderna shots during COVID-19," says Peg.
She loves the convenience of Springmoor transportation to medical appointments, and every day she appreciates the beautiful grounds with paved walking trails, mature trees, and exquisite landscaping.
Peg is a lifelong member of Edenton St. United Methodist Church. She plays cards regularly with a group of other residents. "I also enjoy the outings and tours offered by Springmoor," she adds.
Peg relishes having a library on campus. "I'm a voracious reader, and having easy access to new books is terrific." Recent titles she has completed are The Stranger in the Lifeboat by Mitch Albom and State of Terror by Louise Penny and Hillary Rodham Clinton.
Her family gets together on Sunday nights to have dinner at her daughter's house and catch up on all the news. "My daughter calls every single day to check on me," she says with a smile.
Peg's son and daughter both live in Raleigh with their own children, making it easy to visit with extended family. She has five grandkids in total, the youngest of whom waited tables at 14 in the North Village Dining Room over the summer. "I am blessed to have very close relationships with my grandkids—even the three in college call and FaceTime me regularly," she says.
"One of my favorite life experiences was taking my family of 10 out west to visit Mount Rushmore, Yellowstone National Park, the Grand Tetons, the Crazy Horse monument, and other sites," says Peg. They took a Tauck tour, which provides trips for families and other groups.
Resident leadership is central to the high quality of life we offer Springmoor residents. Thank you, Peg, for your deep commitment to helping every individual lead their best life as a member of our community!
If you'd like to learn more about all that Springmoor offers our residents, simply click here or call 919-848-7080 today to schedule your COVID-careful personalized tour. The members of our friendly team look forward to answering your questions about the benefits of living in a Continuing Care Retirement Community (CCRC).