Founded in 1984, Springmoor was the first full-service retirement community to open in Raleigh, North Carolina. Our residents come from diverse backgrounds and hail from all parts of the country. Regardless of where they were born or what they did for a living, they tend to be community-minded people who enjoy lending a helping hand to others.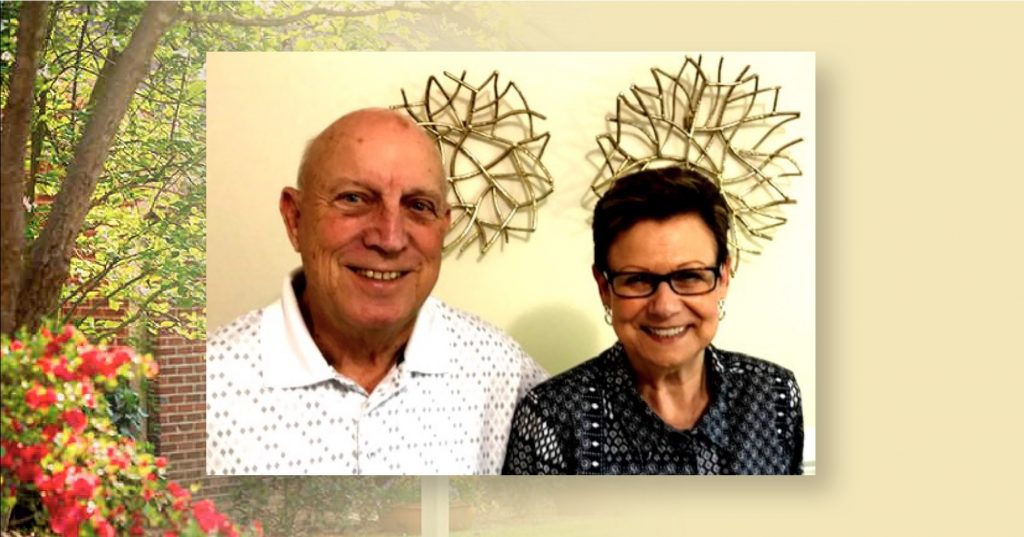 Meet Tom and Lynda Becker
Moving was a particular chore as Tom and Linda, long-time Raleigh residents, had not moved in over 18 years. Adding to the chaos, the furniture that Lynda ordered in January 2021 for their Springmoor apartment did not arrive until the 1st of November.
Lynda and Tom are natives of Ohio (Mt. Vernon and Martin's Ferry). After graduation from West Liberty University and a stint in the U. S. Army, Tom took a job in the Finance Department of the Cooper Bessemer Corporation in Mount Vernon, Ohio, in 1963 where he met Lynda. They married in 1967 in Ohio.
The company transferred them in 1970 to Houston, Texas. In the summer of 1975, they were transferred back to Mount Vernon and stayed four years there. In 1979, Raleigh became their new home after another transfer. Tom retired as Chief Financial Officer of Cooper Tools in 1996.
Lynda left Cooper once they started a family. As the kids grew up, she worked part-time for several different real estate firms.
The Beckers have a daughter who lives in the Washington, DC, area and a son who lives in nearby Apex with his son. Their daughter works for the Federal Government, and their son is an insurance agent, serving the trucking industry. Lynda and Tom join many of us in sharing the view that the move to Springmoor was the best gift they could give to their kids.
Tom volunteers as a reader for the North Carolina Reading Service every Friday morning. It is a service for the visually impaired. The service reads books, articles, the news, and other interesting material for its audience.
Lynda and Tom enjoy social activities. They are avid readers, and Tom continues to play golf. They look forward to active participation in the Springmoor community.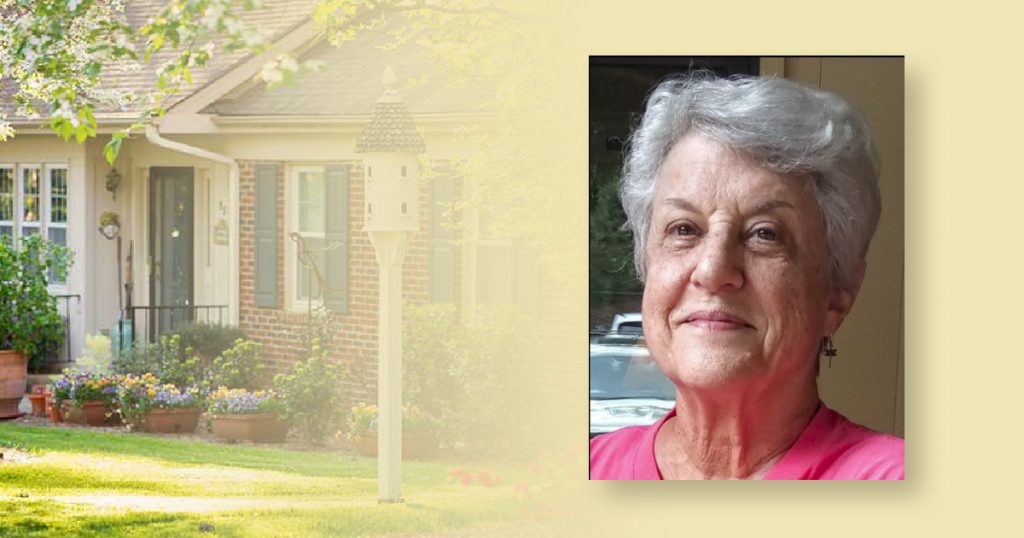 Meet Susan Misenheimer
Susan Misenheimer loves to teach. Retired now from a 50-year career in the classroom, she's looking forward to the end of the COVID-19 crisis so she can return to her volunteer work as an educator at the Life and Science Museum in Durham. Meanwhile, she delights in her view of the woodsy area opposite her porch and the wildlife it generates.
"I've never seen so many rabbits in my life! And the squirrels and chipmunks …."
Susan, who grew up in Durham, went to Durham High School and Duke University. It was there that she met her husband, Larry. While he worked for the North Carolina Department of Natural and Cultural Resources, Susan taught generations of children in public and private schools all over the Triangle area. One of her pupils had a Springmoor connection, Eunice Bland's grandson. 
After Larry's death, Susan began to consider moving to a place where she didn't have to worry about chores and upkeep. She was drawn to Springmoor's mature trees and landscaping. "I've always lived in woods," she says, "so Springmoor just feels more homey."
Her daughter Crista took over Susan's old home in Durham Woods, saving her mother the ordeal of clearing, showing, and selling the house. As Susan and her cat, Sadie, settled into their new home in Springmoor, Susan explored the active lifestyle she hopes to pursue here.
Susan is an ardent practitioner of Tai Chi and stays active with her community-based group as well as the Tai Chi class here at Springmoor. She's also interested in ping-pong, which conveniently takes place just down the hallway from her apartment.
With the reopening of public schools after the long pandemic disruption, Susan is also excited about returning to her volunteer work with natural science programs at George Watts Elementary School.
She loves being a volunteer educator. "It's fun," she smiles. "No parent-teacher conferences or grades! I miss the kids so much. They keep me young!"
Thank you to resident Dee Brosnan who spoke with the Beckers and provided this information so that we can get to know them better. Many thanks also to resident Ann Sides who interviewed Susan and wrote her bio.
Known as the premier continuing care retirement community (CCRC) in the Raleigh area, Springmoor offers services, amenities, and activities that enhance every facet of life. We celebrate an active, vibrant lifestyle with an emphasis on dignity, security, and peace of mind.
Members of our waitlist are once again able to visit the Springmoor campus to join in a fitness class or one of our card groups. Evening concerts in our auditorium, movies on campus, and some activities coordinated by our two chaplains are often open to waitlist folks as well. You can contact our Sales and Marketing Department for details.
Springmoor is pledged to the letter and spirit of our nation's policy for the achievement of equal housing opportunity. We encourage and support an atmosphere in which there are no barriers to obtaining housing because of race, color, religion, sex, handicap, familial status or national origin, or intention to make such preference, limitation, or discrimination.
Springmoor offers seniors a variety of residence options, ranging from apartments to larger villas and homes. If you're looking for an active senior living community in Raleigh, call us at 919-848-7080 with your questions.
You can also click here to fill out a short online form to receive a free packet of information or schedule an appointment for a personalized tour with COVID safety precautions in place. To help keep everyone safe, we ask that all visitors and all members of our community wear a mask; otherwise, most COVID-19 restrictions have been lifted on our campus. We look forward to meeting you soon!