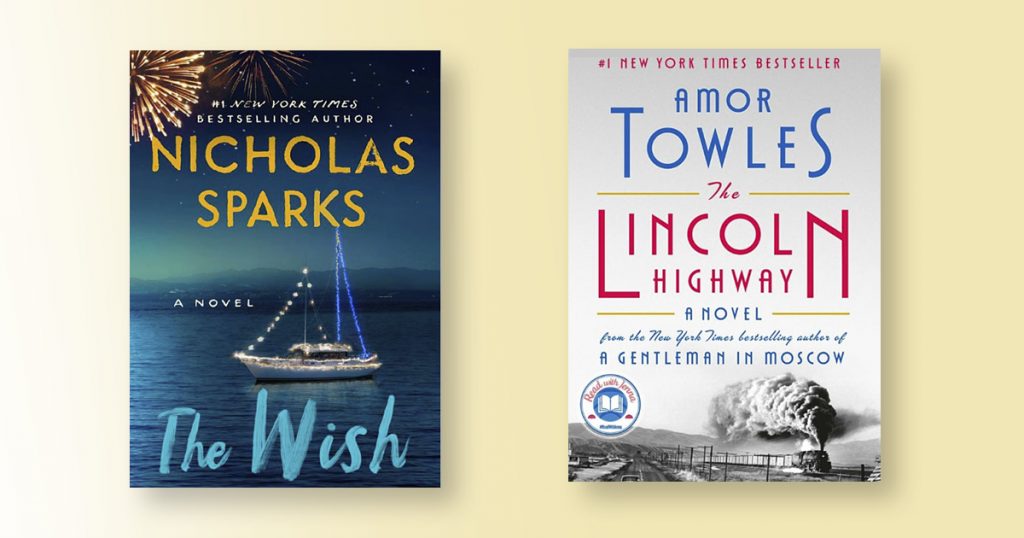 Now that the hectic holiday season is over, you may find yourself looking forward to a quieter January and the opportunity to read some good books. The Springmoor library has a number of recent additions, some of which are on Publishers Weekly bestsellers lists.
Mitch Albom, author of Tuesdays with Morrie, has written The Stranger in the Lifeboat. Shipwrecked passengers pull a strange man from the sea. He claims to be the Lord and says he can only save them if they all believe in him. This fast-paced novel suggests that answers to our prayers may be found in unexpected places.
The Wish by Nicholas Sparks is his most recent book, and as always, his work tugs on the reader's heartstrings. Set in the Outer Banks, this novel is about the enduring legacy of first love and the decisions that haunt us forever.
Louise Penny has concluded her popular Chief Inspector Ganache mystery series and has recently co-authored an international thriller with Hillary Clinton. Entitled State of Terror, it is gripping, heart-stopping, and full of insider expertise.
The Lincoln Highway by Amor Towles will be welcomed by those who enjoyed A Gentleman in Moscow. This beautifully written book is a story about hope, friendship, and companionship. It uses multiple points of view and moves from comedy to tragedy and back again. Don't be surprised if this book becomes a classic.
Mysteries Are Perennially Popular with Residents
Mysteries are quite popular with Springmoor residents. After all, who doesn't enjoy staying cozy inside reading a good whodunit when it's cold outdoors?
Several series in this category have surged in popularity in recent months. The first is Louise Penny's Chief Inspector Gamache murder mystery novels, mentioned above. There are 17 books in this series.
Penny says of her books, "My books are about terror…But more than that, more than murder, more than all the rancid emotions and actions, my books are about goodness. And kindness. About choices. About friendship and belonging. And love. Enduring love."
Those who start this series are immediately hooked and prefer to read these novels in the order they were written because this allows them to follow the development of the characters.
Another extremely popular set of books that seems to appeal to both men and women is Jacqueline Winspear's Maisie Dobbs series exploring the aftermath of World War I. The fictional Maisie Dobbs is a psychologist and investigator. Those who read the 15 books in this series not only enjoy suspense-filled plots but also learn a great deal about the role of women in World War I.
Sarah Shaber is a local author whose books have become well-liked by our residents. She gave a presentation in our auditorium in November 2021. She writes the Professor Simon Shaw (five books) and Louise Pearlie (seven books) series, both of which have won awards.
Margaret Maron, who passed away in Raleigh in February 2021, was another local author of many mystery novels as well as books of other genres. Many of her books are in our collection.
Another well-established mystery writer whose works the Springmoor Library has begun to acquire is William Kent Krueger. Library Committee Chair Betty Bridges first learned of Kruegerthrough his standalone novels, This Tender Land and Ordinary Grace.
Krueger has also written 14 Cork O'Conner mysteries, which are set in the north woods of Minnesota and span 15 years in the lives of the characters. The author recommends that, instead of starting with the first of his mysteries, you begin by reading his latest book Lightning Strikes (2021), which is a great introduction to all the people and elements in the series.
About the Springmoor Library and the Resident-Run Library Committee
The Springmoor Library is located on the 2nd floor of the main building in North Village, next to the Business Office. Residents may visit from 10–Noon, Monday through Saturday, and from 1:30–3:30 pm, Monday through Friday.
The Springmoor Residents Association boasts 19 different committees in which residents can choose to be involved. Many thanks to Betty Bridges (Chair of the Library Committee) for all of her hard work maintaining the library for residents to enjoy.
As the leader of this committee, Betty is the de facto librarian and contributes monthly to the resident-produced community newsletter, The Springmoor Herald. Content contained in this blog post originally appeared in the January 2022 and July 2021 issues of The Herald.
Betty is a retired professional librarian who worked in the Virginia Beach City Public Schools. After being both an elementary and a middle school librarian, she became the coordinator of all libraries in the Virginia Beach school system (there were about 50 at the time). A native of Danville, Virginia, Betty attended Westhampton College at the University of Richmond and received the Master of Library Science degree from East Carolina University.
Plan Your Visit to Springmoor Today!
Folks on our waitlist are once again able to visit Springmoor for a card game, exercise/aquatics class, mindfulness class led by our chaplains, or evening event such as a concert in our auditorium. To help keep everyone safe, we ask that all visitors and all members of our community wear a mask; otherwise, most COVID-19 restrictions have been lifted on our campus.
Springmoor offers seniors a variety of residence options, ranging from apartments to larger villas and homes. If you're looking for an active senior living community in Raleigh, call us at 919-848-7080 with your questions. You can also click here to fill out a short online form to receive a free packet of information or schedule an appointment for a personalized tour with COVID safety precautions in place. We look forward to meeting you soon!