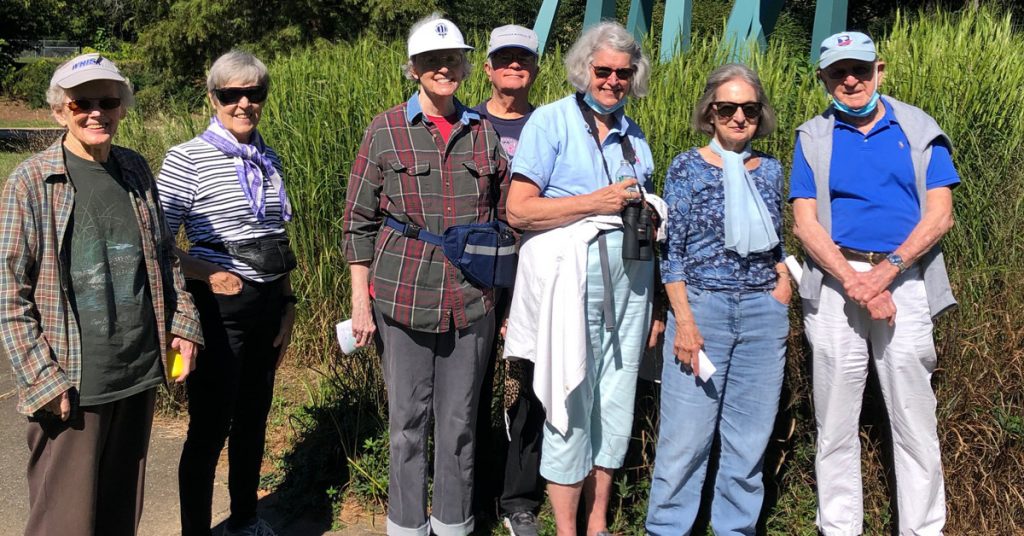 Leaves are falling, and the joys of autumn are calling! There's so much to take advantage of during fall in Raleigh. From the beauty of our pristine campus to the wide variety of attractions throughout the Triangle area, we're living life to the fullest every day.
A Continuing Care Retirement Community (CCRC), Springmoor offers a monthly service package that's second to none. Residents have time to engage in our many fun offerings each week in part because they don't need to give a thought to the chores homeowners associate with fall. Life at Springmoor means never worrying about raking leaves, cleaning gutters, home winterization, or preparing for hurricane season.
Instead of home maintenance, here at Springmoor you can focus on all of the enjoyable activities included in your service plan. We offer something for everyone, and you choose what you'd like to take part in. This fall, like every year, the calendar is chock-full of options. Keep reading for a small sampling.
Sweater Weather Is Better Together!
At Springmoor, it's easy to get together with friends and neighbors. Each year, we celebrate Active Aging Week with a host of free events at numerous locations around campus. This year, residents participated in outdoor exercise, book studies, social gatherings, strength training, tai chi, yoga, and much more.
Spirit Week coincided with Active Aging Week (October 3–9) this year. Each day of the week had a different theme. Thursday the 7th was Team Spirit Day, and staff and residents alike had fun sporting gear from their favorite school, college, and professional teams.
Just a few of the many other "just for fun" activities on campus this fall were a corn hole tournament and a celebration of National Grandparents Day. For the latter, residents joined grandchildren and other extended family in the South Village Terrace Room and North Village Garden Grill/Ammons Room for fellowship and refreshments.
We also offer many outings with transportation provided on the Springmoor bus. One example is our Raleigh adventures with local tour guide Parker Call. Parker's two tours this fall focused on the Civil War years in Raleigh and the many beautiful Victorian-era homes in the area.
This year we were lucky to have beautiful weather throughout most of North Carolina State Fair. Canceled last year due to the pandemic, the motto for the 2021 fair was "Worth the Wait."
And worth the wait it was! Residents traveled to the fair together to enjoy all the sights and sounds, including exquisite crafts at the Village of Yesteryear and a North Carolina-grown pumpkin weighing 1,965.5 pounds (a site record).
Some relish eating turkey legs and candy apples while strolling around the midway at the fair, and others opt for venues with wine, wait staff, and white tablecloths. This fall our ongoing Out to Lunch/Out to Dinner series took us to many local venues for food and frivolity, including Second Empire, ­Vivo Ristorante, and Lane's Seafood and Steak House.
Of course, we like to feed our minds as well. Often referred to as the "Smithsonian of the South," Raleigh boasts numerous world-class museums. One of these is Marbles, which includes an IMAX theatre. Science enthusiasts took the Springmoor bus to an exciting 45-minute 3D documentary on Mars.
Art, Animals, and Shopping, Oh, My!
We don't confine our expeditions to Raleigh or even the Triangle area. In September, we visited Charlotte for lunch and a magical trip to the Immersive Van Gogh Exhibit. Entrancing moving images illuminated the color, detail, and brushstrokes of this post-impressionist's work. We experienced Van Gogh's sunny landscapes, night scenes, portraits, and still life paintings in a new and unforgettable way!
Residents also journeyed to Asheboro for a visit to the North Carolina Zoo. Located on 2,600 wooded acres in the heart of the state, the zoo has 500 developed acres, making it the world's largest natural habitat zoo. We explored the North America and Africa zones and saw animals ranging from our state's own red wolves to polar bears, rhinos, and giraffes.
We headed west of the Triangle this autumn for some out-of-this-world shopping as well. Bear Creek, North Carolina is home to Southern Supreme. This 30,000-square-foot establishment has been delighting taste buds for more than 30 years. Their nuts, candy, chocolate, fruitcake and other baked goods make great holiday gifts, and of course we had to pick up a little something for ourselves.
Sunny Days and Cool Nights
Many of our residents enjoy the great outdoors, and Raleigh's generally mild temperatures accommodate year-round excursions. The outdoor activities we offer every week make it easy to lead an active lifestyle.
The weather was perfect recently for one of our Fall Walks at Fred Fletcher Park near downtown Raleigh. This hilly Raleigh city park features beautiful gardens, large outdoor sculptures, and a man-made wetlands area. Our Fall Walk series also took us to Joyner Park in Wake Forest and Hemlock Bluffs in Cary.
With 99% of both staff and residents vaccinated, we're approaching the holiday season with renewed vigor. Waitlist members are once again welcome to join residents in activities like card games, exercise/aquatic classes, day trips, and evening events on our campus. Contact a member of our friendly team today to learn more about what life would be like for you at Springmoor. Call 919-848-7080 to schedule a personalized visit or click to order a free information packet.