Not even a global pandemic could deter dozens of new residents from making the transition to retirement living at Springmoor. Marilyn Gordon and Cris and Judy Hoffman are just a few of the many folks we've welcomed to our community since March of 2020. Marilyn moved in on February 3, 2021, and the Hoffmans joined us on August 3, 2020.
Our streamlined move-in process helps minimize the stress and disruption that accompany any move. Our dedicated team provides logistical support every step of the way, so that each new resident can worry less and enjoy this exciting life change.
If you're interested in active senior living communities in Raleigh, it may be helpful to know that COVID-careful, personalized tours continue to be available. In addition, as of June 2021, our campus is once again open to those on our waitlist. Now that 99% of our residents and more than 70% of our staff have been vaccinated, we invite you to enjoy a meal in our dining room and get to know some of our residents in person.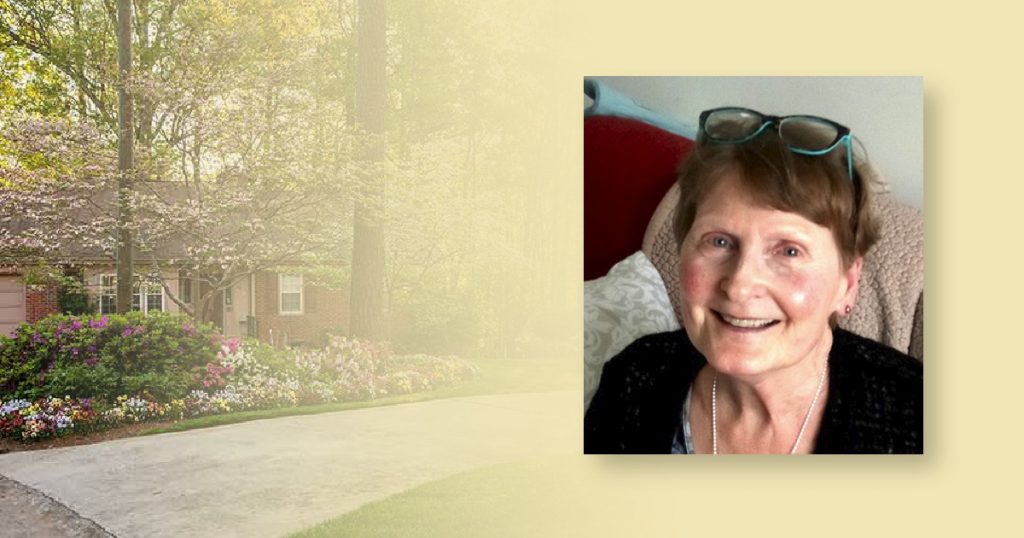 Meet Marilyn Gordon
If you have visited the North Village fitness room on Second Floor East, you've probably already met Marilyn Gordon. She's often to be found there, working on the machines two or three times every day. Survivor of a devastating series of strokes, Marilyn misses the athletic life she used to have, particularly cycling and walking. She's determined to regain as much of her fitness as she possibly can.
Marilyn was born in Selma, North Carolina, where her father, A.Z. Thompson, ran a garage. Her mother, Hilda, was a sixth grade teacher.
Marilyn dreamed of becoming a nurse. She got her RN at East Carolina University, married, and worked for five years before stepping away from nursing to raise her children. Seventeen years later she took a refresher course and returned to the career she loved, caring for patients at Forsythe County Medical Center.
In 2004, Marilyn moved to Raleigh to help care for her mother, Hilda, who was living here at Springmoor in South Village. Marilyn herself worked at Rex Hospital and enjoyed a very active lifestyle. In 2019, however, everything changed. Marilyn suffered four strokes that left her unable to continue her nursing career. In fact, she realized she would have to leave her three-story townhouse because the stairs were no longer safe for her.
Springmoor was the obvious choice. Although Marilyn's mother, Hilda, has passed on, her sister, Charlotte Bailey, lives a few doors down the hall. Another of her sisters, Becky, is on the waitlist.
Marilyn feels freer at Springmoor, she explains. Services and amenities are easy to access. She can get to the dining room to have dinner with her sister, and, of course, go to the fitness room.
Marilyn went through the usual stresses of downsizing and moving but is slowly settling in as she chooses furnishings that fit best into her sunny alcove apartment.
Marilyn is looking into audiobooks with help from her daughter, Amy Lawson, who lives nearby. She has a son, Blake, in Clayton and another son, Wesley, in Maryland.
Thank you to Springmoor resident Ann Sides for interviewing Marilyn and providing this information that helps us get to know her better!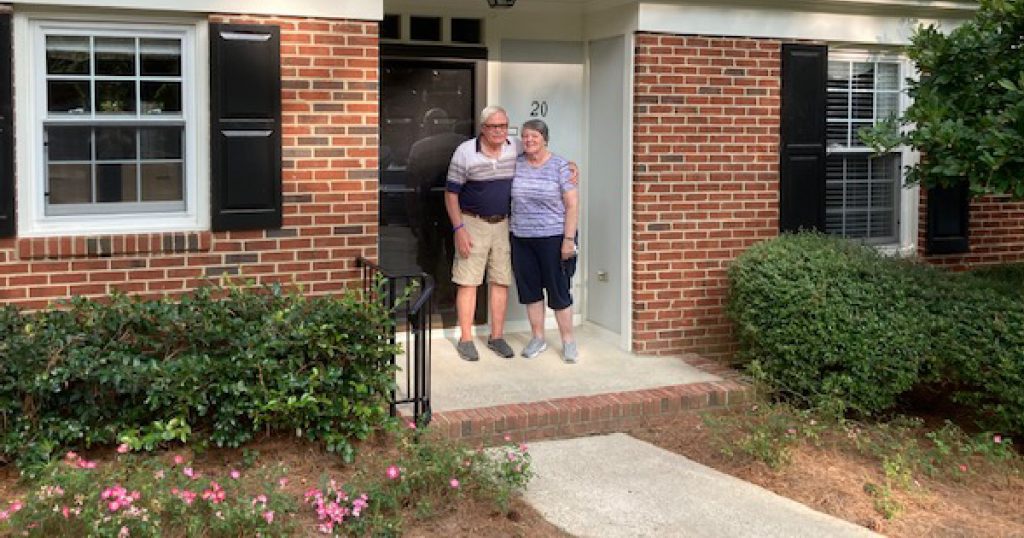 Meet Cris and Judy Hoffman
Judy and Cris, both native Pennsylvanians, met when they were attending Gettysburg College. Cris graduated in 1964 with a BA in history. After Judy graduated in 1966 with a degree in political science, they married and, for a while, they lived in the Philippines where Cris was stationed as an Intelligence Officer in the US Air Force.
From then until 2000, Cris taught middle school (seventh and eighth grades) in Suffern, NY. He taught American history and English along with a short course in study skills; he was also the soccer and baseball coach. Two of his baseball players became professional baseball players. Cris also earned a Masters in the Art of Teaching from Colgate University and a Certificate of Administration and Supervision from SUNY/New Paltz.
When their two daughters were born, they decided Judy would be a stay-at-home mother for a while. When the girls started school, she worked as a secretary and later became the Public Relations Manager for a chemical company. She says she had a wonderful boss who helped her move up in the company. She worked there for 17 years.
In 1995 Judy decided to start her own business as a crisis communication/media relations consultant. She also taught workshops and made a CD on dealing with angry people. When Cris retired from teaching in 2000, he joined her in the company.
Chris told Judy he wanted to be an associate, not an assistant! They had both wanted to travel, so they taught workshops and did consulting all across the US while also visiting friends.
Judy wrote a book, Keeping Cool on the Hot Seat: Dealing Effectively with the Media in Times of Crisis, which was used by the Communications Department at Syracuse University, the University of North Carolina at Chapel Hill, and 11 other universities. (A copy is available in the Springmoor Library.)
In 2006 they moved to Clayton, North Carolina, to be near one daughter and her family. Their other daughter lives in Washington, DC, which is not too far away.
Judy's hobbies are their six grandchildren, reading, golf, competitive ping pong, and knitting and crocheting. She donates hats to school children and chemo patients and long gloves to Alzheimer's patients. She works in the Springmoor Library, as does Cris.
Cris loves grandchildren, travel, reading, and golf. They both enjoy TV sports and are ice hockey Caniacs and Duke crazies.
Judy and Cris have been and plan to continue to be active members of Holy Cross Lutheran Church in Clayton.
Thank you to Springmoor resident Katherine Meares for interviewing the Hoffmans and providing this information so that we can get to know them better!
Contact the friendly staff at Springmoor online or at 919-848-7080 to find out more about scheduling a tour and enjoying a meal in our dining room. If you're on our waitlist, we look forward to seeing you soon at an art class, on-campus social event, or our Pathways Wellness Center.