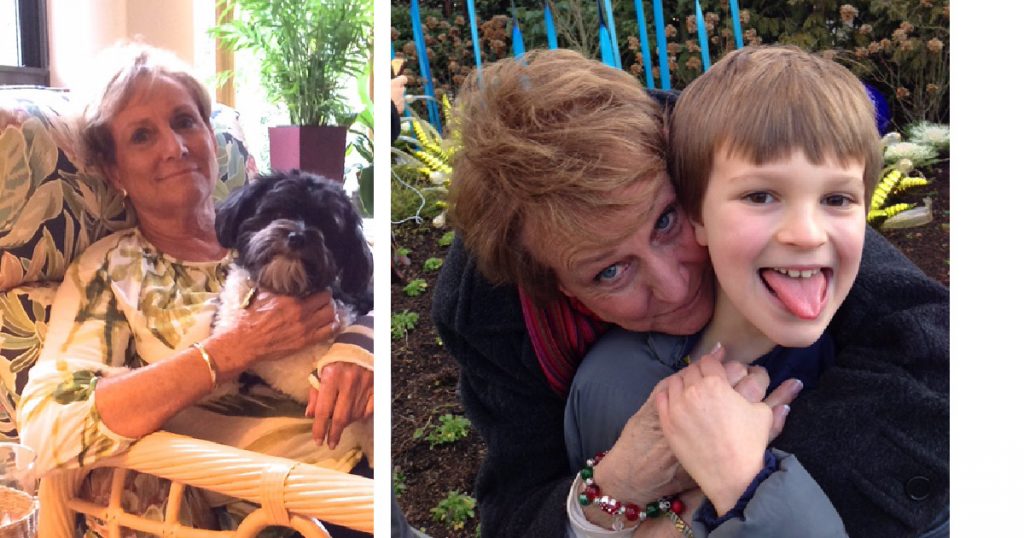 When asked why she chose Springmoor, Linda says, "It's more than a retirement community; it really is like a family. I feel very blessed."
Linda's husband John passed away seven years prior to her move to the community in 2017. She had grown tired of taking care of multiple cars and homes. She adds, "I never liked to cook or do housekeeping, and this is all done for you here."
She has a five-year-old Havanese named Mojo and says that Springmoor is very pet-friendly. "Mojo loves it here as much as I do," she laughs. On most days, Linda meets up with a small group of other residents on a big communal porch in South Village to socialize.
Mojo is the only pet who attends these social hours, and Linda jokes that her friends wouldn't let her in without him. "He greets each of them, and we all enjoy the cute things he does."
One of the structured activities she enjoys most at Springmoor is the fused glass classes at our Meraki Arts Studio. She has created bowls, wall art, and a nightlight, as well as many pendants for necklaces.
A Dynamic Career as a History Professor
Linda was a professor of history and specialized in African American studies. Having grown up in a suburb of Atlanta, she taught at Valdosta State University in southern Georgia for the first five years after she earned her PhD. From 1981 to 2001, she taught African American history in the history department at NC State University.
"History is very complex," she says. "Many disciplines—sociology, literature, language, anthropology, and more—converge when we study history."
Linda is Caucasian. When asked how she became interested in African American studies, she goes back to her childhood. She describes herself as a religious and curious child.When the Montgomery Bus Boycott started, her uncle who worked as a bus mechanic was laid off. As a result, one of her cousins came to live with her family.
The boycott brought up many questions for her, such as "Why are Black people refusing to ride the bus?" When told they didn't want to be forced to sit in the back, Linda wanted to know why they couldn't sit anywhere they wanted. She thus became aware of segregation at an early age.
Growing up as a member of First Decatur United Methodist Church, Linda attended youth group and visited with the youth group of a predominantly Black church. She participated in a fully integrated youth group during her junior year of high school.
The North Georgia Conference of The United Methodist Church also coordinated an integrated summer camp. She spent a week there as a camper during multiple summers and was also a camp counselor for two years while in college.
The summer after Linda graduated from high school, the three students who desegregated Grady High School in Atlanta attended this camp with her. Grady was the first high school in the city to be desegregated, and these young people described the constant name-calling and harassment they endured. Linda recognized how courageous they were.
While in college, she had an opportunity to write about African American history and culture. "I was just trying to understand how segregation could happen," she says.
Throughout her career, Linda continued to look for answers. Most of the college students she taught were African American. "I had a lot of opportunities that most white people don't have to get to know African Americans on an equal basis. We learned from each other."
She continues, "The biggest compliment I was ever paid as a professor was from a girl who sat in the front row. She told me, 'My roommate said I had to take your class. She talked about how great you were as a professor. She never mentioned you were white.'"
"I disliked grading papers, but I would have done the teaching part of the job for free," Linda laughs. "I liked to get to class early and talk with the students."
Staying Connected to Family
Linda's daughter is an architect. She lives with her husband and their 13-year-old son in Seattle. In non-COVID times, Linda visits them three or four times a year for her grandchild's birthday, during the summer, and for Halloween and Christmas. They travel to see her here in Raleigh as well.
In 2020, they relied on Zoom for regular visits, including their Christmas celebration. Linda started many holiday rituals like making wrapping paper with her daughter when she was little, and her daughter continues these with her own family.
They make elaborate stockings and take turns opening gifts, so that each can be fully enjoyed. They were able to share some of these rituals over Zoom, but like the rest of us, Linda and her family are looking forward to getting back to normal after COVID.
Linda also has two stepchildren who live in Raleigh. "They're about 60 now, but I still make them Christmas stockings," she laughs.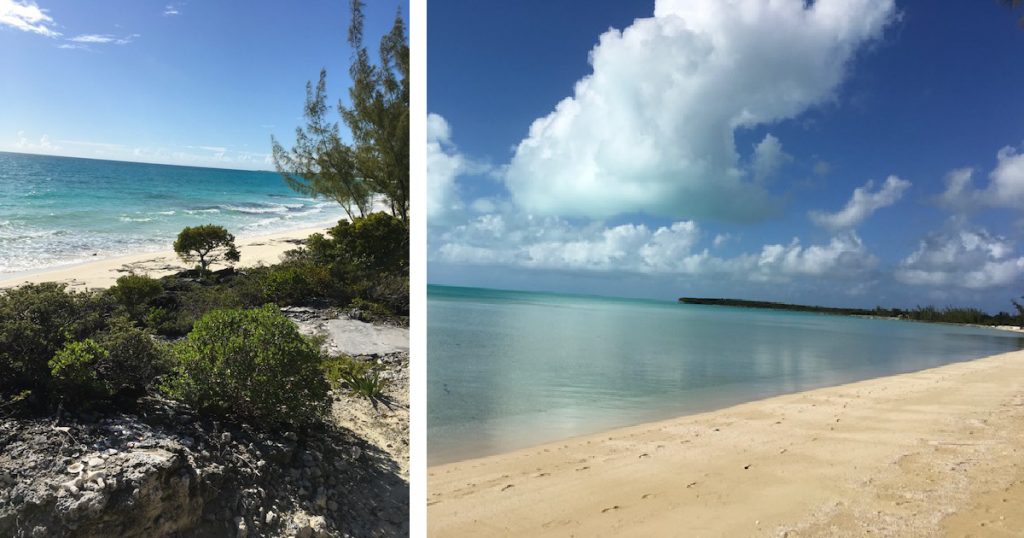 Sailing to the Bahamas
Linda's husband John was a civil engineer who was 18 years older. She retired in her late 50s so they could travel together, and they enjoyed three around-the-world cruises.
The couple also owned a boat and sailed to the Bahamas annually. They would set sail from Morehead City, North Carolina on the Atlantic Intercoastal Waterway. Eventually they bought a boat large enough to sail to the islands on the open ocean.
About 30 of the 700 islands and islets that make up the Bahamas are inhabited. Linda and John particularly enjoyed exploring the outer islands and those located further south, and they lived on the boat for about 6 months of the year.
They rented houses located in this island nation as well, and Linda continues this tradition, spending each February there. "I have so many good memories of the Bahamas with John," she says.
Giving Back to the Community
Linda was chair of the missions committee at Highland United Methodist Church for 10 years. Many members of the committee stuck with her throughout the years.
The numerous projects of the committee included: packing food for BackPack Buddies and Rise Against Hunger (formerly Stop Hunger Now); hosting homeless families in partnership with a local nonprofit; raising money for hunger relief through an annual bazaar; building a Habitat House every other year; and collaborating with Catholic Charities to sponsor families through their Support Circle Program.
The committee also coordinated a service project for teens in their own church and other local churches. The young people camped at Umstead Park for a week, while making home repairs for those who couldn't afford them.
One of the activities Linda personally enjoyed most was going to the Helen Wright Center for Women every Saturday and making jewelry with them. The Center is a program of Urban Ministries of Wake County that supports homeless women.
Linda started a tradition at her church of giving cosmetics and homemade jewelry to the women each Christmas. A group of volunteers would also provide meals to them.
Highland United Methodist sponsors a large garden located on the church grounds. The garden is open to anyone who wants to work in it. "We grow tons of foods—literally tons—for the Food Bank of Central and Eastern North Carolina," Linda says.
The church also hosts English as a Second Language (ESL) classes and allows another program to use their church for their ESL classes. They also wanted to provide a direct service to these families in need. They hosted lunches for them, and families had the option of working in the garden for a share of the harvest.
To learn more about our active senior living community, call us at 919-848-7080 or click here to request a personalized tour or an information packet. We look forward to speaking with you soon about all that Springmoor has to offer!