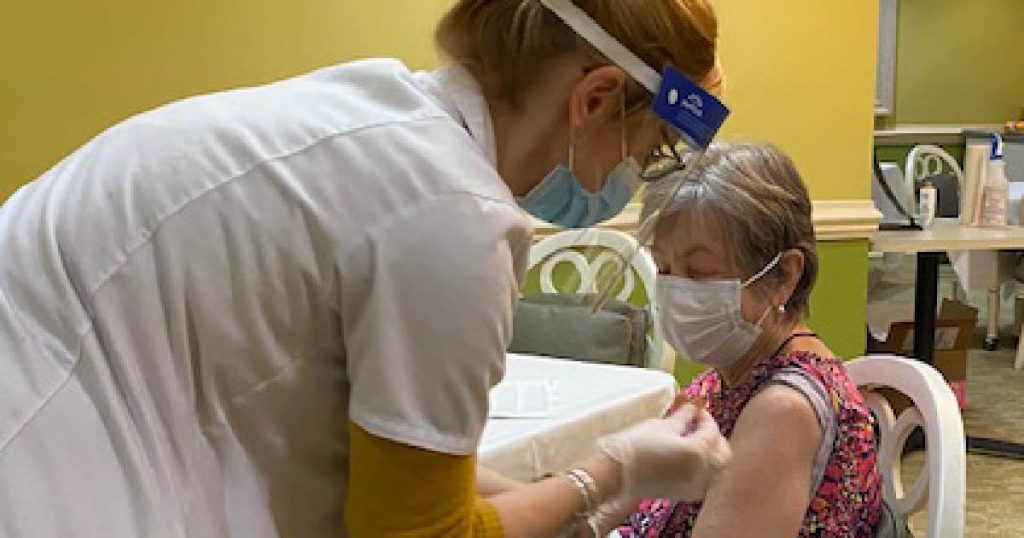 The members of the Springmoor community were among the first 1% in the world to receive the COVID-19 vaccine on December 29, 2020, according to Springmoor's Director of Nursing, Debbie Sivnksty, BSN, RN. Ninety-five percent of residents received the first dose on the 29th, and the same percentage got the second dose on January 26, 2021.
"The first dose of the vaccine provides about 52% immunity, and the second dose takes you to about 94% immunity," Debbie explains. "We used the Moderna vaccine instead of Pfizer because it does not require ultra-cold chain storage."
Springmoor partners with Medipack Pharmacy on an ongoing basis to provide medications to residents, and members of their staff visit the campus at least twice daily. "For our COVID-19 vaccine rollout, Medipack partnered with Walgreens, and the process went extremely smoothly," says Debbie. "We appreciate the amazing customer service we received."
All Hands On Deck
Numerous pharmacists provided vaccines to almost 900 people at the first vaccine event, which was held on campus and ran from 9 am to 6 pm. "It was a major team effort that involved many different departments, including Dining Services," says Debbie. She added that the free COVID-19 vaccines were offered to all staff and residents at Springmoor.
"We had four different locations for vaccine administration at Springmoor to keep wait times minimal and help ensure convenience for everyone," says Beth Holden, Director of Sales and Marketing.
Beth continues, "North Village residents received their shots in North Village, while South Village received their shots in South Village. Employees in our Stewart Health Center got their vaccine in the Center. Other employees received their shots in our auditorium, which is centrally located on campus."
Educating the Community About the Benefits of the Vaccine
To help all members of the Springmoor community make an informed choice about taking the vaccine, the administration partnered with Medipack to provide extensive education in advance of the vaccination clinics. Efforts included information sessions both in-person and using Zoom for all shifts of all types of Springmoor staff, from dining to maintenance. Printed literature was also distributed.
As of this writing at the beginning of March, approximately 99% of residents have received both doses of the vaccine. Many residents have expressed that early, convenient access to the vaccine has been a tremendous advantage of living at Springmoor.
New resident Cris Hoffman explained, "We have friends in our age group who have had a lot of trouble obtaining the vaccine. One big benefit of being Springmoor residents is having access to COVID-19 vaccines onsite. We feel so fortunate." Judy Hoffman added, "Springmoor handled the entire process for us. We just had to walk to the location on campus where vaccines were being given."
Kari Richie, Health & Fitness Director, helped with the overall organization of the vaccination events. Having spearheaded flu shot clinics on campus multiple times, Kari had experience with all aspects of the process, from ensuring the collection of consent forms to using spreadsheets to assign specific vaccination time slots to residents. The events finished ahead of schedule due to careful planning.
Consent paperwork must be obtained from every individual before the administration of each dose of the vaccine. Each person also answers a short list of questions about their health and possible exposure to the virus. After receiving their shot, everyone remains under observation for 15 minutes before leaving the vaccination site as a safety precaution.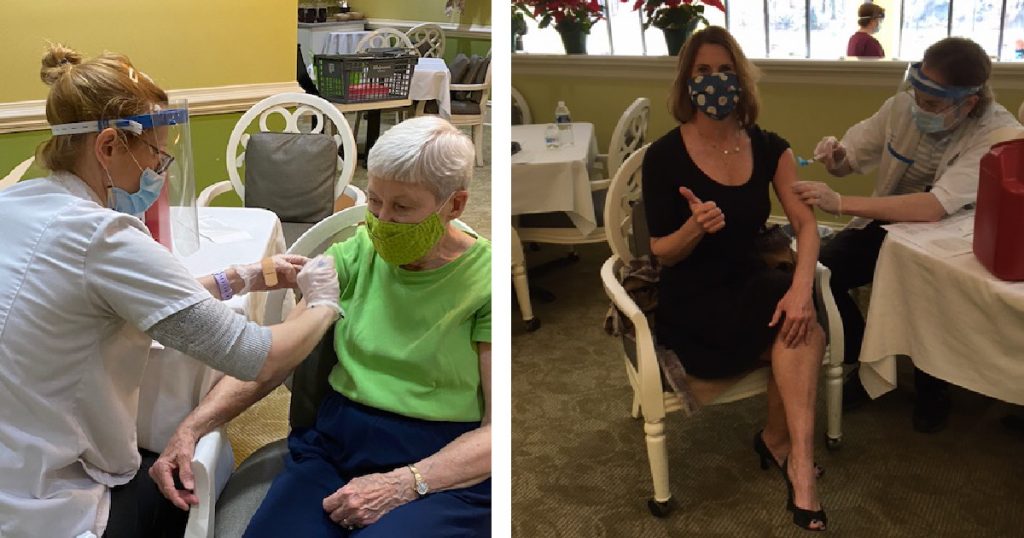 Ensuring Safety and Convenience for Residents
Despite short notice regarding when the vaccines would be available, being well-staffed allowed Springmoor to reduce wait times and ensure that appropriate social distancing was maintained throughout the process. The pharmacists administering the shots even provided a drive-up option for community members who were in quarantine due to possible previous coronavirus exposure.
Debbie is happy to share that, as of early March 2021, Springmoor has not had any Stewart Health Center resident test positive since November of 2020. Two Independent Living residents who tested positive in January 2021 recovered beautifully in the Health Center and are back at home.
Sixty-five percent of staff have been vaccinated; this rate is significantly higher than the national average for employees of long-term care facilities. Per state mandate, all staff are tested every other week. Currently, there are no staff members testing positive for the virus. Springmoor continues to offer the vaccine from 1:30 pm to 3:30 pm every fourth Tuesday for any staff member who hasn't yet received it. 
The vaccine is paving the way for a return to "normal" life on campus. Like the rest of the world, we're eagerly anticipating when we can again gather without restrictions like masks and social distancing.
In the meantime, we're continuing to focus on all the positives at our resilient community: Access to numerous safe activities throughout the pandemic, the opportunity to maintain social connections with safety protocols in place, an abundance of healthy food, and never running out of toilet paper! A huge thank-you to our residents who volunteer to run our convenience store for their part in ensuring we were well-stocked with basic necessities.
Step into spring with a trip to Springmoor! Contact a member of our team today to schedule your COVID-safe, personalized tour by clicking here or calling 919-848-7080.