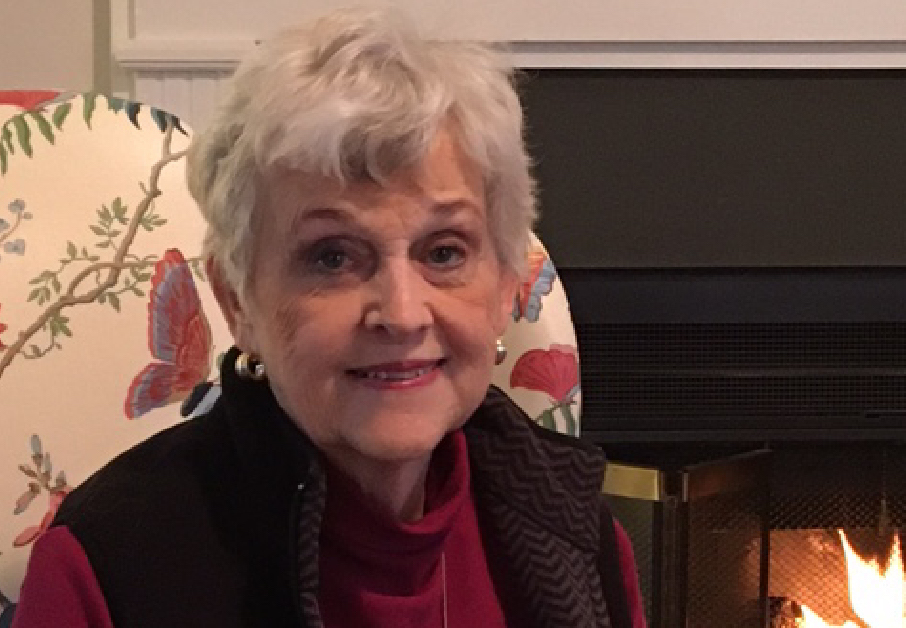 Making the move to a retirement community like Springmoor doesn't mean retiring from a full life. Our residents tend to remain extremely active and committed to giving back to the community. Carol Jones is a great example.
A Lifetime of Learning Began in Texas
Carol has lived in multiple states and also in Europe, but she is originally from Pampa, Texas. "I grew up in the Panhandle. Our town motto was, 'Where the wind blows, the wheat grows, and the oil flows,'" she says with a smile in her voice.
"When I was 14, I was sent east to school to get the straw out of my hair," Carol continues. She attended Mt. Vernon Seminary and College, a women's college in Washington, DC.
She furthered her education at SMU (Southern Methodist University) in Dallas, as well as at Hollins University in Virginia. Carol later earned her master's degree in education from the University of Texas at Tyler.
The Importance of Family
As a senior at Mt. Vernon, one day Carol and her roommate were lamenting that they hadn't yet met the men they were going to marry. The roommate said, "I know the perfect boy for you. His name is Jimmy Jones, and he's from my home town of Charlotte, North Carolina."
Carol told her parents she needed to go back to Charlotte for New Year's Eve to meet the boy she was going to marry. "They said ok, and I did," she laughs.
Her husband Jimmy was a Presbyterian minister, and he and Carol lived in many places for both work and schooling, including Texas, Tennessee, Virginia, Scotland, and Switzerland.
Carol is proud of her three sons, one daughter, and 10 grandkids aged eight to 28. When her children were young, she taught preschool part-time in a church setting. As they got older, she began teaching 3rd, 4th, and 5th grades, and she concluded her teaching career at Ravenscroft in North Raleigh.
Springmoor: The Best Choice for Her New Home
Carol did a lot of shopping around for retirement communities before choosing Springmoor, where she's lived for two and a half years.
She previously lived in a townhouse that she was very fond of, but she was alone and didn't drive at night. She was worried about feeling isolated. Carol already knew many people who enjoyed life at Springmoor.
Carol is very comfortable in her Springmoor villa, which she loves. She has 12 windows and enjoys having lots of natural light in her home. The villa has two bedrooms, two baths, and a huge front yard and backyard. "I appreciate being able to have my family visit me and feel like this is their homeplace," she says.
Activities at Springmoor
Springmoor offers a wide variety of activities and events to keep the mind and body active and healthy.
Carol plays bridge and Rummikub (also called "tile rummy"). She is also a big believer in exercise: "The fitness program at Springmoor is outstanding. I do water aerobics two times per week and Pilates once a week."
She continues, "I also ride the stationary bike. I used to belong to a gym, but that's unnecessary now. Springmoor's fitness programs are excellent, and there's no reason to go off campus."
Volunteering in the Raleigh Community
Carol participates in volunteer work through her church, First Presbyterian Church in downtown Raleigh. She has been involved in the Outreach Program at church for about 20 years. The program helps the working poor with rent and utilities.
Previously, Carol would conduct face-to-face interviews to review applicants' pay stubs and living expenses. Currently, they are doing this by phone due to the pandemic, but Carol hopes they will be able to return to doing in-person interviews in the near future.
The second program in which Carol is active at First Presbyterian is the Interfaith Prison Ministry for Women (IPMW). It relies on face-to-face interaction and the women being able to leave the prison to participate. This program is currently suspended due to the virus, but the organizers plan for it to resume as soon as it's safe to do so.
"The woman who runs the program is a professor at Shaw University, and she does an amazing job," says Carol. Many community partners, including other churches, support the program. Carol and the other volunteers mentor a group of 10 incarcerated women who are getting ready to be released.
Each woman has a mentor like Carol who helps her prepare to transition back into the community. They focus on life skills like how to be successful at a job interview. The women are required to do a lot of inner work, including writing in journals.
Carol's hard work has been rewarded by the success of the program participants. "Two of the women I mentored got master's degrees while in prison, and I'm really proud of being able to support them."
Book Clubs and Cocktail Nights
The pandemic has not stopped Springmoor residents from finding ways to stay connected. Many have become pros at utilizing technology like Zoom.
Carol currently participates in two book clubs using Zoom and loves that she can join in while sitting in front of the fire at home. Her Sunday school class meets via Zoom as well.
And don't forget cocktail night. "One of my favorite things about Zoom is that every Tuesday at 5 pm, three of my close women friends and I have cocktails together.
"Our daughters even decided to join in. Mine is in Germany, another woman's daughter is near San Francisco, and another is in Seattle. Every now and then we have granddaughters involved in the call as well. This has been fabulous, and we will continue this no matter what."
Carol predicts that most of us will continue to use Zoom and other video conferencing apps after the pandemic ends. "I'm not a big fan of technology most of the time," she says, "but Zoom, cell phones, and computers are wonderful ways to stay connected when you can't get together in person with the people you care about."
"Stretch and Grow"
Since her move to Springmoor two and a half years ago, Carol has participated in many learning opportunities. Her motto in life is "Stretch and Grow."
The Osher Lifelong Learning Institute (OLLI) at NC State provides short courses, study trips, and special events for adults aged 50+. Topics are wide-ranging in the liberal arts and sciences.
From one-time lectures to six-week courses, OLLI provides numerous opportunities to connect people who have shared interests, and Carol is a huge fan.
"I've been involved in OLLI for 20 years, including being on the hospitality committee," she says, adding, "The instructors are outstanding." She has traveled with the program all over Europe and the United States.
Currently, she's signed up for multiple OLLI classes that include: The Art Noveau Movement, The Wilmington Coup of 1898, Astonishing Inner Life of Our Cells, Secret Side of the Cold War, Racism and Reconciliation in America, and Teach the Children Well.
This last course is being taught by Dr. Jim Clark, who also provides the Life Writing Workshop at Springmoor, and Carol highly recommends his courses.
Teach the Children Well will explore how the pandemic is influencing children's literature. The class will examine Tanglewood Tales for Boys and Girls, published by Nathaniel Hawthorne during the chaotic 1850s.
Due to coronavirus, all OLLI courses are currently conducted on Zoom. One-time classes are $15 for 1.5 hours of instruction, and classes with six sessions cost $55. There's a small annual membership fee.
Springmoor offers a myriad of ways to connect with others and volunteer both on campus and in the community at large. To learn more, call a member of our friendly team today at 919-848-7080 or click here for more information.